3 Options for You to Choose A Men's Full Cap Hair Piece
There are all kinds of wigs for you to choose a men's full cap hair piece both online and in traditional stores. Nowadays, more and more young people are suffering from alopecia due to staying up late, high stress, irregular diets, and so on. This issue makes a tremendous difference in the quality of life. 3 full cap wigs at different price levels are introduced in this article for your information. 
1. Helios hair system for bald men with a full Swiss lace base
The most distinct character for this toupee is the lace base. It's designed with full Swiss lace which is breathable and soft. As the thinnest and lightest lace is used, Helios has become quite popular among all lace hair systems in the market. As the Swiss lace is soft, it can provide you a natural front hairline. The lines on the base are hand-sewn to keep the toupee in good shape and durable. 
The base size is 8"x10" while the hair length is 6". Two kinds of hair density are for your choice: 80% and 90%. The hair is made from Indian Remy human hair which is of high quality. It is both soft and flexible and the toupee made from it can last 4-6 months. The ties in the front hairline are decolorized which makes the hair quite natural and authentic. The price of this is $348. 
As the lace base is breathable, it can be worn in extremely hot weather or during you're doing exercises. Just take notice of one more thing. To ensure the toupee in good condition, a protective coating of the conditioner is added to the lace. And it can make the glue or tapes cease to be effective, so just wash it off before wearing. 64 colors ranging from black, brown, blonde, to gray are for you to choose from.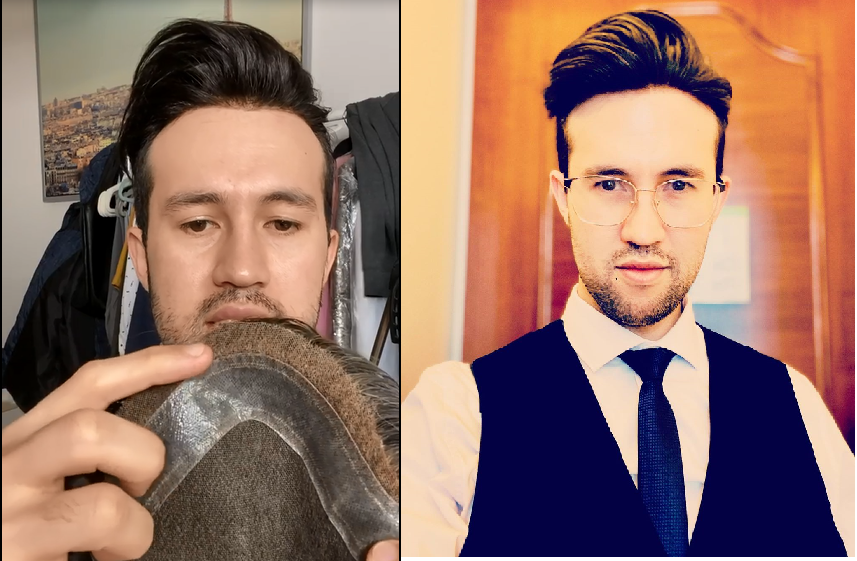 2. Permed wavy curly hair
There're two kinds of hair material used for this hairpiece. For dark color, it's made of high-quality soft fine Indian Remy hair and for grey color, it's made of Japanese Kanekalon synthetic fiber. The whole weight is 0.23 LBS. The size of it is 8"x10" and the side can be cut down to any size. The minimum of the front and back is 7.75".
The base of the toupee is composed of super-soft clear thin skin poly and the thickness of the poly skin is 8 mils. For the front, it's 110% density and the rest is 100% density. There are three different degrees of wave: permed to 18 mm loose curl, 22 mm tight wavy, and 25 mm medium wavy. The hair length is also 6" finished overall with freestyle. There're only three kinds of color: black, brown and grey. The price is $189.
3. Mop top hairstyles full lace men's wig
It's made from human hair with a full lace cap and the length is 8 inches. Human hair extensions will last longer while the price is higher than Synthetic extensions. Human hair offers the most natural look and feel. It can be put into application for hair cutting, coloring, perming, and making styles, while synthetic hair is not. The highest temperature they can stand is 180°C. 
Men's full cap hair piece gives the most natural look and allows superior versatility. Each hair is individually tied by hand to the soft mesh cap. It looks just your hair. The hair density is 120% with a wavy hair texture. There are more than 20 colors for you to choose from. The price of it is $289.82. 
No matter which men's full cap hair piece you will choose, six steps are needed to wear them. First, shave the hair on the top head. Second, trim the rest hair. Third, wash the scalp. Four, cut the base to match the scalp size. Five, apply liquid adhesive on the front hairline. Six, make a perfect hairstyle. 
There will be an important point you will pay much attention to when you buy a men's full cap hair piece. How long can the toupee last? This depends on how well you will take care of it. When taking off the toupee, you need to put it on the wig head instead of on the table. If it's not designed for overnight use, just take it off before you go to bed.