How to Get Different Types of Hair Replacement Systems?
Views: 1656
There're 4 different types of hair replacement systems in our company which are lace hair systems, skin hair systems, mono hair systems, and silk hair systems. Each of them has its unique features. You may are confused about which one to choose from them. This article will focus on the solution to this problem. 
1. Mono vs silk hair systems
Toupees are not only the daily necessities for bald people but also fashion factors. There're many types of toupees with different hairstyles. How to choose a toupee with the right hairstyle for you? That depends on your facial shapes. The facial shape is one of the most important factors for what kind of hairstyle you will keep. While a suitable hairstyle helps people to show their facial charm. 
Before you choose a suitable toupee from different types of hair replacement systems, you need to make sure there're suitable hairstyles in this hair assembly. You need to have basic knowledge about all types of them to get the right products you want. For mono hair systems, if the base is too large, you can just cut it as much as you want to get the suitable hairstyles. 
For silk hair systems, if the base is too large, you can only cut a little bit to make some adjustments. As there're 3 layers and the poly around conceals the 3 layers together. If you cut the poly off, the system can't be used anymore. If you are not satisfied with the hairstyles of silk hair systems, it's advised not to take it. As you just can't trim it to the hairstyle you want.
For people with round faces, the tip for them is to choose a wig with their personality style. The following styles can be taken into consideration: Undercut, Faux Hawk, Fringe Up, and so on. The balance of the hair length needs to be paid much attention to people who have an oblong face. The suitable hairstyles for them are Side-Parted, Buzz Cut, Side Fringe, and Fringe Up. 
If you have a diamond face, a much shorter hairstyle should be avoided. You can choose from the following: Long Hair Pushed Back, Faux Hawk, Side Fringe, and so on. If your face shape is heart-shaped, mid-length and long hair will be proper for you. The following 4 styles are for your choice: Pushed Back, Side Parted, Side Fringe, and Undercut. Bradley Cooper is a typical representative for this. 
2. Lace vs skin hair systems
Both lace hair systems and skin hair systems are popular in our company. And they have their respective characters and advantages. First, the replacement period for a lace hair system is 4-6 months while it's 6-9 months for a skin hair system. If you want to keep a longer life cycle of application at the same price level, you may choose the latter. 
Second, the prominent features of the lace hair system are lightweight and breathable, while the skin hair system is more natural and vivid with lower breathability. Third, for the lace hair system, the hair is knotted on the base, while it's injected into the base for the skin hair system. Four, the maximum hair length for lace base is 6" while there's no limitation for skin base.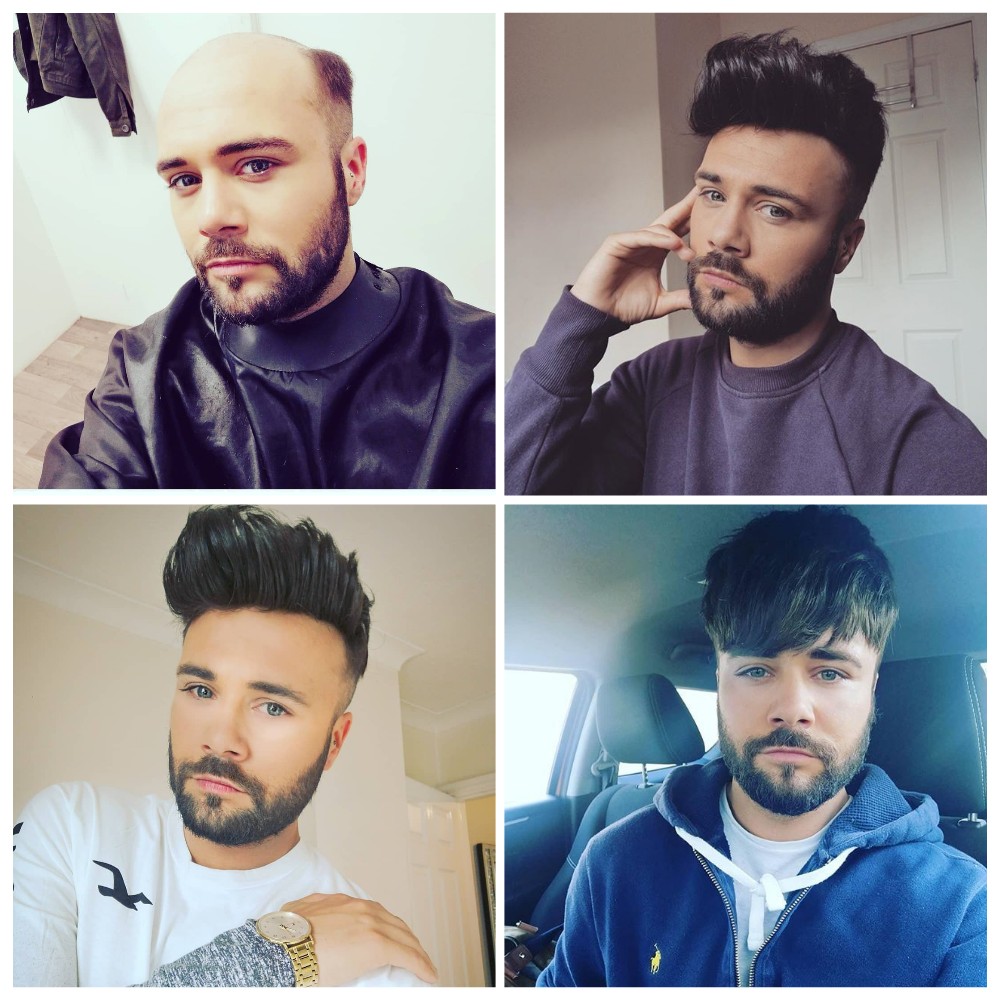 3. How to wear them?
For all these 4 different types of hair replacement systems, six steps are needed to wear them. First, shave the hair on the top head. Second, trim the rest hair. Third, wash the scalp. Four, cut the base to match the scalp size. Five, apply liquid adhesive on the front hairline. Six, make a perfect hairstyle. 
4. What do we need to pay attention to?
Try not to approach the high-temperature area. Toupees are not resistant to high temperatures due to the material they are made from.  When you clean the toupee, cold or warm water can be used instead of hot water. And it can be cleaned once a month with the common shampoo. Don't use a hairdryer to blow the washed wig, and just drain the water with a towel. 
Do not dye the wigs. If you want to change the style of your wig, just ask a barber to do this for you, as you may ruin it by the unprofessional cutting way. It's not necessary to use a comb to tidy your wig, and you can sort out the roll by hand. It's normal to have a small amount of hair loss during tidying and wearing. Put it in the original packaging when you finish wearing it. 
Our company is an online shop selling different types of hair replacement systems. The products in our company are all of the high quality. You can feel free to purchase what you want. If you want to learn more, you can just click through to the following website. www.lavividhair.com/blog.
---