How Long Does A Non Surgical Hair Replacement Last?
Views: 2627
Non surgical hair replacement how long does it last? How to maintain it to a longer life span? Today, we give an introduction to the longevities of different types of hair replacements systems and share some tips on its maintenance. We hope the article can be helpful to you and bring you a pleasant shopping experience. 
The life span of a product is one of the factors consumers are most concerned with. How long does a non surgical hair replacement last? The longevity of a hairpiece is influenced by many factors. 
The making materials
In general, manufacturers use lace, monofilament, poly, or silk to make the major part of the hair base. In terms of durability, among these materials, mono hair units rank the top and lace the last. However, lace hair systems can be further divided into French, Swiss, and German lace, among which German lace is the strongest. 
Many hair bases of toupees are not simply made of one material but a combination of them which can improve the performance and durability of the hair system. For example, a toupee with a full Swiss lace base can last 2-3 months. If it is added with an around of poly thin skin, it can last 4-6 months. 
The hairpieces of a hair replacement are mostly made of real human hair to give a natural and undetectable appearance. To satisfy the needs of most customers, the colors of some hairpieces may be preprocessed. In this case, the hairpiece is more fragile than those with natural hair color. 
You may ask, how about those toupees made of synthetic hair? On the one hair, synthetic hair looks not as vivid and realistic as real hair. On the other hand, it is more vulnerable to hairdressing.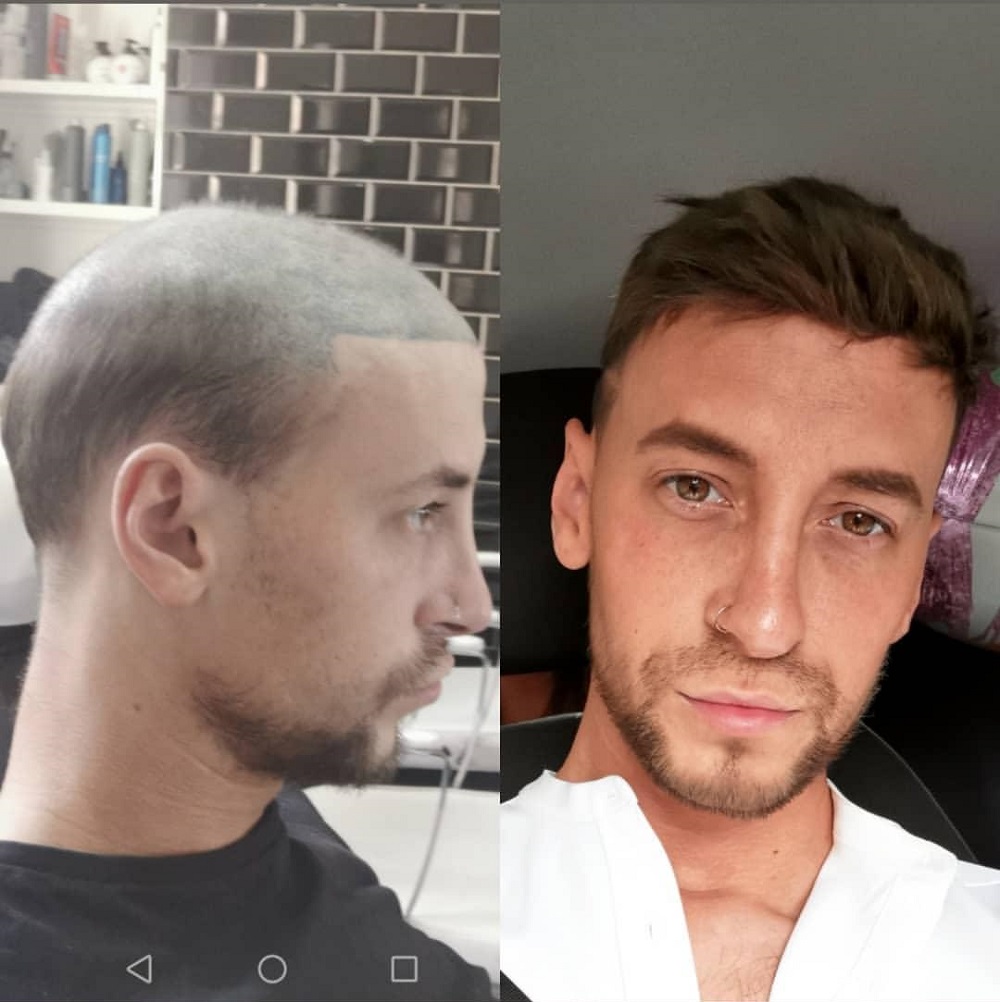 Maintenance
Because most non-surgical hair replacements are made of real human hair, they need careful maintenance as your real hair. Proper maintenance can prolong the life span of hairpieces and keep them in good shape. Poor maintenance will largely shorten its longevity and lead to frizzy hair. Maintenance does not require much effort. You just need to notice a few things. Later, we will mention them. 
Over-hairstyling
This is also one of the causes of hair fall. Frequent hairstyling will damage hair and follicles, preventing the regrowth of hair. Though the hair system does not have follicles, it still needs nutrients to keep shiny and soft. Too much curling or coloring will damage the hair and shorten its using period, particularly the high temperature released by some hairdressing tools. 
After introducing several factors affecting the life span of hair systems, you may want to know non surgical hair replacement how long does it last exactly? A highly durable mono hair unit can last 8-12 months. The thin skin one can last 4-6 months, so does a lace hair system with a poly perimeter. Some stronger ones can last 6-9 months. A full lace base hair toupee lasts 2-3 months. In short, the life span of such a product is not more than one year. 
Maintenance tips
How to maintain is also what customers eager to know. The first thing you need to do is to choose the right hair washing products that contain no harmful chemicals to hair. Avoid using shampoos or hair conditioners containing sulfates. When you remove the hair base off your head, pull it off gently. 
Besides, using mild or cold water to wash the hair replacement. It is better to wash it under running water. It is suggested to use shampoos and hair conditioners that can contain natural nutrients instead of chemicals. Avoid using a hairdryer to dry the product. If you need to use it, turn it to a cool temperature. 
Before washing the product, use a wide comb to smooth out tangles. After cleaning the product, use a towel to absorb extra water. Do not twist the hairpiece to wring water out. Then, leave it to dry naturally. Avoid washing the hair toupee several times a day. 
In a nutshell
We give answers to "non surgical hair replacement how long does it last" and "how to maintain it well." If you decide to try on the product, you are welcomed to our store to choose one product that satisfies you.
---