Best African American Toupee For Men
Views: 1496
Everyone wants to see the best version of themselves and look for ways to improve. Unfortunately, hair loss is the biggest problem in men. It can lead to low self-esteem and depression.
Hair loss treatments are also very expensive, so it's hard to find affordable options that work effectively. 
Many African American men are confronted with the decision of whether to shave their hair or wear a wig. The choice is between looking bald for the rest of your life or wearing what many people deem "unnatural." What if there was an alternative, though?  
One way is with a toupee that looks like real hair and attaches to your scalp so well it can't be seen.  
Moreover, it's not just about hair loss; it's also about adding style and pizzazz to your appearance. 
The article entails the fantastic products that provide solutions for African American Men's baldness, including how these wigs can make one look better.
Why Do African American Men Need Toupees?
Losing your hair can be an embarrassing experience for some people, and when it's not possible to find a good hair restoration product, the best way to keep looking well-groomed is with a toupee.
A toupee will give you a perfect look in any situation, from casual outings to formal events. Toupees are wigs designed specifically for men who have lost their hair due to male-pattern baldness or other conditions that cause rapid or gradual thinning of the scalp's natural covering. In short, a toupee is a wig that covers up baldness.
African American Toupees are available in a range of colors and textures, so you can find the perfect one for your ideal look. If you're not sure what kind of hair will be best for your head shape or face style, allow an expert to help you make the right choice.
Best African American Toupees
(1)Niles African American Toupee for Men
Who wants to see the latest trends in hairstyling? 
Niles is an afro curly toupee perfect for African American men. The 8" x10" size comes with three different bases: full lace, polyester mesh fabric blend (poly), and combined laces and synthetic fibers, which are both comfortable yet durable enough so you can wear it all day without worrying about getting a headache or discomfort from pressure points at temples area where clips would normally attach them during the application process.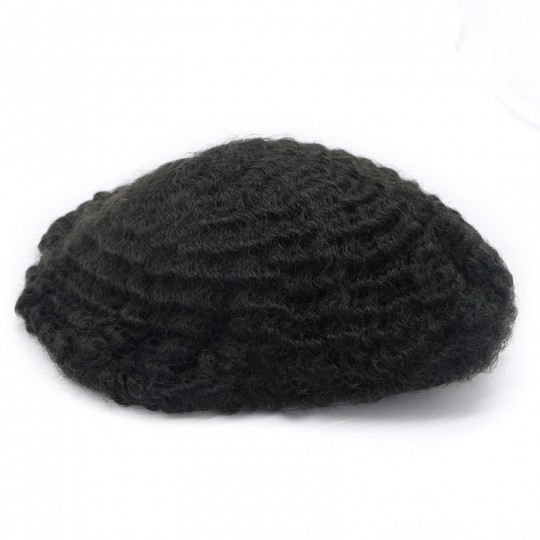 This will make your presence more iconic, all while maintaining the natural shape of your curl. This will give a heroic look. You'll be stealing the spotlight at any event, clubbing it up all night long, and getting more than enough people checking for ya!
Put your best face forward without looking into a makeup mirror. The Nolan Afro Toupee is durable and will help make you look like the go-getter that you are, not to mention it's easy on your wallet.
The curly 6mm Afro Flip will give you full coverage of your lack-of-hair problem. You'll be able to look presentable without any surgery scars or permanent commitment.
Nolan hair toupee is a must for any man who wants to have an afro or relaxer style. It's made of 100% Indian human hair and has three different kinds of bases, including full French lace, polyester netting with adjustable elastic bands at each end that ties around your head like turbans (for those days when you need something less than full coverage), and a combination of these two materials together which adds height to the hair while still maintaining bounce during styling.
Nolan can do wonders for your hair!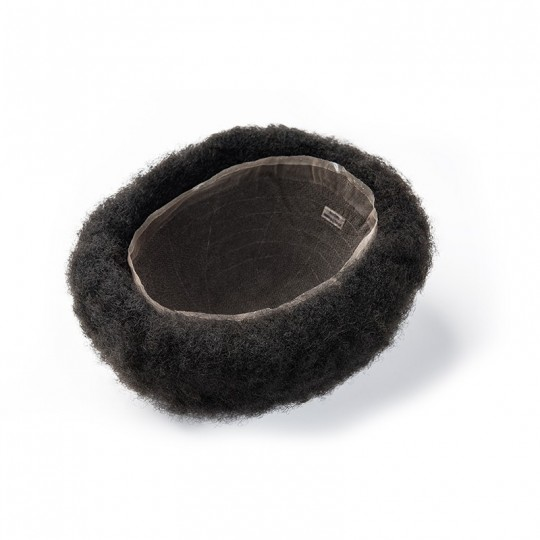 Where To Find Best African American Toupee For Men?
The best toupee brands are not cheap, and they don't look natural either. Most importantly, if you don't know how to use them properly, your friends and family will notice that something is off about you almost immediately after the first time you wear one of these wigs out in public.
The Lavivid Hair collection has been designed with African American men in mind from the ground up to ensure that we provide an affordable solution for all of their baldness problems without sacrificing quality or style options. 
We've also made sure that our wigs were as easy as possible to apply so anyone can be ready to go within minutes of opening the box! With Lavivid hairpieces, every man can have a full head of hair again quickly and easily! Also, these wigs will make a difference in how you feel about yourself when wearing them. 
Check out the latest collection at Lavivid Hair to make people stunned by your new look!
---