Best hair system tape
Views: 1846
At lavivid hair, we know that every client is different from the other, and they have their head structure. So we strongly believe that one tape is not fit for all hair types. Our professional team always keeps in mind that every client is different while making hair tapes. A person may have sensitive skin, might prefer the base type, and others might want it for a specific period. We have a solution for every customer. We have a wide range of hair types. 
Below are some best hair tapes that are specifically designed for customers. What you have to do is add it to your cart and enjoy the shopping.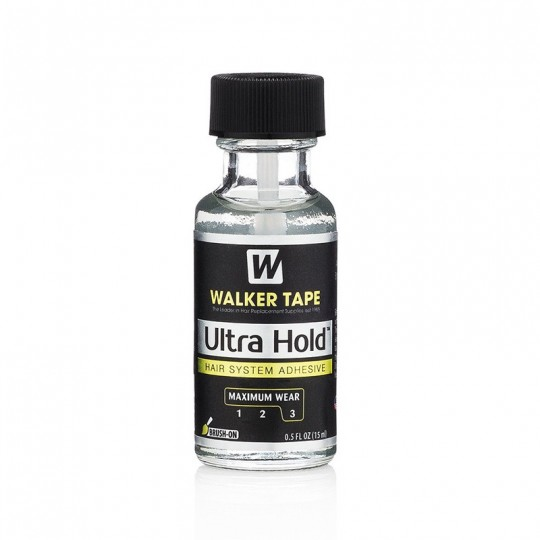 1. Waterproof Ultra Hold Hair System Tape 
Ultra hold is the best tape, a flexible and more durable tape that the walker tape company makes. This tape can hold for the longest period. Its look is so fantastic and versatile as it is mini-shaped. Ultra Hold can be used on the front hairline, the sides, the back, or anywhere else where a strong, consistent hold is required. Ultra Hold tape is waterproof, so you can swim, shower, and go about your business without worrying about it coming undone or slipping. Hairpieces and wigs are held together with binding tape. Any adhesive solvent can be used to remove this tape from the surface easily. There is no adhesive residue left on your lace after using this product.
Hold:
Maximum Wear (2-4 weeks) tapes are excellent for people who require a stronghold that instills confidence in their appearance.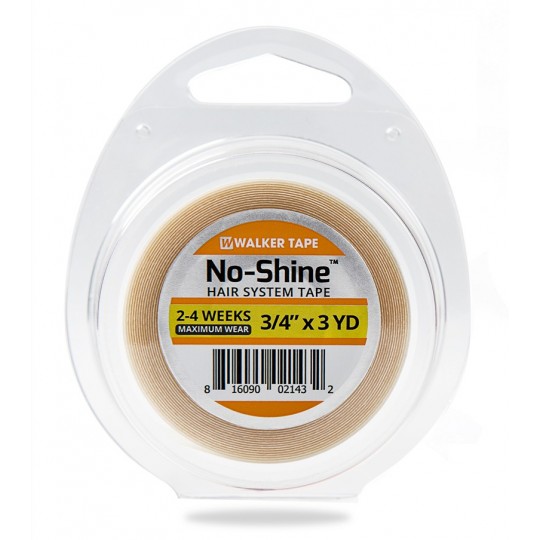 2. No-Shine Toupee Adhesive in Roll | Bonding Tape
No shine tape is a long-lasting tape that you can wear. Its finishing is dull, and its thin layer will be hard to visible. Urethane is used to make this tape that makes it flexible to fit on all hair types. We offer 3 yards rolls so that they can perfectly cover your hair. Caring for this type of tape is so easy. It can be used with any other unit. Tape is clear with liner. Its lifeline is 2-4 weeks, But its life span also depends on temperature. It can also last for six months. It needs the expertise to wear, so it is a little tacky. It is also known as NoShine. 
Hold:
It has a life expectancy of 2-4 weeks. However, its life span is also dependent on temperature, and it can last for up to 6 months in certain conditions.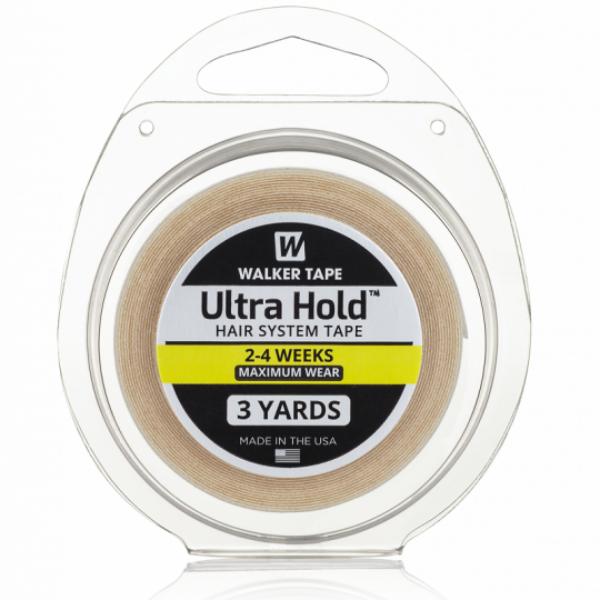 3. Ultra Hold Toupee Tape in Roll
Ultra hold tape is more flexible, tacky, and long-lasting than the waterproof and no-shine tape mentioned above. It has a long life span so that you can wear it for the longest hold. It can hold for 6+ months. It is made up of urethane, making it flexible to adjust on all head sizes and more comfortable to wear. It goes well with flexible base materials. It also has no shine as fingerprints are used to hide its shine. Tape is clear with white liner.
Hold:
It has a long shelf life, allowing you to keep it on for the longest time. It has a shelf life of at least six months. Because they're usually the most cheesy, they necessitate a higher level of application skill.
Sensi-Tak Hair replacement System Tape Best for Poly Hair Units
Sensi-Tak is good for poly hair units. It is made up of high-quality material so that it can behold held for more than a week. It is not tricky to use as it is easy to wear and remove and can be cleaned with well-known removers. It is safe to use on lace and poly hairs. We offer 3 yards, so it can easily wear on every head size.
Hold:
Its life span is one week, but proper care, the temperature can increase the life span, and it can be used for two weeks.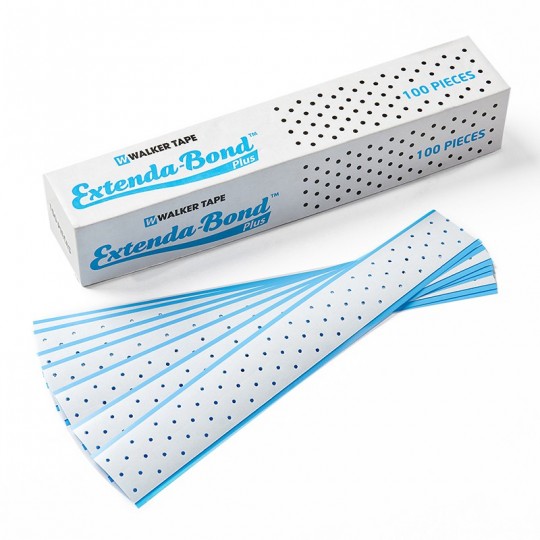 4. Extenda Bond Plus Strip Lace Tape
It is the best product on our list. It is not just affordable than the other mentioned tapes but also made up of high-quality material. One hundred pieces strips are available in one box. Its box is also designed with a perforated lid so that it is easy to access the strips at the salon and home. Extenda Bond is amazingly strong and most flexible to adjust on all head sizes. Fingerprints are used to hide their shine and make them natural-looking. The tape is clear with a blue lining.
Hold:
However, even though extended-Bond Plus falls into the maximum wear category of 2-4+ weeks, it is the longest-lasting tape in this category.
Depending on the temperature, humidity, and amount of body oil used, they can last up to six weeks.
The best tips to maximizing a tape's performance
It is good to wear gloves when wearing tapes as our fingers leave skin oils that can decrease its performance. Wearing gloves will not allow to residue any oil when touching, and tapes performance will be increased.
Don't touch the tape even when you are wearing gloves. Wear it while touching its sides. Because sickness will alter, and it can compromise the performance of the tape.
Wash the client's hair with Bond Breaker shampoo that is strong for daily use. But it will remove leftover products in the scalp of the client. This shampoo will make sure that no product is left on the client's scalp.
The last tip is to clean the skin with 99% alcohol. It will remove the dead skin or anything that is left on the client's skin.
Conclusion:
These are some best tapes available at lavivid hairs. With proper custom hair care and maintenance, you can extend the life of your custom hairpiece and keep it looking great for a longer time. As a leading hair replacement supplier, we offer a wide range of supplies that allow you to maintain your hair system in the comfort of your own home. This allows you to save money on your total hair replacement system cost.
---