What You May Want to Know about Men Hair Piece?
Views: 2253
A men hair piece is a kind of hair replacement system to cover your alopecia areata. This non-surgical hair replacement or hair integration process by any other names are toupees, wigs, hairpieces, appliances or to put the vernacular into using, a patch.
So when talking about "What hair replacement products are", there are no detailed answers.  
Male wearers wearing wigs often bring great entertainment to all hair and millions of pranks and often live in low-level paranoia and anxiety about public discovery and subsequent humiliation.
However, for some men and women, wigs are a feasible choice for the world under baldness.
Men's hair replacement systems
When wigs are mentioned, women's hair systems like wigs seem to be handled better than men's. Our society generally accepts the normal ways that women can change their appearance as they like: make-up, cosmetic surgery, botulinum toxin, dyeing hair, and using wigs.
Indeed, it is attractive for singers and actresses to change their hair to change their personalities. In any case, for our current culture, it is a slow process to accept the "hair replacement system" as a bald man's choice.
But now, this method has penetrated our daily life.
Therefore, let's discuss the hairpiece maker's art, system, types, the advantages and disadvantages of "borrowed hair".
Many toupees and wigs are produced in a mass number. Compared with high-end hair replacement systems, toupees and wigs are often of lower quality.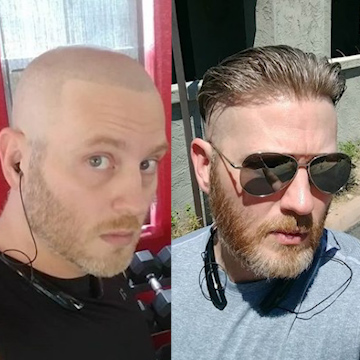 Some hairpieces are still customized by senior craftsmen to provide customers with various accessories, just like making exquisite suits.
Obviously, with such a wide range of quality, there is a corresponding price range. According to the type and structure of hair, hairpieces can be purchased for hundreds of dollars to five thousand dollars or even more.
Maintenance is also a problem, and most customers choose to buy at least two wigs so that they can always wear one when returning one to the shop for maintenance. 
Customized men hair piece
All wigs are made of fabrics or synthetic materials.
Many bases are sewn into a fine mesh or "lace". Others are made of polymer base materials which are promoted to be "like the second skin". The quality here is also different, depending on the knitting skills. Well-crafted works will follow the normal orientation, that is, the angle at which the hair usually emerges from the scalp.
No matter what type of foundation you want to use, except for full lace hairpieces, should be stick to your head tightly. This can be fulfilled in a variety of ways such as tapes, clips, and other adhesive glue.
All these products have their advantages and disadvantages, and their final selection is related to the size and shape of the hairpiece and personal preference.
The three most popular men hair piece:
1.  Men's French lace wig
For those who need to completely cover their hair and don't want to be seen losing their hair, this French lace wig will bring you the best experience
Because once it matches your hair type, it will be as realistic as your original hair, and you can't see anything different at all
In addition, its breathability is very good, if you often exercise and work out, it will be the best choice.
2. Ultra-thin skin toupee
This super realistic toupee has the thinnest foundation in the market. It makes it look supernatural and almost makes you believe that it is your primordial hair.
If you want the most natural hair, it must be a good choice.
3. Men hairpiece with ultra-thin mesh and front lace
It can be seen from the title that this is one of the best men's toupees.
The ultra-thin mesh is almost completely invisible, and the combination with the lace front means that you can enjoy a very natural appearance through this toupee.
The men hair piece is a very common way to cover one's hair loss without a surgical way. The only thing you need to do is to do more searches before you decide to buy it, and do not only buy one.
Therefore, if your hairline retreats, buy one right away through our website and see more professional information too. We are looking forward to your amazing appearance with your hair pieces.
---