Did Humphrey Bogart wear a toupee?
Views: 1979
Even the prettiest men on the planet, such as actors and athletes, can get bald, and some of them prefer to wear toupees or hair substitutes to cover up their baldness. Today, tens of millions of people wear hairpieces that have thinning hair on top. As we've previously stated, many of the world's most famous people are among them. Men can be titans in film, music, and athletics while still suffering from baldness or hair loss. This is something that most people take for granted.
Many people are unaware that men's hairpieces have been around for a long time. The list of renowned people who have used them goes well beyond contemporary entertainment and into history. Humphrey Bogart is another name of a well-known figure who used hairpieces, but the audience never knew it.
Who is Humphrey Bogart?
Humphrey Bogart was an American actor who appeared in films and on stage. His roles in classic Hollywood films made him a cultural icon in the United States. Bogart was named the greatest male star by the American Film Institute in 1999.
Bogart began his acting career in Broadway shows before moving into motion pictures with Fox's Up the River (1930). He emerged in supporting roles for the next decade, sometimes portraying gangsters. He was commended for his performance as Duke Mantee in The Petrified Forest (1936), but he was overshadowed by the other actors cast in lead roles by Warner Bros.
High Sierra (1941) and The Maltese Falcon (1941), regarded as one of the first great noir films, marked his transition from supporting to leading parts. Sam Spade (in The Maltese Falcon) and Philip Marlowe (in 1946's The Big Sleep), Bogart's private investigators, became models for detectives in future noir films. His most significant romantic lead role was in Casablanca (1942), alongside Ingrid Bergman, for which he received his first Academy Award nomination for Best Actor.
Bogart developed the "natural" look while portraying the world-weary tough guy with a golden heart in films. Bogart's characters were aware of the corruption in the world and the human heart, but they had not given up on their values, despite repeated denials. His cynicism was more of a ruse to keep his values hidden. This persona appealed to the American audience.
Throughout his career, Humphrey Bogart wore a variety of haircuts. He rose to prominence as a great character actor, scriptwriter, stage actor, and film actor. Nonetheless, the American actor was noted for his distinct sense of style and affable demeanor.
Did he wear a toupee?
Yes, it is true! Humphrey Bogart, one of the screen's most distinctive tough guys, was also a toupee devotee. Of course, this is to be expected. In Hollywood, looks matter, and it's a rare leading man who can attain permanent success while challenging popular perceptions of attractiveness, sexuality, and so on. It happens now and then, as when certain people helped redefine what was considered acceptable in a celebrity's look in the late 1960s. But, more often than not, a performer who truly wants to be a star must follow the established standards, which include ideas about hair or the lack thereof.
Humphrey Bogart may still be the king of classic movie cool. However, he was not what he appeared, as one might anticipate from a Hollywood actor. To begin with, the hair that was immortalized in Casablanca and The Maltese Falcon was a hairpiece. Due to Bogart's long-time mistress, people are also aware of this, which is sad for lovers of his famed romance with Lauren Bacall. 
Before she attracted Bogart's attention, his sweetheart was a wig manufacturer who had worked with stars like Ray Milland and Gary Cooper. In her briefcase, Verita Thompson would have 10 different toupees for him. Thompson created them herself as one of Hollywood's top toupee gurus. Bogart's classic cinematic appearances were made possible by her labor.
Bogart sported a toupee in public but was never seen without it. While Humphrey Bogart was bald and regularly went bareheaded in private, according to Ernhard Roetzel's book Gentleman: A Timeless Fashion, he never permitted himself to be photographed without a hairpiece. 
According to a comment by Dixon Connon, the reason behind Bogart's hair loss was his disease. He mentioned, "As I've discovered, Bogart's hair began to fall out suddenly during the making of Dark Passage (1947), and he was nearly completely bald within weeks. Alopecia areata, a disorder caused by vitamin insufficiency, was blamed by doctors for the rapid hair loss. Years of binge drinking, and inconsistent eating took their toll."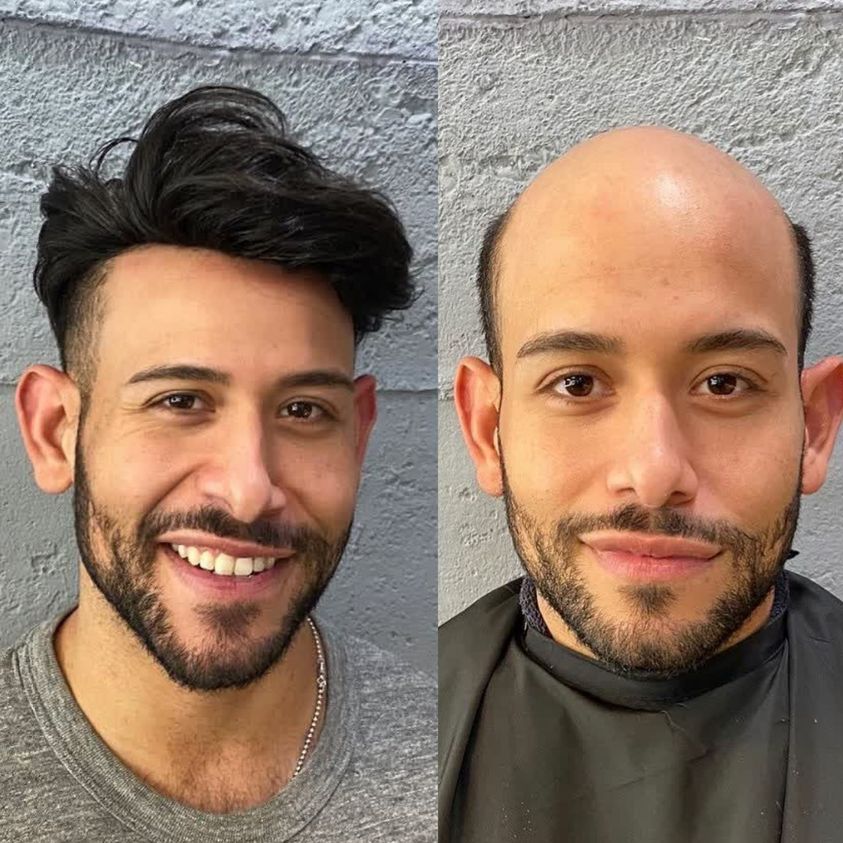 Toupee wearers go to great lengths to conceal their use, yet all too frequently, their existence is clear, or at least obvious enough to raise suspicion. Toupees are worn by film and television stars in the past and present for professional reasons, especially as they get older and need to preserve the image that their audience has grown to expect. When they are not working or making public appearances, many of these same celebrities are "uncovered." Bogart is one of them. He lovingly called his hairpiece "the rug." In 1936's "The Petrified Forest," it appears to be his natural hair, but it's the rug after that. Bogart, like Stewart, only wore it on set, dismissing it when he wasn't working.
Moreover, this fan's comment demonstrates how natural his toupee appeared. "I knew he was bald, but that was a very great hairpiece. It's impossible to tell in The Treasure of the Sierra Madre when he gets a haircut, and the barber is greasing up his hair and combing it that it's not real. It makes me wonder why some modern celebrities have such a difficult time finding a suitable hairpiece."
Conclusion.
While many of us are still hesitant to purchase hair wigs for guys, male movie stars and television personalities like Humphrey Bogart have been wearing them for decades. We've seen male actors and even sports figures openly admit to wearing wigs and toupees to cover up temporary hair loss as well as permanent hair thinning on several occasions.
---