Did Michael Landon Wear a Toupee?
Views: 3618
From creating classic fantasy dramas like 'Highway to Heaven' to showing off his impressive acting skills in the "Little House on the Prairie". Michael Landon is indeed a filmmaker and actor who assisted the American industry into becoming what it is today.
Apart from his impressive acting and filmmaking expertise, Landon was also famous for his looks, particularly for the unique styles of hair he had in his roles. Landon, during his roles, is rumoured to have worn a wide variety of toupees that allowed him to have a lot of different hairstyles; however, Landon and the stories of his unique hairstyles dates way back.
Michael Landon Hair Story:
If you know Michael Landon, then you are probably a fan of the 50's American television and have seen several of Landon's shows. While Landon hairs may have fascinated you on television, you may not know the story that's behind them.
Landon, in his high school years, was a professional javelin thrower and was so good that he once tossed the javelin around 193 feet and broke the record of the longest javelin throw by a high school student. It was in his javelin throw years that Landon started to believe that his hair is what gives him the strength to throw the javelin; thus, the longer his hair is, the more strength he would have.
Following this, Landon started to grow his hair insanely long and didn't cut them for months at end. Landon, in an interview, revealed that his long hair also caused a lot of problems for him since no girl in his high school would go out with him because they were all scared by his long hair. However, when he got the chance to take out a girl for dinner, the waitress slid a 'be careful' note to the girl. While the long hair did create a lot of trouble for Landon, he stayed consistent with his belief and continued on with his long hair, thus keeping them that way up until the end of his life and career.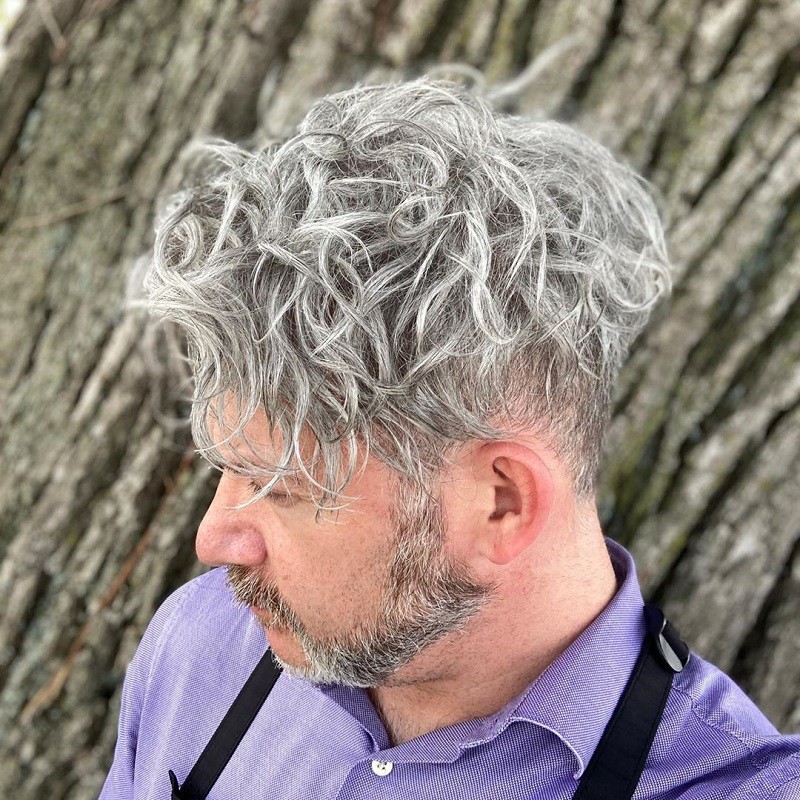 So Did Michael Landon Really Wore a Toupee:
With Michael Landon having impressively long hair and different hairstyles, a whole lot of television fans still believe that Landon wore toupees to make them look that way; however, the truth is completely opposite since the hair Landon had in all his acts were his own long hair and its said that at times Landon was the only person on the set that did not need to wear a toupee to make his hair look a certain way.
Toupees you can try if you want your hair to look like Michael Landon's:
Landon being a TV actor, played a lot of different roles. These roles required him to have a lot of different looks and appearances, which is why he had to change his hair in most of them.
To change his looks and adapt to characters, Landon, throughout his career, used a bunch of different toupees. To further elaborate on the bunch of different toupee styles that Landon wore, we have made a list of them for you.
The Lace Front Toupee is one of the most common types of toupee hair out there, and it can easily make your hair look like Michael Landon's. A Lace Front toupee has a lace base that goes over the scalp and completely blends with the scalp, thus giving you a more original look. Apart from that, the lace front toupee is also super light and breathable, thus making it a good option for humid places.
The Capless toupee is quite common amongst people who live in a warmer climate or just want their heads to feel free when wearing a toupee.
Wefts between a Capless toupee are left open for air to go through and offer proper ventilation. This quality of ventilation makes Capless toupee to be quite common amongst actors who spend long days shooting in the sun.
The monofilament is another amazing toupee hair that can be used to imitate Michael Landon's hair. This toupee is widely used because of the realistic look that the monofilament toupee offers in front of the camera.
Monofilament toupees are made up of a soft lace base, and the toupee hair is hand-tied onto this lace. Being hand-tied makes the monofilament toupee mimic the appearance of natural hair growth.
The full lace toupee is another toupee that can be used to make your hair look like Michael Landon. This toupee, unlike other toupees, covers and stick to the whole scalp instead of just the front of it, thus ensuring a much better and safer stick.
Like, lace front toupees, full lace toupees also have a base that is made up of lace material. The toupee hair is knotted onto the lace, thus ensuring strength.
Covering the whole head, lace toupees offer a realistic and better stick, thus being preferred when shooting or working in windy areas. However, the full lace toupee offers lesser ventilation than others; thus, its generally not preferred in hot and humid areas.
Conclusion:
Michael Landon was indeed a legend of the '50s acting industry and did set up a benchmark for all future actors, directors and producers to come. While the legend had an early and unfortunate death, his legacy would be remembered forever. We hope reading this article got you the answer to your question while also making you learn more about the little details of Landon's life.
---