Do You Believe in Toupee Before And After Photos?
Toupee before and after photos are sensational to another person. The images before and after wearing the systems give motivation to the bald customers. Hair loss makes a person go for alternative solutions that are inevitable. Alternative solutions in the form of nonsurgical solutions are always avaialble to balding customers. Why you choose nonsurgical instead of surgical solutions? The reason is that the individual gets more benefits than the surgical and so many balding customers select it. Moreover, expected results are obtained very soon without any waiting period. So, a hair losing customer always wants to with a toupee or a wig for his bald head. 
What is a toupee before and after?
Have you ever imagined your head without hair? If no, it may happen to you if you lose hair due to male pattern baldness. Not only male pattern baldness, but other reasons are also responsible for hair loss. So, you have to take appropriate steps to get things done in your way. How? In case you have doubts about hair systems, just observe the photos of a balding customer after wearing a hair system. You would not imagine his look because totally a different person is seen after wearing a toupee. 
How does the change happen by toupee?
Toupee is a hair product made of human hair or synthetic hair strands for balding customers. This system is worn by the balding customer to cover the bald spots from getting exposed. The bald head that is covered by the toupee gives an original look to the user. The person who wears the hair system has better look than earlier. He looks half the age and so many hairs losing customers love to wear these units for the advantages. 
Which toupee suits my look?
Are you a hair losing customer looking for a solution? If yes, you would have come across the solutions like wig or toupee for your bald head. These hair units make your life so happy and entirely delightful than you expected. Your toupee gives you the original appearance back to your face and the smile is returned. You could see these changes in many balding customers who are wearing the hair units regularly. They are not detectable and so the confidence is back to them easily. You can identify the difference between a person who uses the hair system on his head.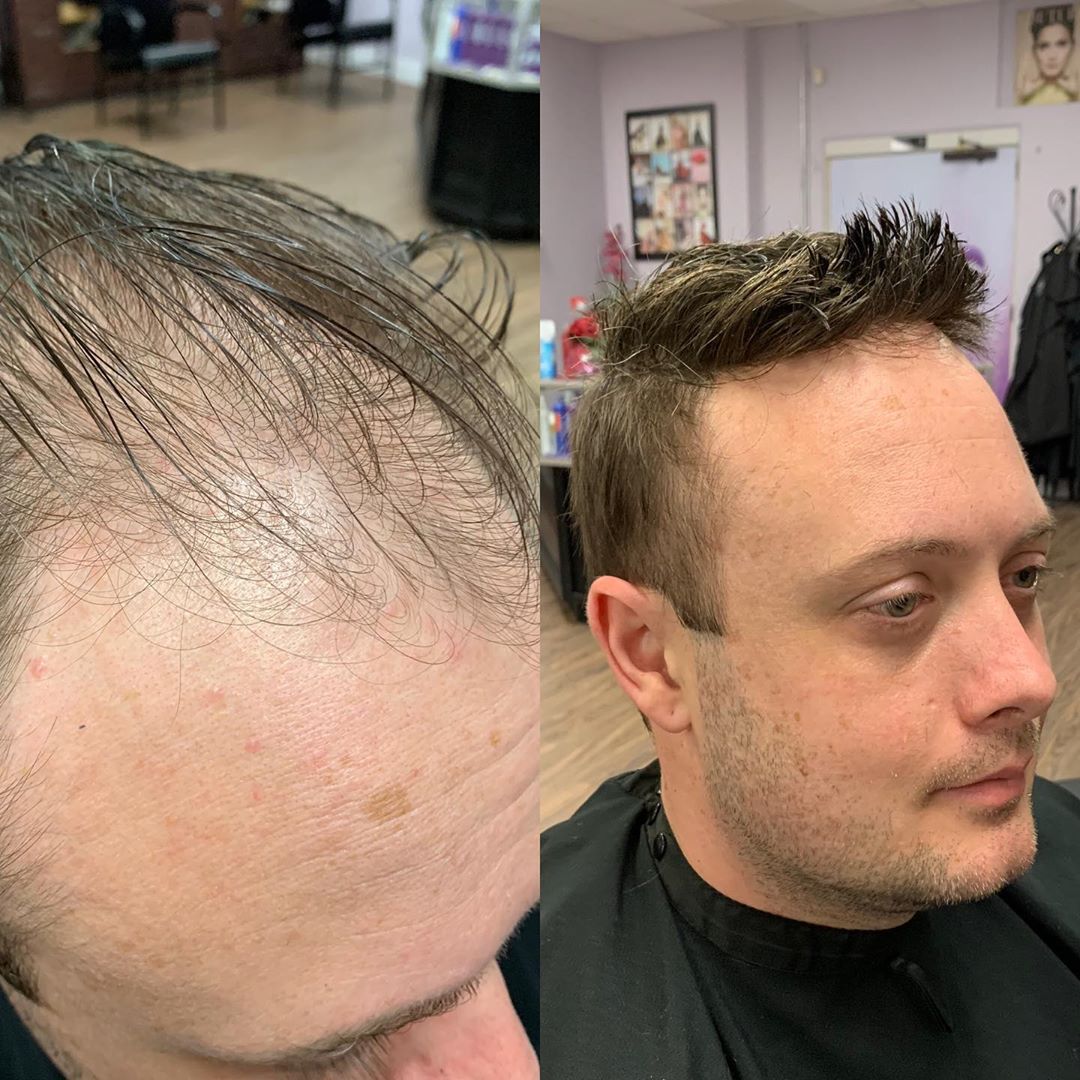 Why hair stores are using before and after videos and photos?
The major leading and reputable hair stores in the city are using the toupee before and after pictures and videos for sales promotion. Yes, it is true that the reliable stores have the original photos of a balding customer before using the toupee and also after wearing. This is to improve the confidence of the customers to get their hair units from the shop. Only trust the genuine photos and never follow the fake photos because you may become a victim. So, trust the genuine shop that posts quality photos of toupee worn by the customers. 
Can a balding customer believe the photos of before and after?
If you are visiting a store that is analyzed after your long search would have some photos of the balding customer. The past customer's photos before and after are usually available at the store where you buy the hair system. If the store is a quality one like lavividhair then the photos used are genuine. So, you could go with those proofs for your selection of hair replacement systems. It depends upon the shop and person who shows the after and before pictures and videos to you. Never believe all the proof because many business people are making money by cheating you.
Takeaway
How about your look after losing hair? You might not be in a position to tell about than because it is understood. So, you can get in touch with a leading hair store that gives you new hope. When I mean new hope it denotes the meaning of hair system for your bald head. Visit the quality hair store, pick the genuine hair model and wear it on your head. I am sure you will be a new person thereafter. Now you can give your photos to the shop person for others.