Does a weekly maintenance/detachment shorten the lifespan of a hair system?
Views: 598
Three key components determine how long a hair toupee will last: the base material, the hair quality and care, and the end user's dedication to maintaining their toupee. To ensure the lifespan of our hair toupee systems, we at Lavividhair take into account every factor. Additionally, we will provide you with some helpful hints that will help you extend the life of your hair toupee system for as long as possible.
Base Materials Used
Depending on the quality of the product, the longevity of a toupee might vary considerably. The material used to build it influences the lifespan of a hairpiece toupee. Because various base materials have varying degrees of durability, their lifespans vary. It would help if you let your consumers know that the more realistic a hair system seems, the shorter its life will be and the less natural it will appear due to its increased durability. You may jeopardize the endurance and durability of your clients' hair systems if they insist on having a natural-looking front hairline.
Quality of the Hair
The longevity of the hair system is also affected by the quality of the hair utilized on the toupee of the end-user. There is less friction and a longer-lasting toupee with Lavividhair hair systems since the cuticles are all going in the same direction. Our men's and women's toupees and hair systems include Lavividhair hair. Natural human hair or Lavividhair hair toupee wigs offer the highest life expectancy. Overly processed or poor-quality hair systems, on the other hand, have substantially shorter lifespans.
Human hair systems, such as toupee wigs, may be styled in several ways and exist in various textures, densities, and colors. The color of the toupee hairpiece also influences the longevity of the hair system. There is less processing for dark and straight hair, but there is more required processing for curly hair and light hair.
Anatomical Attachment for a Hair Toupee
Depending on how your consumers attach the human hair toupée to their scalp, the men's hairpieces toupee may last longer or shorter than anticipated. It would help prepare your scalp for a safe and secure connection before trying a toupee application. When a fresh toupee is attached to a scalp that still has adhesive residue, the new hair system will not retain and may even be damaged. Here is a link to help you choose the best tape or adhesive for your hair systems.
Hairpiece tape and metal clips are two of the most common techniques of attaching a hairpiece. These techniques are mild on the scalp and the toupee, and as a result, they are highly recommended for extending the life of the hair system. Because specific customers prefer liquid adhesives, more care must be used while applying and removing the toupee. Adhesive removal must be done correctly to avoid damaging the scalp and toupee.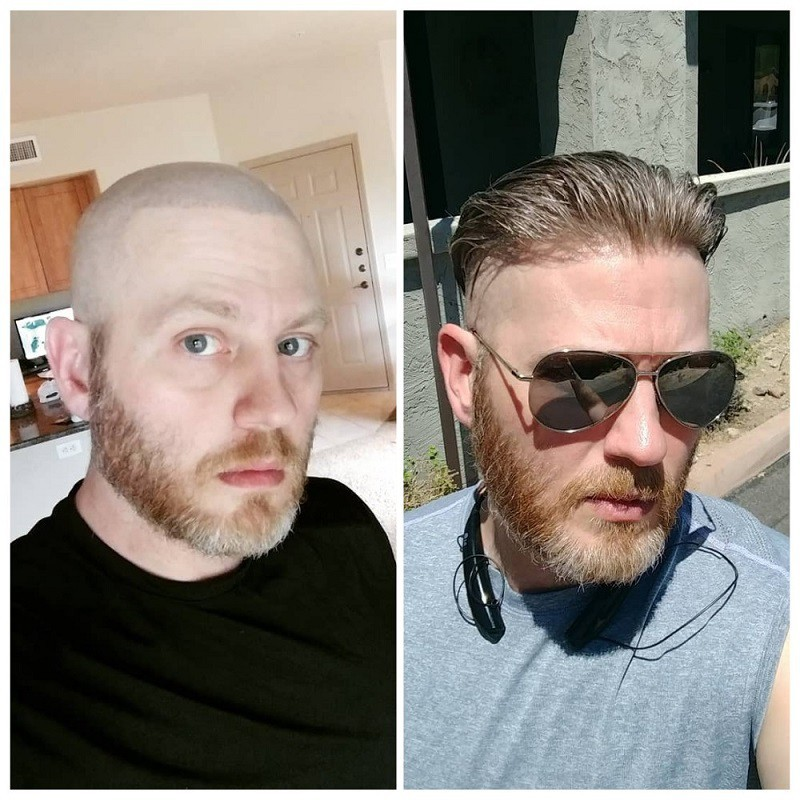 Hair System Maintenance
Nonsurgical hair replacement maintenance extends well beyond merely installing and removing the device. Your consumers need to be aware of this. Users must clean and untangle their hair systems adequately before they can use the product. It is simple to keep the toupee free of knots and tangles. In addition, the toupee will maintain a more natural appearance and feel for a more extended period this way. In addition, we recommend that your consumers use a leave-in conditioner on their hair at least once a week. Thus, the hair system will not seem dull or worn out.
Top Tips to Extend the Lifespan of a Toupee
A toupee's lifetime may be extended by following these tips! Because a human hair wig does not acquire oils and vitamins from the scalp like actual hair, regular maintenance is required to keep the hair system looking and feeling great. To get the most out of your client's toupee, you and they should follow these tips:
Do not go out in the sun:
The sun's damaging rays may damage a toupee's hair. The sun's ultraviolet rays may fade hair's green pigment, resulting in a red or orange hue. The sun's damaging rays may damage men's hair replacement systems since we utilize 100% natural human hair. Your clients should always wear a hat on hot and bright days and avoid spending too much time in the sun.
Use a shampoo correctly. 
Toupees need to be shampooed at least twice a week if their owners want them to last longer. It would help if you avoided sulfate-containing shampoos. Sulfate-based shampoos may irritate the scalp and rob the hair of its sheen and color, making it less manageable. The natural hair toupee will likewise seem limp and lifeless if you use a sulfate-based shampoo. Using a shampoo designed for toupees will keep the hair looking shinier, healthier, and more natural. Hair that has been shampooed regularly retains a refreshing smell.
How to untangle hair systems
You may extend the lifespan of a hair toupee system by teaching your clients how to untangle their hair systems properly. Clients should use a hairpiece for men-friendly brushes or comb to brush their plans and a high-quality leave-in conditioner regularly, as we recommend. Silk pillowcases are also highly recommended. Avoiding friction while the user is sleeping will help keep the hairpiece from becoming tangled in the first place.
Colored hair:
Our high-quality wigs are made using human hair, which results in a final appearance that is both amazing and invisible. Overexposure to heat, grime, and other stressors may fade natural hair color over time.
Avoiding the Sun's Rays of Light
Hairstyling appliances, including hairdryers, curling irons, and straighteners, may damage wigs because of their high sensitivity to heat. We discourage using hair products that are not specially created for hair systems. It would be best to use only the "cool" option while using hairdryers or other heated styling products.
Final Thought
A slew of different factors affect a hair toupee's overall lifespan. The longevity of a human hair hairpiece is greater than that of a synthetic hair wig. Still, the integrity of the hairpiece and its appearance must be preserved by following the recommended maintenance and care guidelines for the hairpiece.
---