Does Donald Trump Wear A Toupee
Remember Trump's statement from the Political Action Conference, 
"Oh, I try like hell to hide that bald spot, folks. I work hard at it. "It doesn't look bad. Hey, we are hanging in, we are hanging in, we are hanging in there. Right? Together, we are hanging in."
Facing the public, Trump opened up! Jokingly referring to his baldness. 
According to Trump, it's not easy to hide the bald spots, especially when one has to climb the windy stairs while paparazzi's cameras keep an eye on you. 
It's a fact that Trump's hair has changed over the years. The increasing male-pattern baldness has encouraged him to consume pills that are better at halting hair loss rather than regrowing the new ones.
However, many of the videos have revealed something strange about his hair. They call it heavy combing! 
This leads to a never-ending debate, 'Is it Trump's real hair?' Or 'It's a luxurious fake do?' 
Well, you're also searching for a definitive answer? 
No worries!
This article will resolve the Trump hair mystery once and for all! 
Stay tuned!  
The Truth About Trump's Hair! 
Amidst one of his presidential campaigns, Mr. Trump strongly denied the fake hair rumors.
While running his fingers through his bright-gold, multi-angled locks, he claimed "people might not like his hair, which is real by the way," as the only reason for the continuous abuzz. 
To make people meet halfway, he asked one of the women to yank on his hair. The woman answered, 'It's thin, but it's real.' 
The lady's answer sewed up the fact that Trump's hair is real and he doesn't wear a toupee. 
The New Political Tactic - Trump's New Gray Hair
Ah! Once again, the paparazzi caught something different about him! 
As the wind gusts catch Trump's fluffy hair, those long-standing rumors start all over again.
Nah! It's not only you; many people noticed his hair transformation from signature flaxen color to bright silver shade. 
Undoubtedly, the newly blanched color dignified his looks, but the overnight change in hair color intrigued everyone. 
The blowing blanched hair draws everyone's attention, to which Trump responded, 'My hair is blowing around, and it's mine.' 
While Trump has had the same iconic looks for decades, the sudden hair color transformation was portraying the true shades of catastrophe. 
The audience could not help but believe that he has natural hair and does not adorn a luxurious hairpiece. 
But who knows…!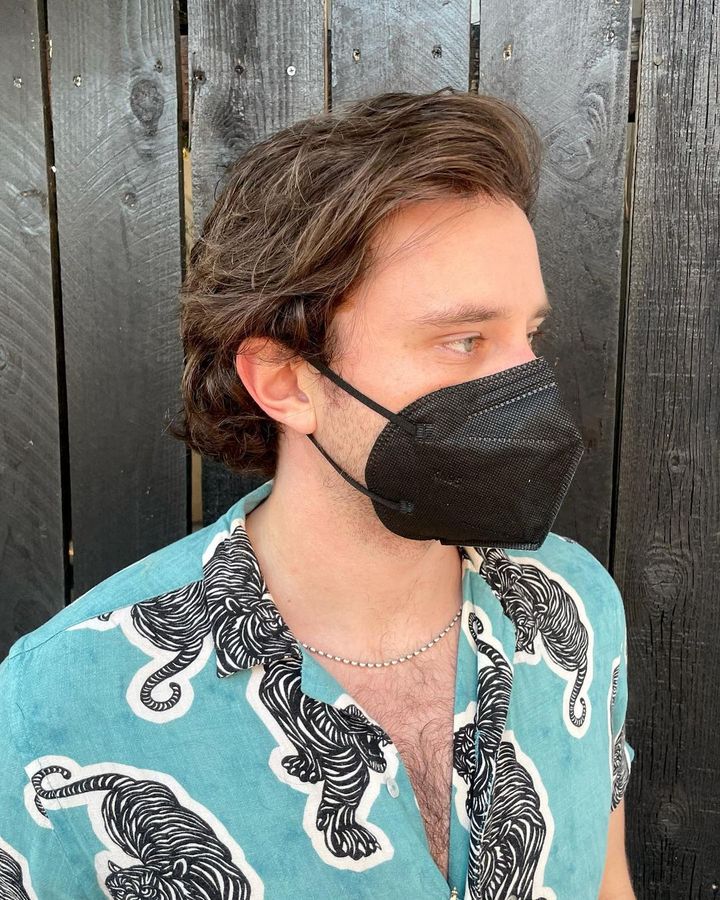 What Does Trump Hairdresser Say?
Besides making polarizing statements, Trump also makes notable public appearances that never fail to steal the eyes of his audience. His iconic businessmen's looks and appearance and his controversial speeches are beyond anything. 
However, the dilemma of natural hair remains on top of everything. 
To answer the unremitting debate, Trump's hairdresser discusses his wheat chaff-colored, crispy crown, which is either a combover or a toupee. 
According to the hairdresser, Trump doesn't wear a toupee nor a combover, as this isn't covering the bald spot. He has been consuming pills, and as a result, his hair is firmly growing from his scalp and is not a toupee. 
This concluded that Trump's hair is growing out of his scalp, combed back, and dyed in a yellow color like a baby chick. 
Trump Toupee In The Market 
Trump's yellowish-orange hair color catches each one's eyes. Love him or hate, but you can't ignore him, and part of the credit goes to his distinctive hair that never fails to steal the show. 
Trump toupee is gaining importance among social media influencers and cosplayers. The toupee is easily available in the market due to its increasing demand. The Trump fake is quite popular for its iconic Trump looks, and customers often demand to dress up like the president.  
With Trump's toupee, they like being the center of attention. But from where to get the fantastic Trump toupee is a problem. 
Where To Find the Best Trump Toupee? 
Everyone wants to look as handsome as a President. But how can you achieve this goal when people tell you that your hair looks like it has been electrocuted?
Many people spend countless hours at the salon trying to find the perfect haircut and color that transform their appearance. 
Lavivid hair is a professional hair company striving to help you become the best version of yourself. We are proud to offer a Trump toupee that will cover your bald spots and will give the perfect presidential looks in just a few minutes.
At Lavivid, we provide premium quality products with guaranteed durability at a fraction of the price. 
Visit our website to find the best Trump toupee.