Does George Stephanopoulos Wear a Toupee?
Views: 2319
Who is George Stephanopoulos?
George Stephanopoulos is a famous American television host, political commentator, and former democratic advisor. He is best known as an anchor of the ABC (American Broadcasting Company), the Sunday morning current event news program, and the co-anchor of Good Morning America.
George Stephanopoulos was born in Fall River, Massachusetts, in 1961. He was brought up in Cleveland and graduated from Columbia University with B.A. in political science. In 1983, he attended the University of Oxford and earned his Master's degree.
Upon graduating, Stephanopoulos moved to Washington DC and made a fresh start as a political attache. In the later years, Stephanopoulos joined the staff of the former house, and in 1992, he presented his services as a deputy manager for Clinton's presidential campaign. In 1993, after Clinton's inauguration, Stephanopoulos became a significant advisor and continued his work till 1996.
In 1997, Stephanopoulus joined ABC as a political analyst and shifted his career to an anchor. In 1999, he published the New York Times best-selling book, All Too Human: A Political Education, in which he narrates Clinton's campaign. In 2002, he became the anchor of This Week and later became the co-anchor of Good Morning America. And in 2012, he acquired the position of host of This Week which is continued till now.
In 2001, George Stephanopoulos married an American actress, comedian, author, and presenter. The couple has two daughters together. The happiest couple supported each other in their post-marriage career journey and led a euphoric life.
But the public is less interested in his personal life and more interested in knowing about his densely follicular head. Does he actually wear a toupee or wig to hide a bald spot, or is it his natural hair even at 61?
Keep scrolling to learn!
Does George Stephanopoulos Wear a Toupee?
Regardless of the gender of the person, in politics, looks and appearance matter the most, and hair is the first thing that catches everyone's attention and attracts the living souls. It is not only a fashion statement but also a way to express ourselves.
In fact, hair matters so much that in a Class Day speech at Yale in 2001, Hillary Clinton jested, "The most important thing I have to say to you today is that hair matters. This is a life lesson my family did not teach me; Wellesley and Yale Law School failed to instill: Your hair will send significant messages to those around you. Pay attention to your hair because everyone else will." 
Now when it comes to George Stephanopoulos, being the dominating personality in American TV shows, it's not very subtle that he cares the most about his hair. He is always seen on screen with his same patent.
There are rumors that George Stephanopoulos wears a toupee and that he has been wearing it for years. Some people believe that he wears it because he has a bald spot, while others speculate that he uses hair extensions to cover up his bald spot. Unfortunately, there's no proof either way, and we can't help but wonder if George Stephanopoulos wears a toupee or not!
How To Get George Stephanopoulos Look?
While the vast majority of people, especially men, can't help but wonder the secret behind George Stephanopoulos' full hair-head, at the same time, fighting the bald spots can be overwhelming.
But you don't have to worry anymore! Lavivid Hair presents you with the best hairpiece for all your hair needs. Whether you need a George Stephanopoulos-inspired look or you're playing his character in your next cosplay event, the George hairpiece will leave you to spellbind.
George Natural Looking Hairpiece for Men | 0.04mm Thin Skin in the Front with Swiss Lace in the Back
George has a pretty thick mane with a hint of gray hair naturally complimenting his age. He may have appeared with a grunge a few times, but mostly, he keeps his hair parted sideways.
George is a perfect hairpiece that is designed to blend with your natural hair without being able to be detected. The hairpiece has a combined base of super thin skin in the front and Swiss lace in the back.
The thin skin base gives a sensation of naturally growing hair from your scalp, while the gray hair density is either less than 40% or slightly higher depending on what you choose to adorn yourself with.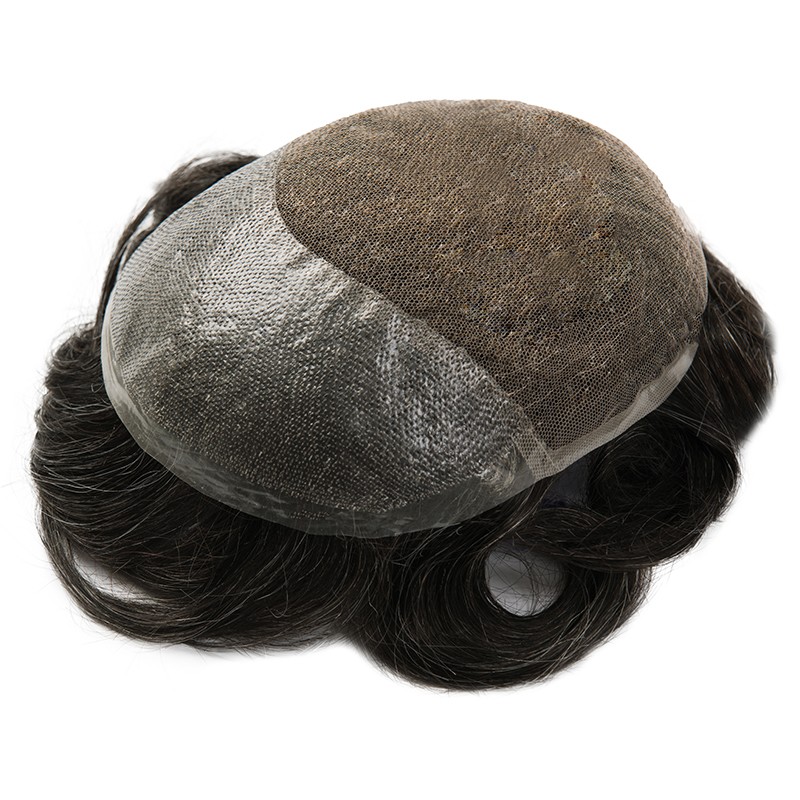 Moreover, you can also get a customized base size if you want. That way, you won't have to cut the base when you receive the hairpiece. 
With proper care, George is good to go around for a couple of months.
---