Does Ian Ziering Wear a Hair Piece?
Men have suffered from baldness and hair loss for years more than women, but men tend to be shy about such issues. Men shouldn't be embarrassed when talking about hairpieces; they are like a new accessory or a hair extension that you add to your look to feel more confident, or it is something that you can use to change your style temporarily. 
Most men don't prefer to talk openly about hair problems, but as time changes and even celebrities like Ian Ziering, Elton John, and many others talk about it openly. Today we are here to discuss everything about men's hair loss or baldness and encourage you to solve the issue with the hair system to boost your confidence.
Whether you are suffering from hair loss/ baldness due to aging or any other medical condition or just want to change your hairstyle without damaging your natural hair then hair systems, wigs and toupees are the best solutions for anyone. LaVivid hair provides the best quality human hair and synthetic hair systems to transform your look entirely.
LaVivid Hair Pieces
Hair systems are available at many hair salons; online hair shops, although there is no guarantee that these hair systems are of good quality. So, it is better to buy hair systems from a trusted brand like LaVivid hair.
LaVivid hair systems are available in many different designs, styles, and colors for you to choose from. They promise to provide itch-free, breathable, and natural-looking hair systems, hairpieces, and wigs to make you feel confident once again.
LaVivid hair systems last for more than six months, and you can easily wear them anywhere. The hair systems are waterproof and can be worn to the beach easily; you can even sleep or shower with it for 1-2 weeks. A few different types of hair systems that LaVivid hair offers include 
Ian Ziering: More than Just a Beverly Hills Actor
Ian Ziering is an American voice actor and actor who was born in 1964 in Newark, New Jersey. He went to West Orange high school, and then for higher education, he went to William Paterson University. Ian Ziering debuted as Erich Aldrich in the TV show the doctors when he was only 17 years old, and he continued acting along with his studies. He is famous for his character Steve sanders in Beverly Hills' 90210 and played this role for almost ten years and gained massive popularity with it, and people still praise him for his work in Beverly Hills' 90210. He worked in more than 50 TV shows, including many guest appearances on famous shows and his current net worth is $5 million.
Ian Ziering was married twice, firstly to Nikki Schieler then to Erin Kristine, but divorced and he has two daughters. He starred in Sharknado for almost five years; it is one of the most famous film series and even played as a DC comic's character blue devil on the series swamp thing. He has played a vital part in more than 20 iconic movies, including the infamous endless love, Christmas in Palm Springs, that's my boy, domino, strip down, and many other movies.
Ian Ziering last appeared on the show "the other two" as a guest in the year 2020, and he has not appeared in any other TV show or movie since then.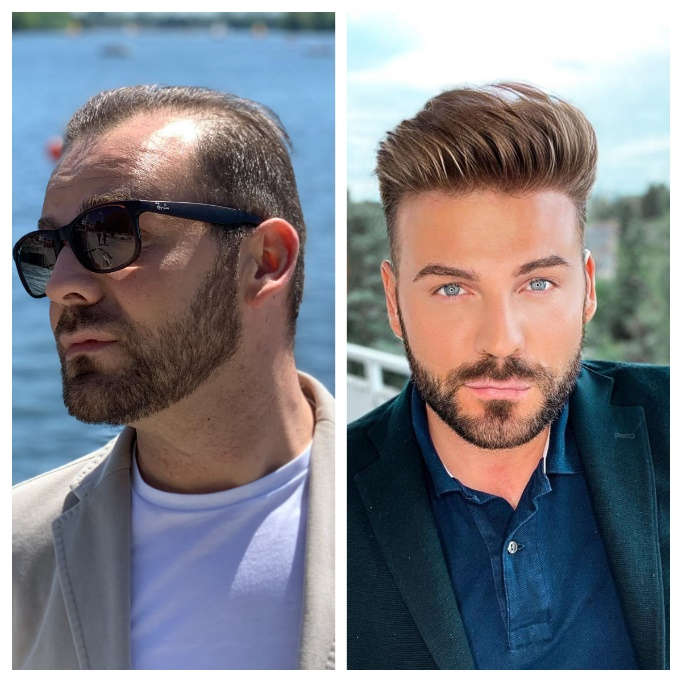 Ian Ziering and Different Hair Pieces
Since hair systems and toupees are back in trend because many famous celebrities have been spotted wearing them at various events, the list of celebrities is quite long, including the famous brad Pitt, Al Pacino, Nicolas cage, Kevin Costner, Ian Ziering, and many others. Some celebrities wear it because of their thinning hair, but some wear toupees and hair systems to change their style for an event.
Ian Ziering receding hairline increased with time, and he wore different hair systems and toupees at different events. He wore a hair system during the shoot of his movie "Sharknado," and not only that, but he also even wore different wigs while shooting for the movie "swamp thing."
No one has ever asked him about it, as his hair systems are rarely visible and aren't prominent because he likes to keep it within his natural hairline. Although now, Ian Ziering prefers to go around with his natural hair as no one has seen him wearing any type of hair system or toupee at any of the recent events.
Other Celebrities with Hair Systems and Wigs
Apart from Ian Ziering, many celebrities wear wigs and hair systems to change their look or sometimes to hide their hair loss or baldness. There is no shame in wearing a wig /toupee or a hair system because it boosts your confidence and sometimes changes your style to achieve a more complete look. 
Daniel Craig, Jude Law, John Cryer, Robert Pattinson, Ben Affleck, Charlie Sheen, John Travolta, and many other celebrities wear hairpieces with pride and don't hide them at all.
Conclusion:
Hair is a highly crucial part of your body as it completes your entire look and speaks a lot about your entire personality. It is necessary to take care of your hair in the best way possible, and whether it is your natural hair, wig, toupee, or hair system, it doesn't really matter unless you wear it with confidence.
So, if you are now looking for different hairpieces to fit you perfectly, then head straight to the LaVivid hair website to find the best wig, toupee, hair system, or any other hairpiece that you are looking for. LaVivid hair offers a great variety of hair systems; they have different designs and unique colors and human and synthetic types of hair for you to choose from, and not only that, but they also even provide customized hair pieces tailored perfectly for your head to ensure a secure fit. You can explore their website to learn about different headpieces' prices and discover new designs.