Does Jimmy Smits Wear a Toupee?
Views: 1946
If you belong to '80s or '90s, then it's highly likely for you to remember Jimmy Smits from the role of detective Bobby Simone, however, if you belong to a younger generation, then you probably remember him from films and TV dramas such as the Star Wars or the Bluff City Law. Well, wherever you saw him, you would have surely been impressed by the acting skills that Smits possesses.
Starting off in the early 1980's Smits took up minor roles in movies but has climbed up his way towards success in the media industry. Now he has achieved quite a good amount of fan following. Recently Smits became a topic of discussion amongst not just his fan but all Hollywood fans when rumors started to spread that Smits wears a toupee to hide his hair loss. But is it all really true?
Jimmy Smits Hair Loss Journey:
Born in 1955, Jimmy Smits started his career quite late and made his debut in 1984 when he was around 29 to 30 years old. In the earliest of his show named Miami Vice, you will notice that he had a receding hairline. 
After he appeared in the NYPD Blue with the character of Bobby Simone, it became pretty evident that his receding hairline had worsened. Later appearances in front of the camera showed that the receding hairline has further worsened and turned into a clear hair loss and baldness problem. Smits at the time was said to have a Type M baldness, which, as the name suggests, is a type of baldness that involves the receding of the hairline in an 'M' shape. This receding continues to grow over time and ultimately ends all the hair.
Now, much later into his career, Smits Type M baldness has only increased, and only a small volume of the hair he had is now left on his head. Hollywood fans have now started adding Smits into the list of bald actors and believe that Smits uses a toupee or a wig to hide his baldness.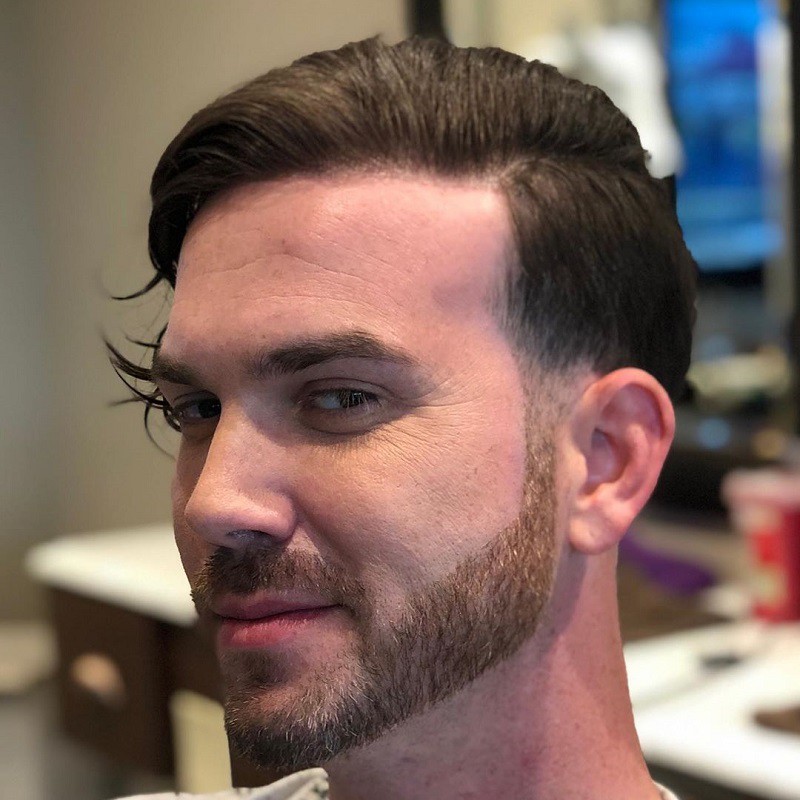 A Strong Gust of Wind That Proved the Suspicions Right:
While fans have long suspected Jimmy Smits to wear a toupee, it was never actually revealed that he wore one. However, the suspicion came out to be true during the shooting of NBC Pilot, a show in which Smits is playing the role of a retired Supreme Court Judge.
This happened when Smits, alongside the whole cast, was shooting an outdoor scene on the staircase of the Franklin Institute in Philadelphia. Heavy rainfall started during the time of the shooting, and everything had to be packed up; thus, the cast patiently waited for the rain to end so that they could start shooting again. While the rain did end, the weather was still a bit stormy; however, the cast was signaled to continue their shooting; thus, the shooting continued.
The cameras, equipment, crew, and actors were all readied, and the shoot was started once again. The first scene was on Smits, where he had to walk down the staircase; however, things didn't go well for him, and in the middle of the scene came a strong gust of wind that not only ruined the take but also blew his toupee hair, soon after this happened, the makeup team surrounded him and took him inside to fix his toupee. 
This strong wind gust and the toupee coming off does prove that Smits does actually wear toupee hair to hide the Type M baldness that he experiences.
How Toupees help Jimmy Smits and other actors in Hollywood?
When selections and role offering for a film or series starts, actors are selected on the basis of how well they deliver their dialogues and how well they can adapt to the personality of the role; therefore, actors at times look nothing like the role they are being offered thus they have to change their appearance for that.
Now the most important part of this appearance change is the hair, and for actors that are bald, toupee hair is the best solution. So no matter if an actor wants to have curly or straight hair for a role, toupee hair can easily get them the hair they want. 
Actors like Jimmy Smits, who undergo hair loss, continue to keep up their appearance by using Toupee hair, which is actually quite common in the industry. You will be surprised if you research about how many actors/actresses use toupee hair. 
Toupees You Can Wear If You Undergo Similar Hair Loss Problems:
While the Hollywood industry may treat baldness or hair loss as something to be ashamed of or as something that's bad to have, but we assure you that having hair loss and wearing a toupee to hide it is completely okay, and there is nothing wrong with it. If you also face a Type M baldness like Jimmy Smits and want toupees that can effectively hide it, then we are at your service. Here is a list of toupees that you can try if you experience Type M baldness.
The best for a Type M baldness because lace front wigs will create an illusion of perfect and strong hairline, thus effectively hiding your baldness.
As the name suggests, the open weft wigs have more space between each weft, thus allowing a relaxing and easy experience when wearing a wig. It is airier thus can be worn on long and hot days.
It will cover your whole scalp and offer a better hold but is not suggested to be worn in hot and humid areas.
Conclusion:
Jimmy Smits indeed is one amazing actor that has built up his career from scratch and has built a name for himself. He surely deserves respect for all the work he has done. We hope you found the answer to your question and consider this a good read.
---