Does Mark Cuban Wears A Toupee?
Views: 1945
Hair loss is just as common as everything now. Every day one or the other person shows signs of hair loss. Pattern hair loss is very common in males. This not only occurs in old-aged men but is now seen in young men too. To overcome baldness and symptoms of hair loss, people opt for surgical and non-surgical ways to treat it.
The majority of the people choose to go with hair systems. They are the best non-surgical ways for people suffering from baldness or pattern hair loss. This is also famous in Hollywood. Many actors and actresses use hair systems to cover their bald spots, hair thinning, and hair loss. They might also use it just to give a beautiful, luscious look to their hair and enhance their looks.
Mark Cuban is everyone's favorite billionaire and a famous Shark Tank star. This 60 year old star is the owner of Dallas Maverick and a very successful tech entrepreneur. A rumor about him has always been around that does he wears a wig or not? Is Mark Cuban's hair real? Does Mark Cuban wear a toupee?
Hair Systems And Toupee:
A toupee comes from toupet, a French word. This is a tuft of hair or any roll of hair designed to wear just above the forehead. They can either be made from synthetic and well natural human hairs. It does not cover the whole head like a wig. Instead it covers a very small section of your head on the crown region.
Pattern baldness and hair thinning in men mainly occur in the crown area. Compared to all other hair systems and hair loss treatments, a toupee is the most affordable and easy to wear hairpiece. It was first designed in the 18th century, and since then, it the most used hair system of all time.
You can get the best toupee of all times at LaVivid hair. They have different varieties of toupee for you to choose. You can either choose from a synthetic hair toupee or the ones made from human hair. LaVivid hair has a wide variety that allows you to choose the best hair system according to your style and preferences.
Hollywood And Toupee:
Over the years, the use of wigs and hair systems in the Hollywood and fashion industry have evolved. With time wearing wigs and hair systems have now normalized. Not just actors but performers, singers, influencers, and models in Hollywood now mostly wear a toupee. And they look realistically convincing.
They do not only use it to cover their bald spots and hair thinning. Instead, they also use it to elevate their look, change their style, or maybe for a new project. All actors now are open about using hair systems to the media and to their fans. Even though there are still some of them who hide it or keep it as a secret from the general public.
One of these people is Mark Cuban.
Who Is Mark Cuban?
Mark Cuban is not just any entrepreneur. He is also an American billionaire, a media proprietor, and a famous television personality. He is also the owner of a professional basketball team of NBA, Dallas Mavericks. He is the main investor, or you might say the main shark on the very famous Shark Tank reality show.
That is not it about him. He founded Broadcast.com, a video portal with his fellow Todd Wagner, in 1995, which he later sold in 1999 for $5.7 billion to Yahoo. He is as successful as one can ever be with his ever-growing business portfolio.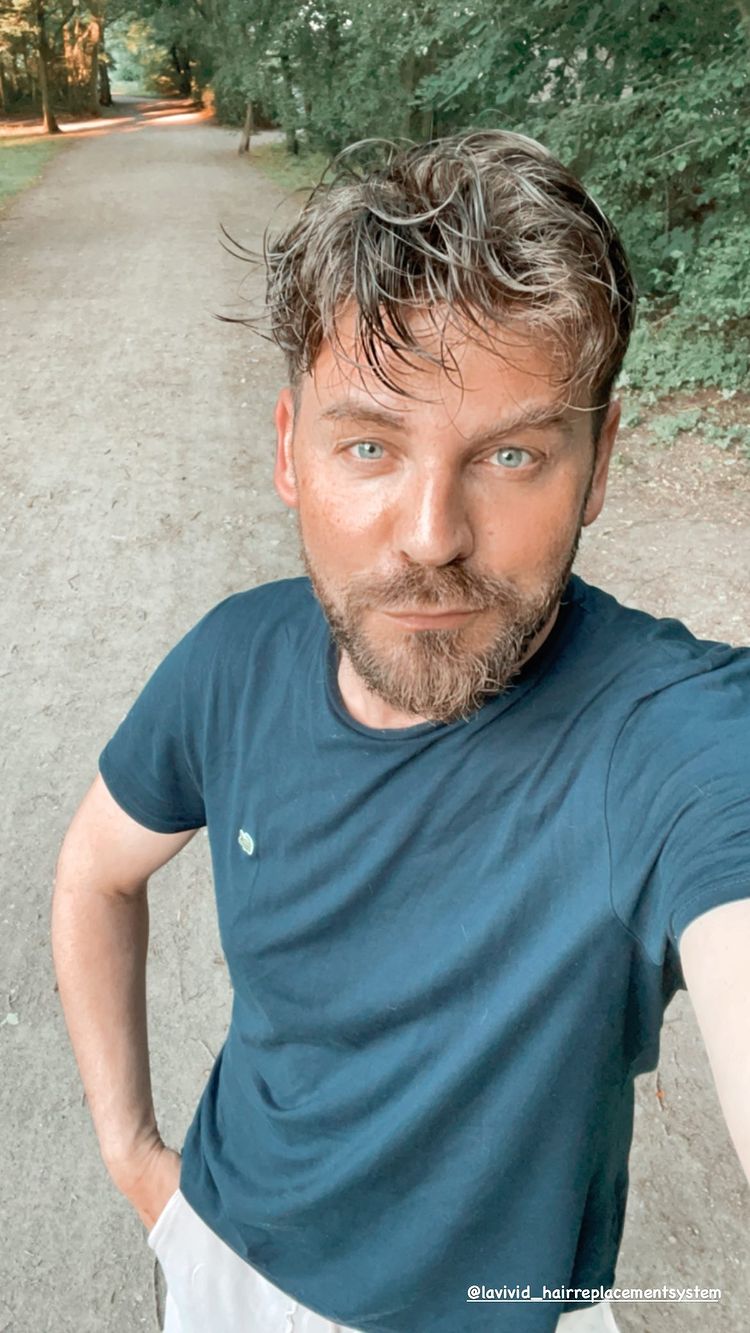 Is Mark Cuban's hair Real, or Does He Wears A Toupee?
In the past few decades, Mark Cuban has had multiple different varieties of haircuts and styles. From becoming famous as a film producer with great talent to becoming a business person, his journey was venturesome along with his hairstyles. He was always known for his pleasant character and extraordinary looks.
Mark Cuban has never really given a statement or been open about him wearing a toupee. But the fans and the media knows it all. His fans have noticed how they spot him during football games with grey hair and bald spots. According to them, he only wears a toupee on Shark Tank. The picture below is a proof that Mark Cuban is balding and uses wigs and toupees to cover it up on television.
This picture was from one of Mark's commercial shot from behind. Here a lamp is directly positioned at his head that makes his bald spot clearly visible. Some of the people refused to agree to it, saying that his hair was gelled up. They say it was the mirror effect from bright light and glossiness that made it look like a bald spot.
Robert Herjavec, Mark's co-star on Shark Tank, once gave a statement that made it clear that he is balding and covers it up with different hair systems. He says,
"Most people don't realize this, but Mark wears a wig, it's not really his hair, and he wears platform shoes. When Mark takes his shoes off he's shorter than I am, he's way shorter than Lori."
He later continued roasting Mark. He feels bad for him for just throwing off his money and says,
"He used to be a billionaire, and now he lives in my basement…with his platform shoes and his wig."
According to baldcelebrities.com, Mark Cuban is just trying to replace what he lost with time. His older pictures had thin hair that would show off his scalp under direct light. In recent pictures, his hair looks much more dark and thicker. He seems to style his hair strategically, which gives off an illusion of fuller hair.
Final Thoughts:
The most commonly used hair system by men these days is a toupee. They use it to hide pattern hair loss, hair thinning, and bald spots. This convenient hair piece has taken over. You can get the best hair toupee from LaVivid hair that suits your style. They have a wide range of hair toupees to select from. Many actors also use it to maintain their looks and style over the years. To keep their look young and fresh, covering grey hairs and bald spots is very common in the television and fashion world now.
---