Does Non Surgical Hair Replacement Cost Stop You from Buying?
How much does a non surgical hair replacement cost? Where to buy good hair toupees at affordable prices? Today, we introduce several terrific products from Lavivid including their prices and performance. You may choose one contented from what we recommend to you. 
Prices are one of the several key factors consumers are concerned with when shopping. Though the prices of online merchandise are lower than those in offline stores, we still want to get products at the lowest prices. For people troubled by baldness issues, buying a hair toupee is necessary. How to choose a quality toupee at a nice price becomes a headache. 
To save your time and money, we select several wonderful products from our store at affordable prices. They are all popular items in our store. You can see the customer reviews about how the products perform. 
Versalite Men's Hair Pieces for Wedding
The product belongs to the type of mono hair systems as one of the most classic styles. If you are looking for a highly durable hair toupee, this one is a perfect choice. With fine mono as the major part of the base, poly skin as the perimeter, and lace as the front, the product combines the advantages of different materials well. This is also why it is so durable. 
The replacement period is 8-12 months. The mono base makes it strong and easy to apply. The lace front presents a realistic and undetectable look. The poly skin around also makes application and removal easier. It is convenient for you to cut them around a bit if it is too large for you. You can try various hairstyles by wearing such a hair toupee. The cost of it is 269 US dollars. 
Eros Men's Hair System
This one is highly popular among customers. It offers a wide range of colors that you can choose from. The hair base is made of full ultra-thin skin measuring only 0.02-0.03mm. When wearing such a product, you will feel no discomfort and even not notice it.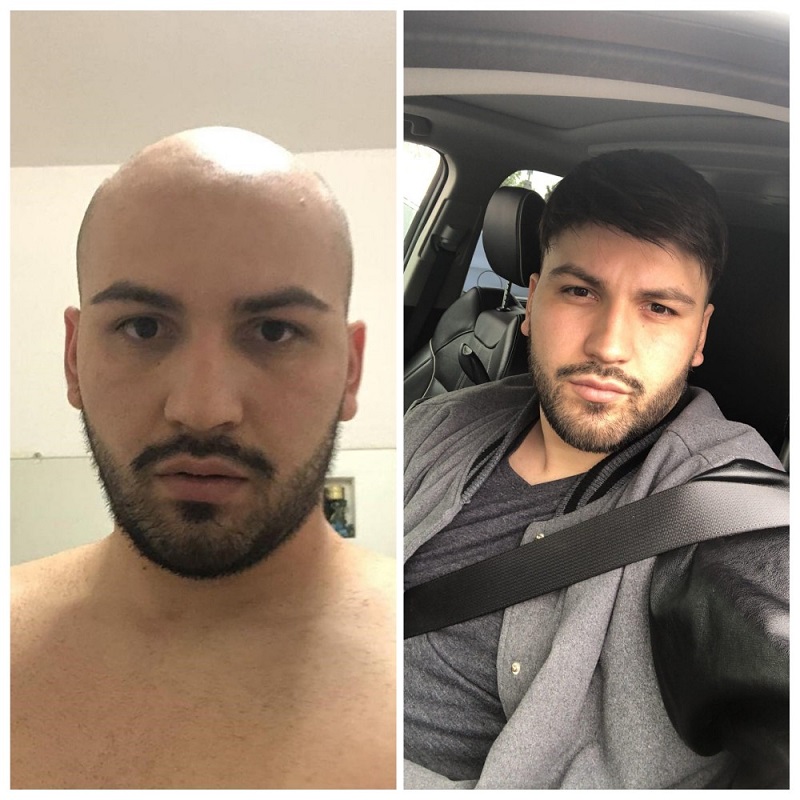 The knots hide well inside the hairpieces, so they are invisible from the outside appearance. This hair toupee is an ideal option for businessmen. Spending 279 US dollars and you can take it home. The replacement period is a bit short, 2-3 months. 
Zeus Men's Frontal Hairpiece
This hairpiece is particularly designed for covering receding hairlines. Receding hairline is also one problem bothering many males nowadays. It is very convenient to use. You do not need to shave your hair. You can wear the product directly on the hairline area. It can give you a natural appearance. The price of the product is 95 US dollars. 
Harry Lace Hair System for Men
Made of 100% Indian Remy human hair, the product can give you thick and wavy hair. The replacement period is 2-3 months. It is good to wear when you are working out. The lace base makes the system breathable while the poly around strengthens its durability. Compared to the average full lace base system, it is stronger and more durable. The non surgical hair replacement cost is 271 US dollars. 
Achilles Men's Hair Unit
This is a cost-effective product at the price of 259 US dollars. The life span of it is 6-9 months. The hair base is very thin, about 0.12-0.14mm. The poly around makes it more durable than other average products. You can wear it on different occasions like weddings, business or daily exercise. 
Among all the products we recommend to you above, the Versalite hairpiece is the most long-lasting. If you prioritize a realistic scalp appearance, the Eros hair replacement system is better. All these products are of high quality, we are sure that you can find one satisfactory in our store. 
If you want to buy a hair toupee that 100% matches your head, we are also glad to receive customized orders. Contact us and send your requirements, we will try our best to meet your needs. 
Overview
The average non surgical hair replacement cost is above 100 US dollars. If you want to buy a quality one, the price is higher. The cost of a hair toupee is affected by various factors. You may take the products we have listed above into consideration.