Does Ryan Seacrest Wear a Toupee?
We all know that celebrities, both male and female, look gorgeous all the time. Each of them tries to be the epitome of beauty so that everyone can follow them and make them their ideal. But the question here is, how do they manage to look good all the time? All of them need to use makeup and heating tools all the time, yet their skin and hair remain as fresh and good as new. So, what is the secret behind this? 
When it comes to the hair of celebrities, one of the most common things they do is use wigs and hairpieces. They use it to cover the problematic areas of their natural hair, and sometimes they also use it to protect their hair. This means all the damage from the dyeing and hair tools will be caused to the wigs and hair pieces but not to their natural hair. This is an ingenious way of always looking good and protecting your hair. 
Celebrities wearing Toupee:
Many celebrities got into the light of controversy because the fans thought they were wearing toupees and different hair pieces to hide their hair. The fans thought they were trying to lie to them and were portraying that having hair problems is something taboo. 
Recently the person who was in controversy was Ryan Seacrest. Many people thought that Ryan Seacrest started wearing a toupee and did not tell his fans. They were very heartbroken and upset because of this act. So, let's look if he was actually wearing a toupee or if this was just a rumor created by the haters of Ryan Seacrest. 
Who is Ryan Seacrest? 
Before learning, if Ryan Seacrest was wearing a toupee, let's look at Ryan Seacrest's background. In Atlanta, Georgia, Ryan Seacrest was born on December 24th, 1974. Ryan Seacrest got his education from Dunwoody High School and his higher studies from the University of Georgia.  
He is a famous Hollywood actor, media personality, and renowned producer. You can see Ryan Seacrest on many different shows as a host. He was the co-host of Live with Kelly and Ryan. Furthermore, he also hosted American Idol, On Air,  with Ryan Seacrest, and American Top 40. He also hosted the annual show  from Time Square in New York and was the executive producer of this same show. 
Another outstanding achievement of Ryan Seacrest was that he was nominated for Emmy Awards for the best host in American Idol. He was not nominated once but thrice in 2004, 2013, and 2016. He was also awarded an Emmy trophy in 2010 for producing Jamie Oliver's Food Revolution. He was again nominated for producing the same show in 2012. 
Hence, it is safe to say that Ryan Seacrest has a fantastic reputation in the Hollywood industry, and people love him for his talent. But now let's see if Ryan Seacrest wears a toupee or if it was just a false alarm to create a controversy. 
Does Ryan Seacrest wear a Toupee? 
Many people are amazed by how Ryan Seacrest has managed his hair, and a lot of people are also a fan of his styling. Ryan Seacrest has perfect hair, and according to his hair stylist, he spends a little extra time to perfect his hair look. Ryan Seacrest nor his hair stylist ever mentioned him wearing a toupee, and it was never seen that he wore a wig. His hair always looked natural and healthy. So there are a lot of possibilities that Ryan Seacrest never wore a toupee, and it was only a rumor.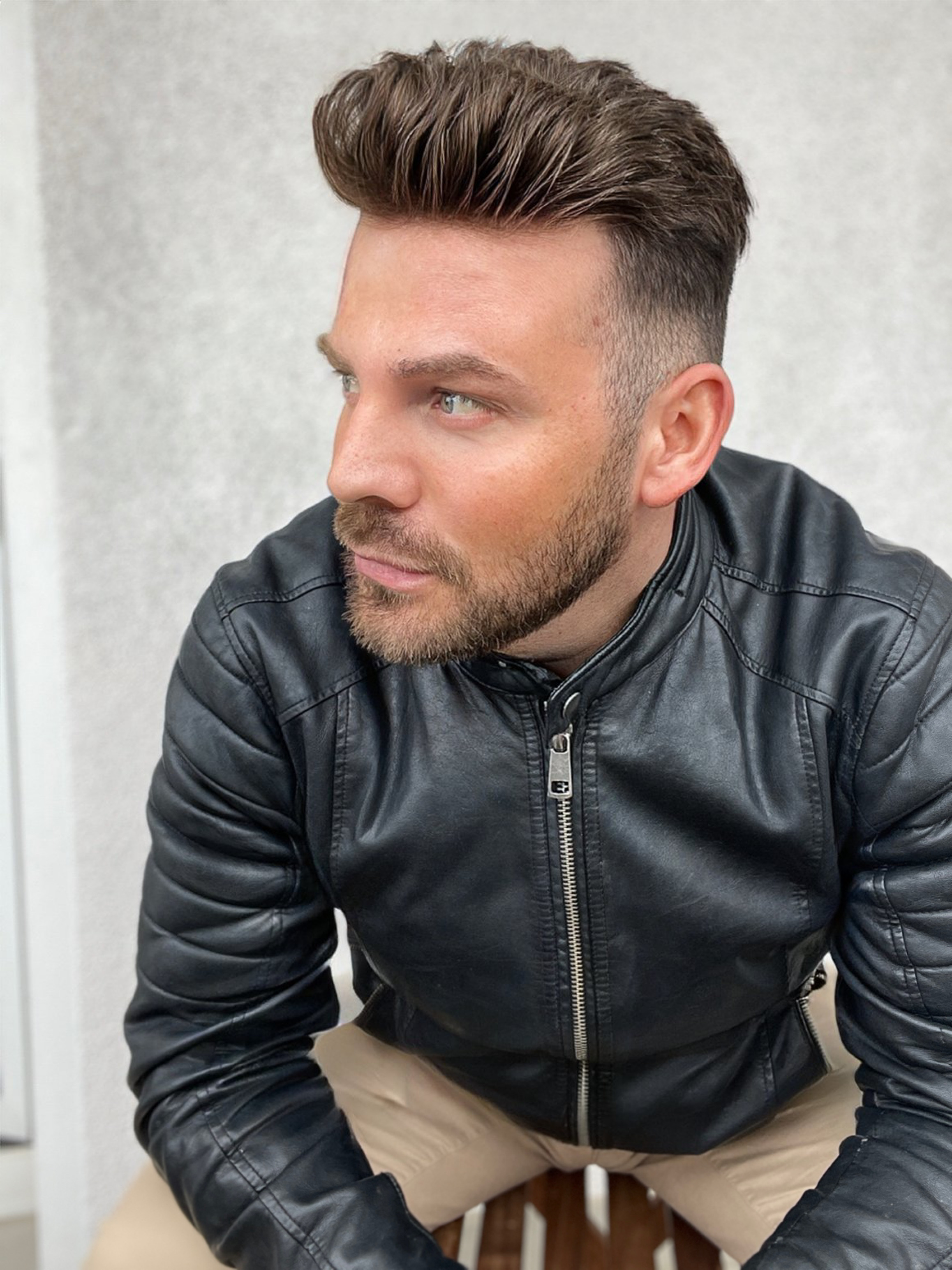 What is a Toupee? 
There are a lot of different types of hair pieces that are used to tackle problems of hair. One of the latest types of hairpieces that people like is a Toupee. A toupee is a small artificial patch of hair that can be used to cover the problematic area on the head. This is ideal for people suffering from alopecia or bald spots. 
Toupee looks very natural and blends with the natural hair seamlessly. Besides that, it is also very comfortable to wear and does not feel heavy on the head. 
What is the difference between a Toupee and a Wig? 
Many people might think toupee is another name for a wig. However, both of these products have a huge difference. Wigs are proper and a complete hair piece that covers the entire head. In contrast, the toupee is just small head patches used for smaller areas. 
Wigs can be used for both covering the thinning of hair and can also be used for styling purposes. Many hairstylists use wigs to make the actors look like the character they are playing; they dye them and do different funky hairstyles. This protects the actor's natural hair, and they can easily do the styles they like. But the toupees cannot be used for styling purposes. 
The main aim of using a toupee is to protect the hair and conceal the problematic area. A toupee is much smaller than a wig; it can also be customized according to your needs. So, if you want something natural that is also lightweight and comfortable, then a toupee might be the best option for you. 
Where to find the best Toupees? 
If you are also on a hunt to find comfortable and high-quality toupees, then LaVivid hair might be the best place to visit. LaVivid hair is a website with a massive collection of types of wigs. You will see various colors, styles, and materials used for toupees. Furthermore, these toupees are affordable and one of the top qualities. Therefore, you should check out their website if you want to get your hands on a toupee. 
Conclusion: 
Celebrities are known to get different treatments to look good and young all the time. One of the most significant controversies for celebrities is about their hair and whether they have natural hair. Ryan Seacrest was also caught in the controversy; however, it was just a rumor.