Does Steve Carell Wear a Toupee?
Views: 1078
We are all aware that celebrities worldwide take different treatments and supplements to look good. Whether there is a problem with their features or hair, they opt for different treatments. This is because they need to look good in front of the cameras all the time. The main part of their job is to be on top of their game all the time. Hence, you will find a piece of news every day about a specific celebrity accepting that they did take a treatment. 
Not only celebrities but every other person faces some hair problems. There are many causes due to which this happens. Deteriorating health, age, stress, and diet are all factors that can cause hair thinning and falling. Hair issues can take a severe toll on your mental health. You might feel that you don't look and lose your self-confidence. But now, you don't need to worry because there are many options that you can opt to resolve the issues. 
Celebrities Using Toupees: 
Many people go for surgical options such as implants, but hair toupees are perfect for you if you don't want to take a big step. Many individuals are wearing hair toupees to cover the problematic area and look as good as they did. Actors, singers, and celebs have also opted for wearing toupees rather than going for surgical treatment. 
One of the most appreciated and loved actor is Steve Carell among all these celebrities. There was also a rumor about Steve Carell that he started wearing a toupee. There are questions like "Is Steve Carell bald?" or "Does Steve Carell wear a toupee?'' and so many others. So here you will find all the answers to these rumors.  
Who is Steve Carell?
Steve Carell is one of the most famous actors, comedians, and also a producer. Steve was born on August 16, 1962. He performed in many different shows and movies. One of his most famous and loved television series of Steve Carell is "The Office." Other than this, he worked in films such as Little Miss Sunshine, Date Night, and many more. He is one of the most versatile actors in Hollywood. 
Steve Carell was appreciated by his fans because of his fantastic work. he performed wonderfully in the "The Office" series, and he was awarded Golden Globe Award for Best Actor. His name was mentioned as the "Funniest Man" in the Life Magazine. He also performed many serious roles in movies such as Foxcatcher and many others. Hence, Steve Carell is a famous and influential name in the Hollywood acting industry. 
Does Steve Carell Wear a Toupee? 
Here is the juicy part that you all have been waiting for "Does Steve Carell wear a Toupee?" Then to answer that question, yes! Steve Carell does wear a toupee. Steve Carell wore a toupee for the entire time he acted in "The Office." Since Steve needed to look like a specific character, his makeup artist opted for a toupee so that they could easily change the hairstyle according to the character. He also opted for toupee in many other series and movies to change the look of the hair. 
Whereas in real life, Steve Carell opted for hair implants in the present. But before the implants, he used the hair toupees to cover his head and hide the bald patches. He wore different types of hairpieces for different events. Now he went for hair implants as they are permanent and can save a lot of his time.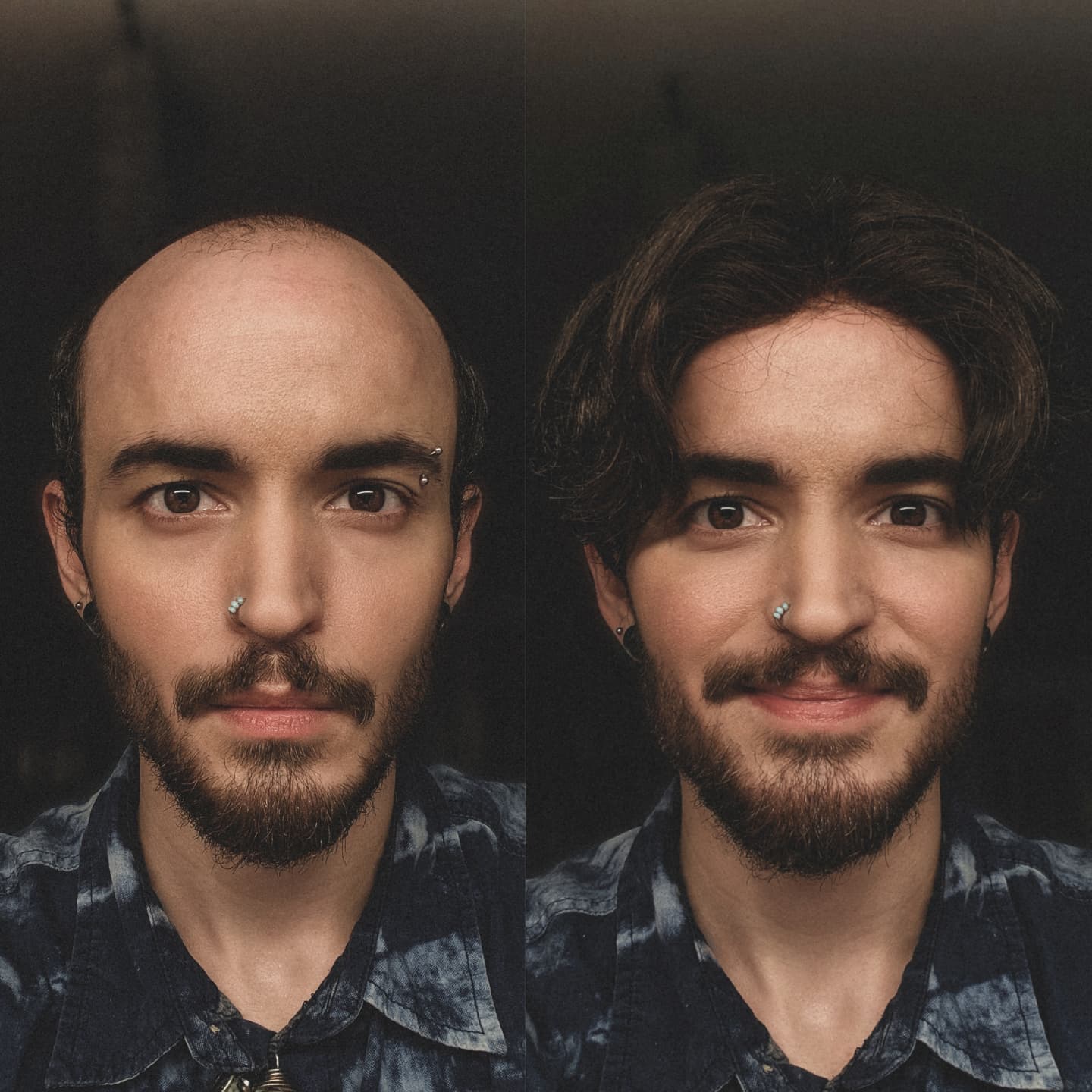 What are Hair Toupees: 
There are many different kinds of hair systems present in the market. These hair systems are perfect for concealing your thinning of hair and bald patches. You can also use them when you want to change your look and get a new color without damaging your natural hair. One of the most famous and used systems is the hair toupees among these hair systems. 
Hair toupees are worn just like a wig. But the hair toupees are much smaller than the wigs. Wigs are supposed to cover your entire head and give you a new hair set. However, toupees are made just for the problematic part, and you only wear them where you have baldness or hair thinning. Hence, instead of covering the entire hair, they are only made for a specific head part. 
One of the reasons toupees are very famous is because they look very natural. Wigs can sometimes look fake and prominent. But when you wear hairpieces on a small part of your natural hair, everything is appropriately covered, and they look very realistic. Toupees blend with your natural hair and hairline seamlessly; hence, people won't even notice that you are wearing a toupee. 
LaVivid Hair-The Ultimate Place for Hir Toupees: 
LaVivid Hair is one of the biggest online stores for hair systems such as wigs and hairpieces. They have a wide variety of hair wigs and toupees; you will find hundreds of colors and styles. They offer both natural hair toupees and synthetic hair toupees, so people can pick the one they like. The toupees are made with such perfection that you will be amazed at how amazing and authentic they look.
The best thing about this brand is that the quality of the toupees is top-notch. They are very durable and pocket-friendly. Furthermore, the toupees are very comfortable, lightweight, and breathable. So, you will be getting all the features in just one hair toupee. If you are also thinking of getting your hands on a good quality toupee then LaVivid Hair is the place you need to visit. 
Conclusion: 
There are so many celebrities worldwide that use different hair systems to cover their receding hair. Steve Carell is also a famous actor who wore toupees but now transitioned to hair implants. This shows that hair toupees can be very convenient and a fantastic option if you want to hide any of your insecurity. You can find the most amazing hair toupees on LaVivid Hair. 
---