Something You Need to Know Before Buying the Best Adhesives for Hairpieces
Views: 1783
Living with hair loss can be a really difficult challenge. It affects not just your scalp but your entire body, and it can cause either temporary or permanent aftereffects. The reason behind hair loss can be heredity, hormonal changes, medical conditions, or a normal part of growing old. Hair loss can appear in different ways, depending on what is triggering it. 
Hair replacement is considered a wonderful option for people suffering from hair loss and regains their confidence from appearing with a head full of beautiful hair. Both men and women of any age and hair type can achieve a natural look using hair replacement systems. It is a fantastic way to cover parts of baldness or for theatrical purposes. 
Since hair replacement systems are built to have similar features and look like natural hair, they also require regular maintenance to keep them looking ethereal and healthy. As much appealing as the idea of hair replacement sounds, many people struggle with maintaining it. It is tricky to figure out how to manage hair systems. Therefore, if you are new to hair replacement systems or are looking for hair system adhesive buy, please read on. 
People who are new to this with absolutely no idea where to begin and what to pick for themselves do not need to fret! You have got two choices: tape in hair extensions or glue in hair extensions. 
If you love thick and voluminous hair that has a sleek and natural look, then tape-in extensions are perfect for you. They are straightforward to apply and remove and do not damage your hair making your hair look more natural. On the other hand, if you want a semi-permanent solution to hair loss and want to wear your hairpiece for a more extended period of time, liquid adhesives are the best. 
Type of Hair System Adhesives 
For The Physically Active
Different people have different scalp types; some are dry, and some sweat a lot. For a physically active person, an intense routine is a must; hence they tend to prefer a hair adhesive that is most likely based on a waterproof formula. The Ghost Bond Adhesive is the best product to get you through your intense workout sessions since exercising is a part of your lifestyle. 
"Walker Tape Ultra Hold Hair System Adhesive" by Lavivid is everything you need for a hardcore session of exercising; this waterproof, long time holding product will get you through your exercise without fretting over the condition of your hair. 
Sensitive Skin Hairpiece Glue
If you are of those whose scalp is easily upset by any irritant, and you are extra possessive about the health of your skin, the Perma Rite #1 Plus would be perfect for you. It is a non-sensitizing, hypoallergenic glue that prevents skin irritations, redness, and itchy skin, specially designed for tender skin types.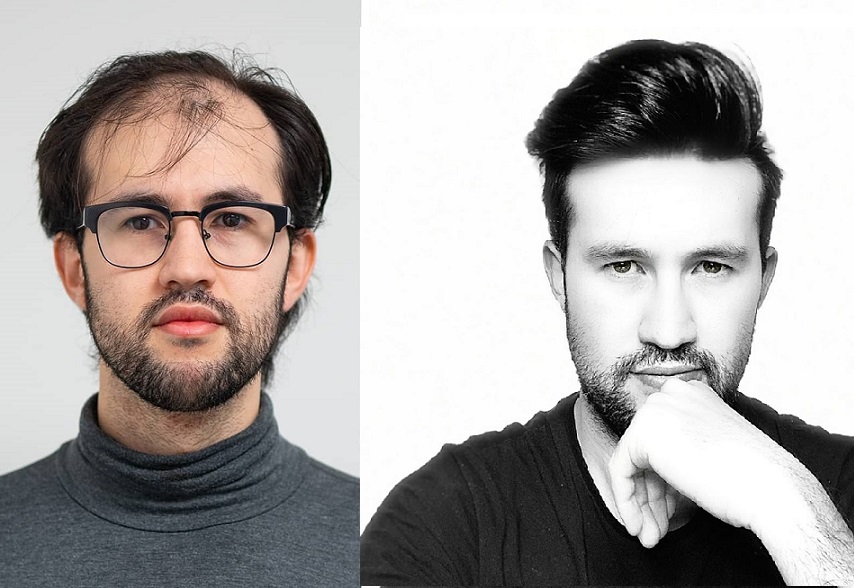 "Toupee Glue Walker Great White" is a water-based and bacteria resistant product by Lavivid that is convenient for any skin type. It is easy and comfortable to use and is gentle on the scalp providing the satisfaction needed. It is proved to resist sweat, heat, and high humidity, providing strong adherence. 
Liquid Adhesive and Adhesive Tapes
Liquid glue differs from tapes. The fundamental purpose of both taping and gluing is to connect two things, but they are in no way alike. The liquid adhesive must dry first before you put on your wig. Whereas, on the other hand, adhesive tape is always sticky; it connects immediately and holds on hard from the beginning. 
If we are to compare between the liquid adhesive and adhesive tapes, the liquid adhesive is considered a more reliable option because it is often thought to provide a stronger bond than adhesive tape. While liquid adhesives provide more strong, reliable, and long-term bonds, adhesive tape can offer a range of additional benefits to match the bonding capabilities of liquid adhesive. 
Wig Tapes
Wig tape is a sticky, double-sided, medical-grade tape that is safe to use on the skin. They are strips or patches of silicone, and they help the wig cling to the scalp. When it comes to short-term wear, wig tape is considered more convenient than fluid adhesives. Many individuals select tape because it is simpler to apply and remove and means less residue. It may seem easy to apply at first glance, however, but there is still some skill needed to ensure a strong bond with the hair system. You will require a set of guidelines that will help you secure the hairpiece better and acquire a more natural-looking hairline. 
Things to Look for When Choosing A Hair System Tape
When buying a wig type, the type of hair system is also especially important. For instance, lace does not go well with shiny tapes; the reason is that they shine through the lace portrays quite an embarrassing appearance. To avoid that, "No-Shine Toupee Adhesive in Roll" from Lavivid is highly recommended. It ensures an invisible and eye-pleasing hairline. 
When choosing a bonding tape, there are more than one factors to keep in mind; being aware of your scalp's chemistry and the condition is one of the major ones. Lavivid provides a range of products from which you can select the best match according to your skin type and other preferences. For example, "Ultra Hold Hair System Tape" from Lavivid's Hair System Tapes is a great option for the vulnerable scalp, being hypoallergenic and also minimizes skin reactions and has no side effects. If you find yourself searching for hair system adhesive buy on the internet, we assure you that Lavivid is the best place for you!
---