Everything You Need to Know About Men Lace Front Wigs
Views: 1783
Don't be confused OR intimidated with all the fancy, scientific, or medicinal sounding names associated with hairpiece and wigs, such as men lace front wigs.
Hair loss and solutions have been with us since the beginning time. Thanks to advances in hair replacement technology, there has never been a better time to look and feel your very best. The results are nothing short of unbelievable with the technology available today, such as lace front wig.
So why are lace front wigs so special? How does wig lace work? Let's discuss in detail:
What is Lace Front Wig?
Lace front wigs have replaced the traditional beauty supply regular wigs. These wigs look very natural & are designed from a special lace material that allows the wig to blend in with your skin when properly applied. The hair is hand-tied to the lace material which makes the lace wig appear that it is growing from your scalp, making it perfect to cater to hair loss problems.
With a lace wig, the lace base can be sculpted to fit the wearer's head. This ensures that our customers will always have maximum comfort when they wear one of our wigs. The hair is tied by hand to the lace itself. This process ensures top quality.
Why is Lace Front Wig So Special?
It certainly is not your fault if you feel as though your hair doesn't always look its best. In today's modern world, many men find it hard to always find time to maintain their hair. Between work, family and social life, who can always have the perfect hairstyle? Lace wigs and lace front wigs, however, solve this problem by keeping your hair so that it looks perfect all of the time.
Moreover, you can bathe, shower, swim, or do anything else you would normally do. And no one will ever know that you are wearing a wig, making it perfect to match your lifestyle.
Often men choose lace wigs when they want to test a new hairstyle or color. A lace wig is also frequently chosen to make a more "permanent" change. They can also be used for anyone who has thinning hair due to genetics or due to an illness or medication they are taking. Whatever the reason for choosing to wear a lace wig, you will wow everyone with your new look! It is time to get your lace front wig to start really living your life and feeling the best version of yourself.
How to Wear a Lace Front Wig?
Lace wigs are a special type of wig which look much better than most other types of hair wigs. This is because lace wigs have a specially woven lace cap. The hairs are then woven through the lace cap and attached individually.
These lace wigs are more expensive than other types of wigs because they are made by hand. There are two types of lace wigs; these include full lace and front lace wigs. The full lace wigs have a cap that is completely made from lace. The front lace wigs only have the part of the cap along the hairline made from lace.
(1) Glue
The advantage of lace wigs is that they are glued to the head of the wearer. This has a major advantage of making sure that they look as realistic as possible. Because these wigs are glued onto the head it also means that they can be sued for vigorous activities including swimming without any danger of them falling off.
(2) Invisible
Lace wigs are very popular because they are some of the most realistic wigs available. These are virtually undetectable. This means that nobody needs know you're wearing a wig unless you want them to.
(3) Care
The only real disadvantage with lace wigs is that they are more susceptible to damage. However, choosing a lace front wig is less of an issue. Lace front wigs only have delicate lace along the hairline of the wig.
Even so, proper care must be taken when fixing and removing the wig from your head.
Some Trendy Designs of Men Lace Front Wigs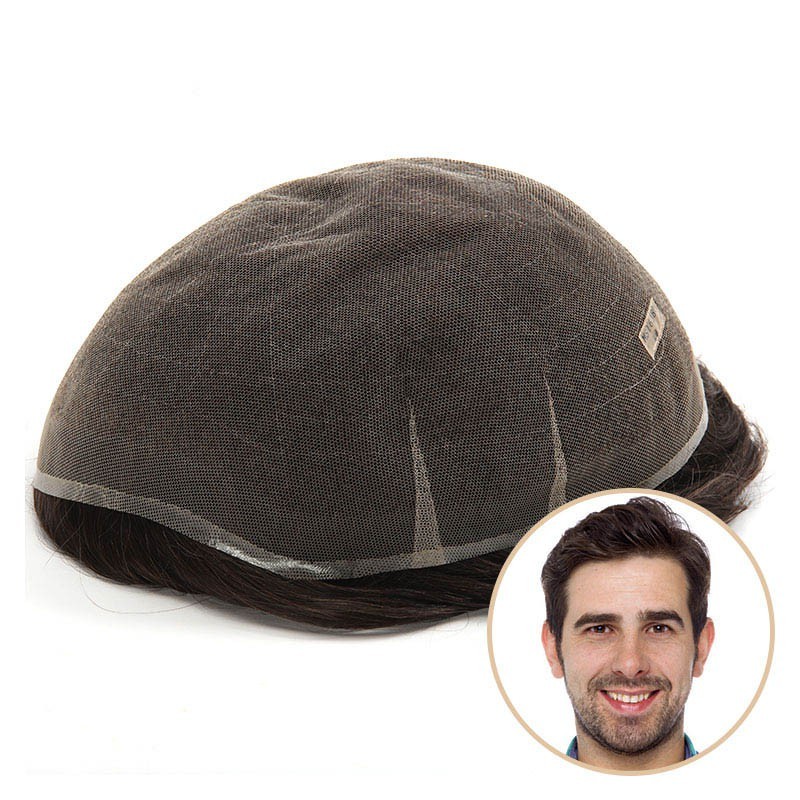 1. Helios Hair System for Bald
We've ingeniously designed this lace front wig with the men in mind, making it with the thinnest yet lightest lace material available. It's purely made of transparent swiss-lace with hand-sewn lines, making it look incredibly natural and giving you the best shape and durability. Moreover, the hair used in this wig belongs to Indian Remy Hair, which is a super strong and fine quality that lasts for a longer run, approximately 04 to 06 months. So, don't let hair loss ruin your charm, and wear this breathable Helios hair wig that keeps you comfortable all day long.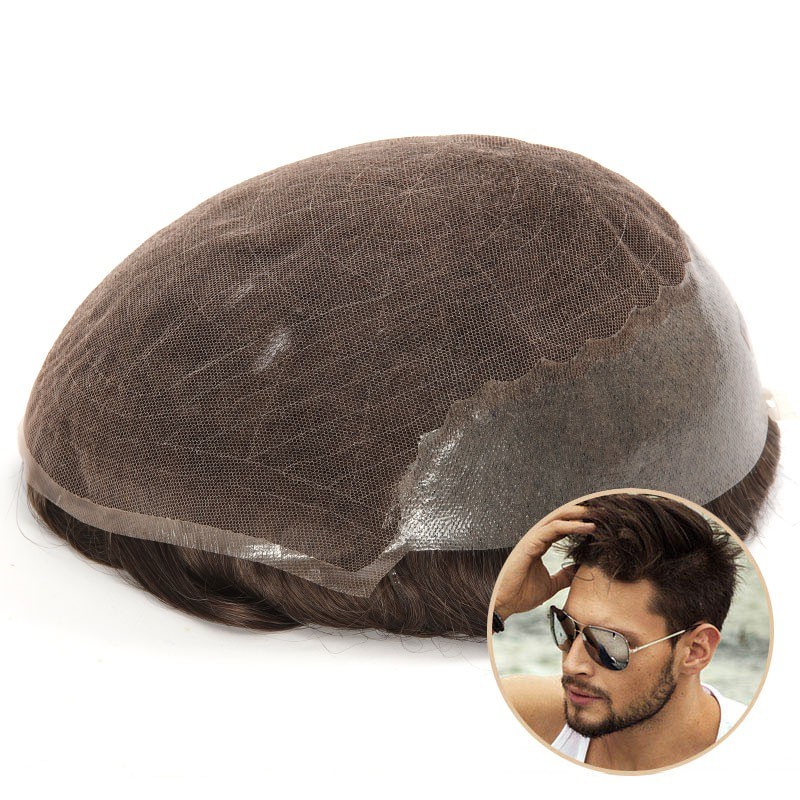 The Ares has a French Lace Style with 2 inches of skin in the back, making it perfect for the wearer to feel its smoothness and allowing you to put it on and off easily. The Ares has fine stitching lines that make the hair piece durable and long-lasting. So, if you're looking for a non-surgical hair replacement then wearing men's lace front wigs is the smartest solution in today's era.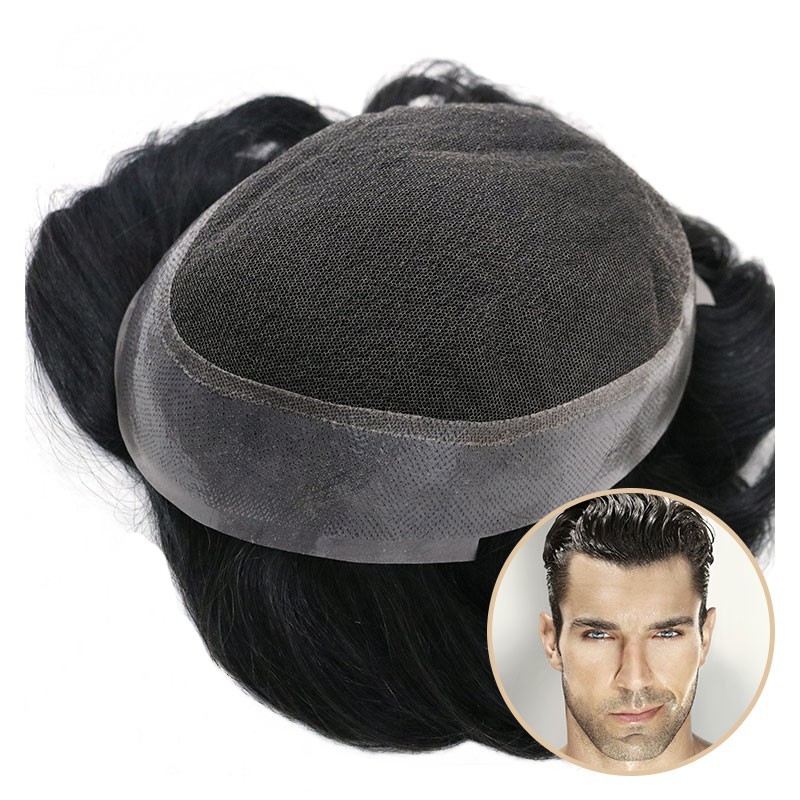 3. Crius French Lace Front Wig
The good thing about the Crius hair wig is its French lace, keeping you breathable and comfortable all day long. Moreover, it has a PU perimeter, which is incredibly easy to put on and off whereas it creates a super natural hairline while giving you a soft yet smooth feel without any hassle. So, if you're looking for something exceptional that brings out the best version of you then this is the solution.
Conclusion
Wigs allow you to have a great hair day every single day. It offers that great look without all of the hassles. Anyone can wear wigs, though, and human hair wigs are definitely the way to go.
---