Finding the Right Toupee for You
Views: 1511
Toupees are becoming a fashion trend these days as more and more men rush to get one of their own. Some men shave their heads completely to accept male patterned baldness, while others wish to cover some bald spots using toupees and wigs. Toupees are a fun and easy way to cover up any bald spots or hair thinning. They come in various styles and hair colors to suit your needs. So, if you are looking for the perfect toupee for your head, then keep on reading.
What is a toupee?
A toupee is an artificial hairpiece used to cover hair thinning and baldness. Often used by men, this is becoming a popular choice to cover up bald spots. Toupees are partial wigs meaning they are designed to cover the head partially, typically the areas which are affected by male patterned baldness. They are usually made up of synthetic hair. These hairpieces, when used carefully, can be used for up to four to six months if they are worn on an everyday basis. 
How to wear a toupee?
Wearing a toupee may seem like a tricky task, but it is pretty easy. The toupees that are made in the modern-day world are natural and very safe to wear. They seem so realistic that people often mistake them for natural hair. The most important thing to remember when wearing a toupee is to make sure that the toupee matches your natural hair color. It takes some practice mastering the art of wearing a toupee. You should make sure to practice wearing it a few times before using it regularly. Alternatively, you can also visit a hair salon and get a hair professional to help you get set and attach the toupee.
There are a few things you can do to get that toupee secured on your head without being at the risk of falling off or looking unnatural. 
  Using tape: 
The first step to attaching a toupee is to clean your head and make sure that it is oil or grease-free. The oil on your head can make it difficult for the toupee to stay on your head. Your scalp and hair should remain clean. There is a tape for toupees available in the market. Before wearing a toupee, you must make sure to use a good scalp protector so that the toupee does not irritate your scalp. Apply a waterproof sealant and wait for it to dry. 
Then, take your toupee and turn it upside down or inside out. It is best to keep it on a mannequin head as laying too flat can cause your toupee to change shape, and you may find it challenging to put it on your head. You should also use a brush and untie and knots in your toupee. After this step, you must take the tape for the toupee and apply it to your artificial hairpiece. It is best to use double-sided tapes to make it easier to apply tape on both your head and your toupee. Make sure to follow the contour of the toupee by applying the tape closer to the edge of the artificial hairpiece. Also, make sure not to let the tape touch the hair as it can stick to the hair and cause tangling. Apply the tape until the entire toupee has some tape applied to it. 
Then you need to wear a toupee. To do this, take the toupee and then put it on your head. Gently pull at the sides of the artificial hairpiece. You must first stick the front of the hairpiece on your head and then lightly apply it to the back. After application, press firmly on your scalp to make sure that the tape sticks to your scalp. You can rub the hair with your fingers to make sure it is stuck to your head. 
  Using glue:
Another method of attaching your toupee is to use glue. There are many different types of glue available but make sure to get one that does not irritate your scalp. The application of a toupee using glue is similar to that of tape for toupees. You must first clean your scalp and hair to ensure no oil, grease, and dust on your head. You need to find out the exact hairline of where the toupee will be worn and take some adhesive glue and draw a line tracing it. Then spread it out on the scalp on the place that you have to place the artificial hairpiece. After that, you can place the toupee directly on your scalp and press down firmly to make sure the toupee is stuck in place. Note that it is best to wait for the glue to dry before attempting to style and brush through your artificial hairpiece. 
The Best Toupees for men:
There are many styles of toupees available for men today. They are available for every type of lifestyle too. If you have an athletic lifestyle and you tend to move around a lot, then LAVIVID Helios Hair System for Bald Men Full Swiss Lace Base by Lavivid Hair is the best choice for you. They see these toupees at discounted prices. They are easy to put on and are very soft, and look very natural. It is available in many hair colors, and you can pick anything.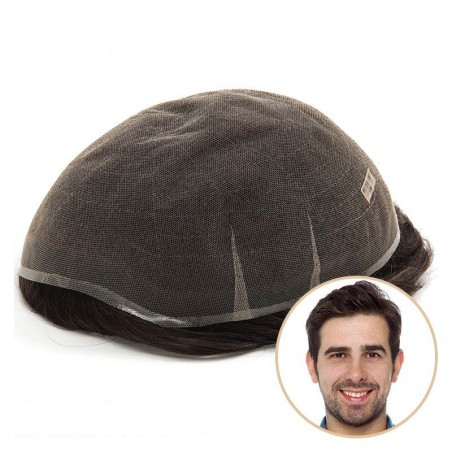 If you prefer a businessman look, then LAVIVID Eros Men's Hair System Full Ultra Thin Skin Base Businessmen's Choice may be the one for you. With almost 70 colors, they are sure to have the hair color that you are looking for. It has micro-thin skin on the toupee base and a very comfortable skin-tight feel, so you can't even feel it while wearing it. Your hairline would be invisible, and the toupee itself is very comfortable- a perfect choice for the busy lives of businessmen.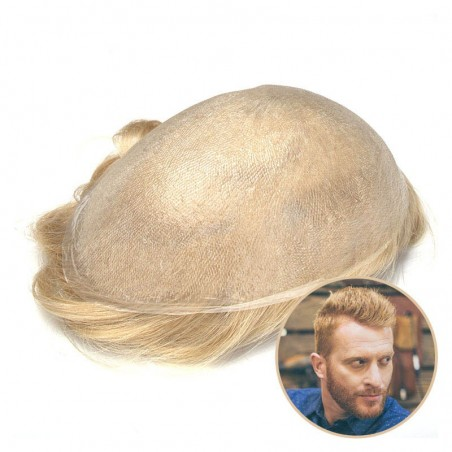 The LAVIVID Mirage Toupee for Men Full Super Thin Skin Base Celebrities Choice is another great toupee that is worth it. The mirage is a trendy style and is made of poly paper. It is super tight and fits great, and can be styled into great styles with the help of your hairstylist.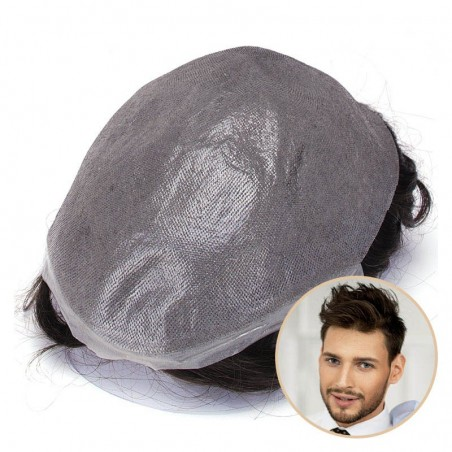 Toupees are an excellent choice for men to cover the hair loss and bald spots. Many types of colors and styles fit every lifestyle and many methods of putting it on. You can use tape for toupees and glue. The process may sound complex, but it proves to be a very safe and efficient alternative to surgery after some practice. So, if you are out there looking to cover some bald spots or even cover up some hair thinning, getting a toupee is a great idea. Get a toupee from Lavivid Hair now for the best quality and comfortable toupees.
---