Full Cap Wig for Men
Views: 2274
In contrary to normal hair systems which cover only the top of the scalp, a full cap wig covers the whole head including the top, sides, back, temples, sideburns, and all the areas where there are supposed to have hair. 

Who might need a full cap wig?
It is for people who are completely bald or are going through Alopecia areata, Cicatricial Alopecia, Hypotrichosis or you have circular or patchy bald spots on the scalp and you will find it is hard to use a standard 8''x10'' hair system to cover the bald area. A full cap wig is the best option to consider if you are one of them.
Sam's Experience with LaVivid Bradley Full Cap Lace Wig
Sam's hair started to fall off when he was 25 years old and he became completely bald in his 30s. He tried medicines and other hair loss treatments but none of them worked. Then he got connected with LaVivid Hair in July 2021 and LaVivid hair provided a non-surgical solution with a full cap wig. He never used a hair system or a wig before and he was not sure whether this will work for him but he decided to give it a try. He waited for around 2 months and finally got his wig applied and cut, he was amazed by how it looks. 
How to order a full cap wig with LaVivid?
A full cap wig will be a custom order. To make a full cap wig that fits your head, we will need you to send in your head mold. So when we make the wig, we will copy the size and curvature of your head mold precisely to make sure the wig fits your scalp perfectly when it is done. You will find that it stays on your head quite firmly even you don't use glue or tape to bond it. 
Also, you can let us know the hair color you want, whether it is a single hair color, a mix of different colors, highlighted or lowlighted colors. 
Then you can specify the hair density, hair length, wave or curl, and any other specifications you want to customize and we will provide a quote accordingly. If you are ok with the quote, we will send you the payment link to place an order for your wig. Then you can send your head mold to us and after we receive it, we can start the production. After it is done, we will ship it to you. 
How to measure the size?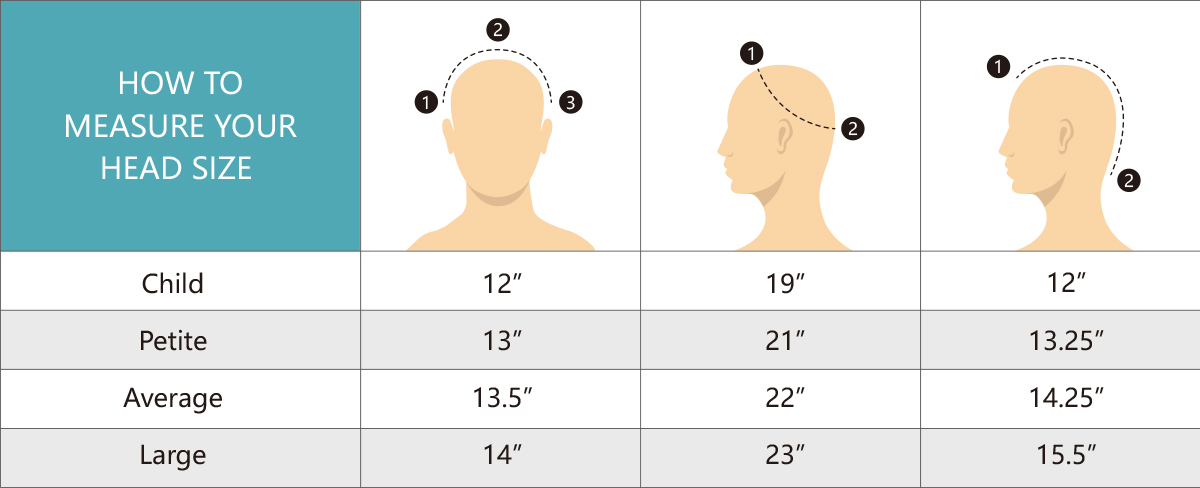 There are 3 sizes you need to measure and they are Ear to Ear, Circumference, and Front to Back. Write down these three measurements and consult the table above. Once you know your size, you can get a general quote with LaVivid for your full cap wig. 
How to make a template?
Things You Will Need for Making a Full Cap Head Template
You will need:
Plastic kitchen wraps, 
A temporary marker 
A piece of contour tape in the contour shape you want,
A permanent marker, 
Clear or transparent cellophane tape about three-quarters of an inch wide, 
A pair of household scissors, 
Step One: Determine the Coverage Area
Firstly find where your hairline begins and use a temporary marker and leave a mark or line in that spot. Get a general idea of the whole area you want to cover including the temple area, sideburn, nape areas.  
Get a piece of contour tape and align it along your hairline. This will be very helpful when you trace the coverage area in Step Three. 
Step Two: Place the Plastic Wrap on Your Head
When making a full cap head template, one-piece plastic wrap won't be wide enough. So the first thing to do is taking two pieces of plastic wrap around 3 feet long and aligning two pieces of plastic wrap together and use tape to bond these two pieces. In this way, you will have a big plastic wrap 2 feet wide and 3 feet long. 
Next, dampen your head with water and comb any hair as flat as possible. This will prevent the plastic wrap from sliding around and allows you to get a close fit to your scalp. 
Lay the plastic wrap on your head and adjust it to the position that it covers the whole head and there is some extra buffer in the front and back and you have an equal length of plastic wrap left on both sides. Twist the ends of plastic wrap and tie a knot. Make sure the plastic wrap is tight on your head but don't stretch it because it will shrink when it is removed. 
It is important to make sure the plastic wrap is laying smooth and flat on your scalp. To keep the plastic wrap flat around your ear, cut a small slit in the plastic below the top edge of your ear. Release your ear from the plastic wrap and hook the remaining plastic wrap behind your ear make sure it is smooth and flat and tape it in place.
Step Three: Trace the Coverage Area
Use the permanent marker to draw the area that you want the wig to cover. When drawing the line, make it thin but visible. If the line is too thick, we won't be able to tell if you want the edge of your wig to be at the top, middle, or bottom edge of the line. 
Mark your crown area with a cross mark.
Step Four: Apply Tapes onto Your Head
Firstly apply two pieces of tape in the front and the nape area separately. This helps keep the template in place. Then apply tapes from side to side from the front to the back and make sure every area is covered with tapes. Then apply a second layer of tape vertically from top to bottom.
Step Five: Cut Out the Template
Remove the template from your head slowly. Then cut the template out leaving a half-inch buffer outside the line you drew earlier. Then retrace the line around your coverage area so that it is clean and visible. 
---