How to Choose the Best Lace Toupee for Men?
Views: 1983
Our company has been selling lace toupee for men for years. As a professional toupee maker and seller, we have faced thousands of diverse customers. Though we have a very fluent communication with our old customer, still there are many worries and problems appears when we are facing new customers. 
So we post this blog to give a summary of all questions our customers ask most. If this is the first time you would buy a toupee, you can first check this blog.
Question 1: What is biofilm lace?
It is a piece of slim silica gel. It is used for fixing the lace toupee for men on your scalp more firmly and make your toupee more breathable. When you comb backward your toupee won't divide into layers.
Question 2: Can I wear a toupee only with blue tape without clips?
Every toupee can be put on the head with double-sided tape and clips. We sew the clips with strings, you can cut them anytime as you like. When you are tired of using the tape, you can sew the clips yourself. Whether you can use clips depends on how much hair loss you have gotten. If your hair is too short, you had better use tape only.
Question 3: How often should you change the tape. Can the customers wear the toupee when they are swimming and sleep?
You should change the new tape if the old tape lost its glutinosity. Whether the tape sticks solid and firmly, depends on the quality of the tapes. You can search on Amazon and try some brands of tapes. Every men toupee can be worn when they are working out or swimming, but you have to choose the waterproof lace toupee for men.
We often do not recommend customers wear a toupee when they are sleeping or working out. Because swimming and sleeping will damage the toupee's hair quality and service life.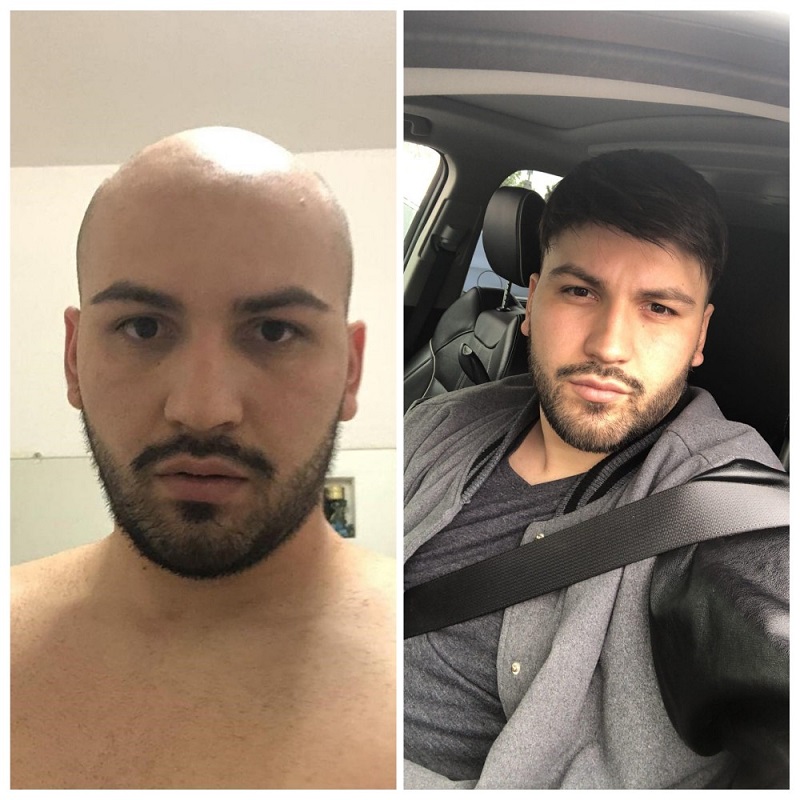 Question 4: How to tell a toupee is doped with chemical fiber?
If a toupee is doped with chemical fiber, it can be dyed and bleach. It must be full of real human hair if the toupee can be dyed and bleach. Or you can pick a little sum hair of the toupee and burn it to test.
Question 5: How long does the service life a toupee has? What should I pay attention to when wearing the toupee?
The service life of a toupee depends on the quality of the hair. Even the toupee is made of real human hair, it is divided into three levels. The toupee hair will turn yellow during the use of men's lace toupee. This is common sense. Because the toupee hair does not have the nutrition supply from the real follicle, and sunshine and wind will damage the toupee. The color of the toupee will fade after several times washing.
How long can a toupee use? Lace toupee for men is not a machine, so it must have a service life. It depends on how to use it by individuals and subjective feelings. Generally, it is no problem to wear it for one or two years. When the toupee hair turns into yellow color, just dye it into black. Don't trust some sellers who brag their toupees has twenty years service year, that is bullshit.
Question 6: Must I shave the middle of my head when I need to wear a toupee?
No, you shouldn't. But you need to have a little trim, especially your bang, the length should be just covered the toupee.
Question 7: Is it very complicated with toupee care and maintenance? Should I take off my toupee when washing it?
Wash with shampoo and conditioner is perfect. Remember not to rub your wig! The maintenance packages sold in wig shops are thousands of lies, and you can wash them at home. If there is such a magical product that can make dry and short-haired hair look new, it would be nice to sell it directly to female customers and make a big fortune. Why only use it on toupees?
These are some key issues raised by most consumers. I hope that the above answers will help you in the process of toupees selection and use. If you have any questions, you can check the relevant information on our website or ask customer service at any time.
---