The Most Effective Hair Thinning Men Remedies
Views: 1752
There are many hair thinning men remedies available out there. But the problem is knowing which ones work and which ones are a complete waste of time and money. What you'll read about in this article are the hair loss remedies that have stood the test of time and have been used by a significant number of people. 
Scalp massage 
What if the only hair thinning men remedies you need is in your hands, or rather, your hands? Massaging the scalp can help in stimulating hair growth. So if you haven't tried it, then you ought to give it a try. The message can also help you relax and get rid of stress. Being stressed is not good for your health, even for your hair. For a better massage experience, you can use massage oils or even masks. You can use oils that are known to be beneficial for hair like coconut oil. When you massage your head, the scalp gets stretched and this encourages hair growth. Regular massage can also help make your hair thicker. The best thing about massaging your scalp is that it's free so try to do it regularly. 
Aloe vera 
One of the most effective herbal remedies for thinning hair is aloe vera. People have been using the plant for centuries to treat thinning hair and other hair and skin problems. This is the reason why there are many hair and skin products on the market that contain aloe vera. But if you can, you should use aloe vera in its most natural form. That is, from a live plant itself. You just need to get a part of the plant, cut it, and then get the gel that you'll find and then massage it on your scalp. If you can't get a fresh aloe vera plant, then the next best thing would be to buy commercial-available aloe vera gel. You just need to make sure that it contains at least 90% aloe vera. You can also use shampoo and conditioner that contain aloe vera.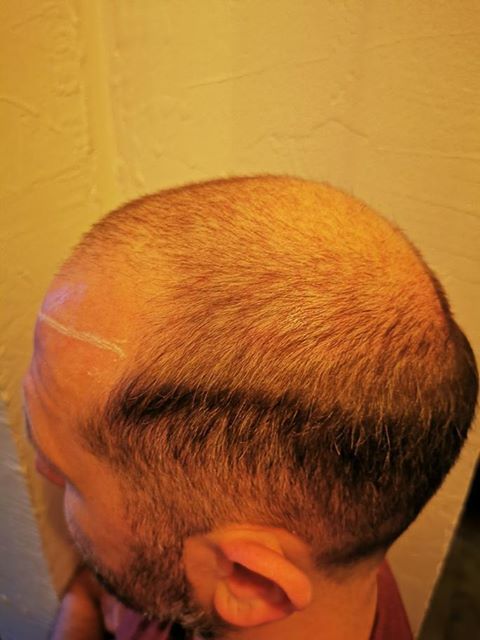 Coconut oil 
As mentioned earlier, coconut oil is good for the hair and scalp. And the benefits of coconut oil will be discussed in greater detail in this portion. Coconut oil is rich in essential fatty acids. When you massage coconut oil to your head, the essential fatty acids penetrate your scalp and in the process, it helps reduce the protein that your hair loses regularly. Depending on your hair type, you can use coconut oil before or after you wash your hair. If you have oily hair, then you can apply the oil before washing your hair. If you have dry hair, then you can use the oil as a leave-in treatment after you wash your hair. The coconut oil will help moisturize your hair and scalp. The research on the effects of coconut oil on hair growth is not yet conclusive but so far, many people seem to have benefitted from it. 
Rosemary oil 
Apart from coconut oil, rosemary oil is another type of oil that can help remedy thinning hair. It is an essential oil that can help stimulate hair growth and prevent hair loss. In particular, it is effective in treating androgenetic alopecia, which is known as male pattern baldness. This is a common condition and despite its name, it can also affect women. It is named as such because this type of condition is characterized by the loss of hair in a well-defined pattern. People suffering from this condition start to lose hair above both temples and then it spreads to other parts of the scalp. 
To use rosemary oil, all you need to do is to mix some of it with a carrier oil such as coconut oil. Then massage the mixture into your hair and scalp. You only need to do this a few times every week until you see improvements in your hair and scalp. You can also add a few drops of rosemary essential oil to your shampoo and conditioner. Just don't apply essential oils directly to your scalp or skin.
These are just some of the hair thinning men remedies that people swear by. Of course, if the above treatments fail to work, you can always get yourself a nice wig.
---