Hair Toupee Adhesive vs Toupee Tape
The hair toupee adhesive is a necessary item used to apply toupees to your head. Do you know that as there are different types of hair toupees for men and women, there are different toupee adhesives used in accordance with each toupee type? Today, we will give you information on the two most commonly used adhesives. 
Here at Lavivid store, you can find quality glues to attach hair systems. As long as you purchase the right glue with strong adherence, you do not have to worry that the hair replacement will slip off from your head. The right glue also causes no discomfort to your scalp. Therefore, it is important to choose hairpieces glues carefully. 
A quality hair toupee adhesive should be water-proof. Two types of toupee glues are most commonly used, one is liquid adhesive and another is toupee tape. We have made a comparison between them in the following content. 
Which one is more durable?
Generally, the liquid adhesive has a stronger attachment than the tape since the liquid is impenetrable. Once the liquid is dried, air finds nowhere to go through it. Thus, the liquid adhesive is much stronger, making the wig firmly attached to your head. There are even adhesives with stronger adherence sold at specialty stores. The color of this sort of adhesive is usually transparent or white while the color of toupee tapes may be various. 
To blend with the color of hairpieces perfectly, the color of tapes includes white, blue, brown, red, and so on. The life span of average wig tapes can last up to 20 days. Some with stronger bonding strength can last for a month or more.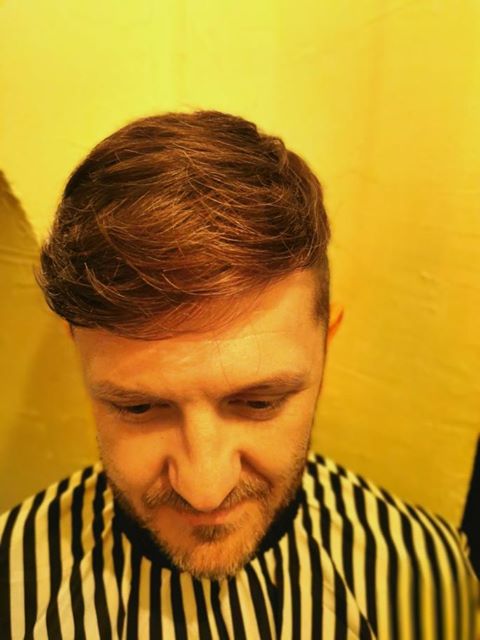 Which one is easier to use?
It seems no doubt that the tape is easier to use, particularly to remove from a hair system. Though liquid adhesive can give you a good bonding effect, it should be applied properly to work well. If you apply the liquid the first time on the hair toupee, you may find it hard to control pouring out a moderate amount of it. Too little of it may weaken the bonding effect while too much of it may seep into the hair replacement system. 
In the beginning, it is better to ask a hairdresser to operate the process. After that, you should wait for a moment until the adhesive is dried completely. Remove the hair toupee liquid adhesive is far more troublesome. The residues of adhesive should be cleaned up, otherwise, the hair unit will be damaged. 
Which one is safer?
Some liquid adhesives for hair toupees are flammable and produce harmful components. Sensitive skin may have adverse reactions toward some adhesives. So when you are buying liquid adhesives, you should pay attention to their compositions and notifications of using them. To make sure safety and good attachment result, some hairstylists will use a combination of liquid adhesives and tapes. 
If you find no directions in buying hair toupee glues. Here at Lavividhair store, quality glues are available. We provide lace hair glue at reasonable prices. For example, the Toupee Glue Walker Great White is safe to skin and bacteria resistant. It works well for all sorts of hair systems. It can last three to five weeks. It is easy to work with and to wash off with water and soap. 
As for the hair system tapes, we offer more options. The Waterproof Ultra Hold Hair System Tape and No-Shine Toupee Adhesive in Roll are popular products at our store. The tape is clear. It is invisible when attached to the toupee. 
Sensi-Tak Hair replacement System Tape is also highly popular among customers. The hold time of it is relatively shorter, one to two weeks. It is not suitable to be applied on a lace base. Only on the poly base can the adhesive be applied. 
Conclusion
The hair toupee adhesive is an inevitable product if you want to wear toupees. Man toupee glues are selling in the market. To make your purchasing easier, we have made a comparison between the liquid adhesive and the tape in terms of their durability, ease of use, and safety. We believe after reading the article, you can have a clear idea that which type of hair replacement system glue better meets your needs.