How Are Hair Loss Treatment for African American Men?
About the hair loss treatment for African American men, it is good to know that according to several studies, alopecia in many cases depends on the race of people, because in these investigations it has been determined that white skin ethics are more likely to suffer from hair loss at an earlier age than black skin people. 
Do African American men suffer from hair loss?
Although not as often as white men, they do suffer from hair loss, but in reality, it is rare to see a bald African American man, there are some, but if you go down the street and look closely at the people passing around you, you will see that you see a greater number of bald whites than blacks, but alopecia is a disease that attacks African American men, although as we said, to a lesser extent. 
Unfortunately for them, there is hair loss treatment for African American men. 
Causes of hair loss in African American men
In recent years there have been imposed fashions of exotic hairstyles worn mostly by African American men, and it is a type of hairstyle called braids, which subjects the hair to extreme tensions, this atrophy the hair follicles, and consequently the hair loss, causing trauma to the scalp that can end in scarring alopecia, and this indicates that the hair will not come out again. 
There are other causes that provoke hair loss in African American men, one of them is genetics, other factors that usually influence are climate, food and even grooming techniques. 
For all these reasons, hair loss treatment for African American men has been created, giving them hope to overcome this disease and help them to feel the normality they are looking for. 
Hair loss treatment for African American men
For African American men there are alternatives ranging from natural remedies, pharmaceuticals, natural and synthetic hair implants, and other more comfortable alternatives such as the use of customized hairpieces: 
The Niles TU1913
https://www.lavividhair.com/toupee/niles-african-american-toupee-for-black-men-in-8mm-rod-size-curl-short-curly-human-hair_p151.html
It is a toupee of curly human hair, with full skin at its base, which has a thickness between 0.10 and 0.12 mm, the length of their hair is 6 inches, 
It can be found in three models of bases, one made of polyester, another in a combination of lace with polyester, and the other with French lace, to facilitate the use of this toupee it is advisable to seek the services of beauty salons, where you can find a suitable hairdresser who knows how to place it so that it combines perfectly with the natural hair of the person who will use it, making the cut and the most appropriate hairstyle.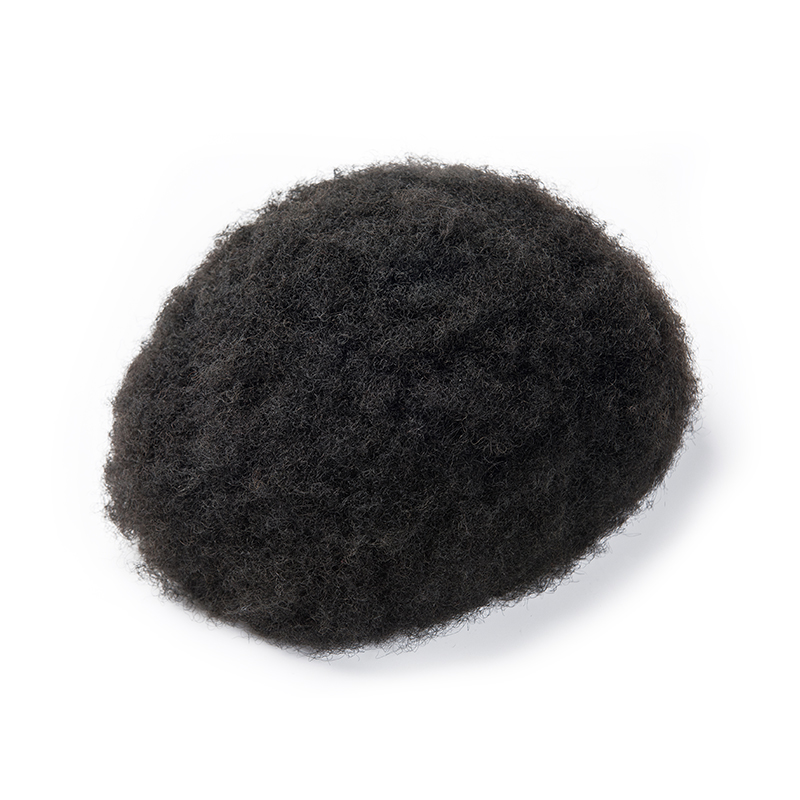 Mango Leaves for hair loss
Another hair loss treatment for African American men is to use mango leaves macerated in rum for 10 days in the sunlight, these leaves contain sufficient amounts of nutrients necessary for hair health, such as vitamin E, vitamin A and a wide range of antioxidants that improve blood circulation, and thus cause healthy and abundant hair growth in African American men and stops hair loss. 
The effective way to use the mango leaf lotion is to apply it on the head and massage it into the scalp to hydrate and absorb the nutrients present in the solution, which is left on for an hour and then removed with cold water. 
Coconut oil to prevent hair loss in African American men
African American men's hair differs from other hair types in that it has lower levels of porosity, which is why it does not have the same capacity to retain moisture as other hair types.
This leads dark-skinned people to use products such as coconut oil, because of the high content of emollients that have a moisturizing and restorative action on the three layers of the hair: cuticle, cortex, and hair marrow. 
 Finally, here are some simple tips for African American men to reduce the risk of hair loss: 
· Avoid at all costs long periods of exposure to the sun, to prevent the hair from drying out and wilting
· Do not wash hair with hot water
· Reduce the use of hair dryers
· Use silk hats
· Do not use hair straighteners or overuse hair dyes
· Use silk pillows when sleeping