How to Look Different for A Men's Toupee Before and After A Haircut?
Views: 2155
You must be excited to see the changes in the looks of your men's toupee before and after a stylish haircut. Everyone wants to look charming and attractive and it can be easily done by changing your looks by hairstyling or a haircut. You have to focus on your men's toupee color, style, and texture if you want to make a good impression in public.
Changes in Men's Toupee Before and After a Haircut
You can go for many haircuts to look stylish and comfortable. Many hairstyles can come in your budget and still can give you a stunning look. Always style your toupee from an experienced stylist for better results and always take their consultation before making any experiments to your toupee. Here are some unique and best haircuts for your toupee to try on:
· Fade Hair cut
You can go for two types of fade hair cut that are highly fade and low fade. You will get a striking and stylish look in a high fade haircut that includes fading of hairs within 2 inches below the top of the head. Most of the time you will see side fades in your haircut for sharp finishing. Some special blending techniques are used for fading the hairs from your realistic men's toupee. You can use this hair cut together with any other under-styled haircut. For a low fade haircut, the taper is placed at the bottom of the head and is moved upward towards the nape from behind the ear. The low fade gives you a neat and clean look with more gradation.
· Side Part Pomp
The side part pomp is a trendy hairstyle for toupees worn by men. It adds one to two-inch to your height and makes you look more impressive. A person with any face shape can use this style for a groomed finish look. In this hair cut, you got your back and side hairs slightly trimmed out leaving a considerable length on the top for a fringe. It is a dashing hairstyle for modern people who got suffer from baldness at an early age.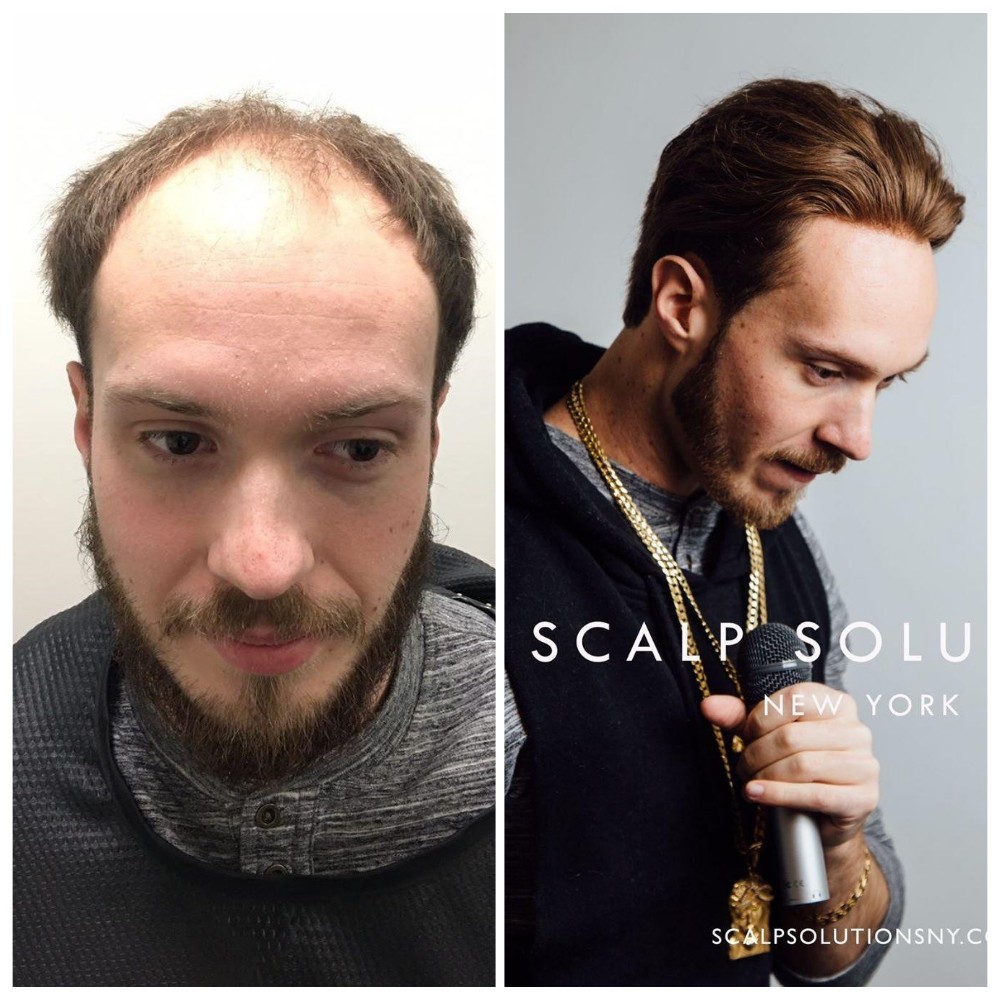 · Pompadour 
This hairstyle includes a basic concept involving a large volume of hair that is swept in an upward direction from the face and placed high over the forehead. Sometimes you will also see upswept around the sides and back of your head. You can see great changes in your men's toupee before and after this perfect hairstyle only made for you if you love keeping long hairs on the top of your head. You can find this style in varieties of short, mid, and long pompadour. You can also try this hairstyle yourself by using blow driers and brushes. 
· Regular Haircut
Some people don't believe in styling and fashion. A regular haircut is a perfect haircut made for these types of people. It is one of the most conventional regular hairstyles for men's toupee that is used by a wide range of people who are not interested in making any style statement and just want to keep themselves simple. You will get medium-length hair on the back and sides of your toupee. You can just comb the long hair on the top of your head and can also leave them messy, it's also a style. If you are a clean shaved guy then it is a perfect hairpiece for you.
· Mohawk
If you are one of those people who love making a fashion statement then this hairstyle is only made for you. In this hairstyle, you will get shorter hair on the sides and a wide strip will be left on top of your head. if you want to change your hairstyle daily then you must go for this one as it lets you try many styles like a comb-over, a quiff, slick back, or spiked hair. 
Conclusion 
A men's toupee before and after a haircut is surprisingly interesting to see as it completely turns your look from one personality to another. Trying more stunning hairstyles for men's toupee can be an enjoyable and adventurous thing for you. If you want your hairpiece to look healthy and natural for longer, then keep your hair system free from knots and tangles by brushing them regularly.
---