How Long Can You Wear A Hair System?
Views: 1655
How long can you use a hair system before it falls apart? Assuming regular care and maintenance and high-quality materials, an average hair system may last from six to 10 months if used every day. Many of us rely on hairpieces to feel and look our best. An essential component of our style and individuality, hairpieces may transform our appearance in a matter of minutes—a hair system, especially for individuals who have suffered hair loss, maybe a game-changer.
As a long-time wearer of hairpieces or a newbie to the industry, you may be wondering how long your hairpiece will last. The subject of this essay is how long your human hair hairpiece will normally survive and how to prolong its lifetime. Proper hairpiece maintenance is critical for extending the life of any hairpiece, whether it is a store-bought model or a one-of-a-kind creation. You do not have to be a hairdresser to keep your hairpiece in good shape and extend its life.
Factors of Lifespan of your Hair System
To avoid irritating your skin, use hair wigs with skin-friendly adhesives. However, the real issue at hand is, 'How long can you tolerate wearing a hair system for?' The following four aspects have a significant impact on the longevity of your hair system, even though they are all interrelated:
Base materials 
The quality of a product is directly related to the quality of its raw materials. The materials used to construct hair replacement systems have an impact as well. Durability is dependent on the material from which it is built. The shorter the lifetime, the less apparent the hair system is. We will sacrifice durability if you want your hairline to seem natural, and these wigs will not endure for a long time. On the other hand, the less natural-looking a hair system seems, and the more durable it is.
We may break down human hair wig foundations into four distinct types. To give you an idea of how long you may expect to live, we have included a list of average lifespans.
It takes 4-6 weeks for Swiss Lace and Thin Skin hair to go out of the system.
It lasts about 4-6 months for French Lace hair extensions
It takes 6-9 months for a combination of mono and poly systems to wear down.
A poly hair system is good for 9-12 months.
The quality of the strands of hair
The quality and kind of hair utilized in manufacturing hair systems is a crucial element in their lifespan, whether it is black, blonde, red, or brown. When it comes to the hair we utilize, Lavividhair has a stringent quality control policy. Our hair system will last longer because of this. It would help if you also considered how much processing your hair system needs.
The shade of hair
More processing is needed for darker colors and straight hairstyles than more processing for lighter colors and curly hairstyles. This affects the system's life expectancy. However, with careful care, a wig made of processed hair may last 3-6 months, which is a reasonable amount of time. Straight and dark-colored hair systems are considered high-quality hair systems, according to this definition.
Maintenance
When it comes to the lifetime of your hair system, it all comes down to how you treat it. So that you can get the most out of your hair system, we have compiled a list of maintenance suggestions for you. Please find out how to keep the color of your hair wig looking natural and how to do it yourself. Your hair may be cared for with a little time and effort. Look at this handy infographic to learn how to keep your hair healthy: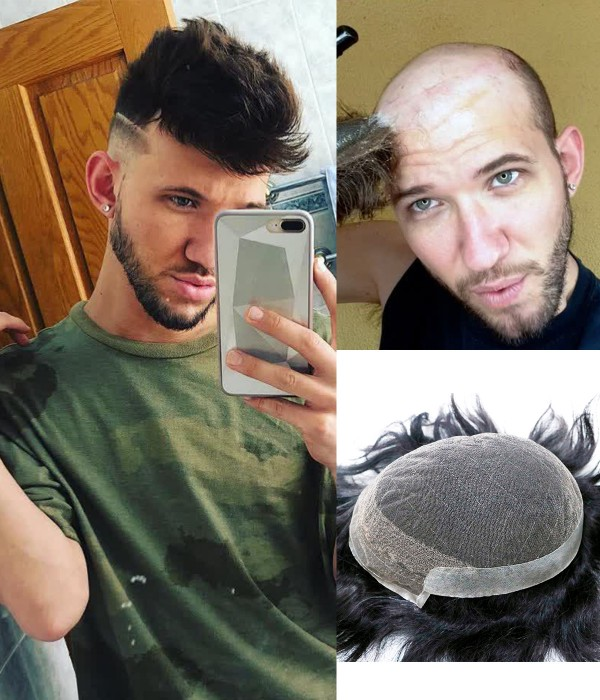 How often should you wash a hair system?
Once to twice a week is a good rule of thumb for hair system users when washing their hair. To avoid drying out your hair, do not wash your hair more than once or twice a week since your scalp is not supplying your hair with the natural oils it needs. When cleaning your hair system, make sure the water is not too hot or cool. Please use lukewarm or room temperature water whenever feasible to keep the hair wet and prevent adhesives from breaking down.
Drying
To clean your hair system, use a handkerchief to push down on the hair system to dry it gently. To keep your adhesives in place, use a hairdryer on a cool heat setting to avoid damaging your hair. Make sure to use a suitable vent brush if you want to dry your hair with a blow dryer.
How long does a hair system last?
A hair system may last anywhere from 2 to 12 months if you follow the proper upkeep instructions. After then, it is recommended that you change them to maintain them looking their best. Is there anything I can do to increase the projected lifespan of a hairpiece, such as cleaning it? To maintain your hairpiece at home, all you need are a few hair system-specific equipment and a few minutes of your time each day to keep your hair. Use of suitable, high-quality shampoos and conditioners, frequent washing, thorough drying, detangling, and storage of your hairpiece are all part of correct care for your hair system. If you have a synthetic hair system, make sure you utilize products specifically designed for that kind of hair. Our Supply Store has a wide variety of hair care and style items so that you and your hair system may always look your best.
The Lifespan of Your System
Non-surgical hair replacements last for how long? Largely, this is determined by the quality of your membrane foundation, hair type, and maintenance schedule. Here is a rough estimate of how long things will take:
Between four and six weeks, depending on the hair system
It takes eight to 15 weeks for Supplementary hair systems.
For French Lace hair systems, it takes four to six months.
For Poly hair systems, the lifespan is nine to 12 months.
---