How Long Do Men's Toupees Last? 
Views: 1295
The use of artificial hair (wigs) is getting hype these days. This is not a new thing that you may come across when you see someone cosplaying or just using them to celebrate the Hungry Ghost Festival or Halloween.  
But what if men with hair fall issues want to be a part of this fantasy? Of course, they have a choice of toupees. And if they want to keep toupee for a longer time, then how long do men's toupees last? 
Undoubtedly, men's toupees are amazing products that equally solve hair fall issues giving away a unique look without creating any artificial gaze. If you are someone who is seeking answers for how long do men's toupees last? Then this article is for you.
How long do men's toupees last?
The life of the toupee depends on many factors, such as the material used to make a toupee, the quality of the hair used in the making, and of course, the user-end maintenance of the hair system. 
Now you don't need to confuse the hair system and toupees. Toupees, hair systems, or hairpieces, all work to give your head a new look, in short, called toupee.  
The material used in the making of men's toupees 
It is important to know that the lifespan significantly varies from one product to another. Additionally, the essential thing that elongates the lifespan is the base material of men's toupee. Toupees with different materials have variable durability, therefore, affects longevity.  
Quality of hair used in the making of men's toupees 
The next important thing which affects the lifespan of a men's toupee is the quality of hair used. This is one of the reasons why the men's toupees you see in our store are beautifully crafted and less chemical treated like Eros Men's Hair System.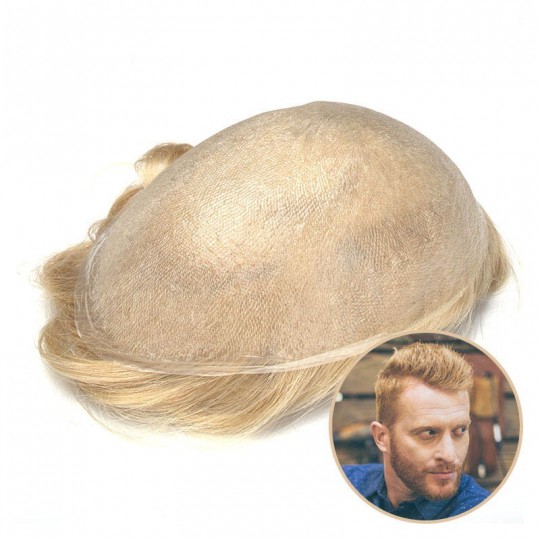 Every form of toupees listed in the store is made from 100% natural hair which plays a great role in enhancing the lifespan of a toupee.  Hair systems with natural hair have a significantly longer lifespan and are easily adaptable. Plus, these wigs come in myriad colors and varieties. 
To be precise, synthetic toupees for men last up to 4-6 months easily of properly cared for and worn daily. Moreover, synthetic toupees have a lifespan that is much shorter in contrast with human hair. Also, they get tangled issues and get discolored easily. 
Maintenance of a hair system 
It is equally essential to understand that once you get a hair replacement, the replacements go much beyond just simply attaching and removing your toupee. 
A toupee requires proper maintenance, detangling, and cleaning once after every use. To best preserve your toupee for a longer time, it is vital to use leave-in conditioners on your toupee that will eventually keep your hair healthy. 
Furthermore, applying conditioner to your toupee or hair system will prevent your toupee from getting dull and worn out easily. In the case of lace front or lace base toupees, applying a knot sealer periodically will ensure that the essential knots remain intact for longer. 
Top Tips to Extend the Lifespan of a men's Toupee
To keep your hair system looking fantastic, regular care is recommended. Wigs made out of natural human hair do not receive scalp oil as normal hair does, this is why they need to be properly maintained. 
To get the most of your toupee and increase its life span, you should: 
Avoid going out in the sun 
Shampoo your wig twice a week properly
Untangle your hair system 
Avoid straightening/blow drying – in short, avoid heat 
Hopefully, you have gotten your answers for how long do men's toupees last, which depends on several factors mentioned above. Explore the blog section to know more about toupees, hair replacements systems, and everything that you may need to find out for toupees, wigs, and hair systems. 
Additionally, there's a wide range of wigs and toupees at our online store. Navigate and find the right toupee for yourself as men are beautiful too. 
---