How Long Does A Men's Hair System Last And How to Prolong it?
Views: 1696
How long does a men's hair system last? This is a common question that many men will ask the first time they buy a toupee. Nowadays many men and women are facing hair loss due to stress, illness, or other reason. No matter what the reason is, barely anyone want to show their baldness in public! Thanks to the toupee system, this embarrassing moment could be avoided. 
If it is your first time hearing of the toupee system, we hope this article could be useful! From the below, you will understand more about toupees goodness and the hair system for men. 
What does a toupee system mean?
Toupee's hair system is ordered by customers of all ages, every gender all over the world. Toupee no longer works for people that have baldness issues only, but also for people who want to look differently with stunning haircuts. What is a toupee system? How long does a men's hair system last? Many new wearers will have these doubts. 
A toupee system is the toupee or wigs that you used as hair replacement. Many different types of toupees can be found in the market like lace, thin skin, mono, and so on. This system is full of magic and it is non-surgical that helps you restore confidence from hair loss or creating new looks. And wearing it will not give you any uncomfortable feelings. 
How to maintain a hair system for men?
Proper toupee maintenance could help it last longer. If you want to keep a lace toupee looking natural, what would you do? Periodic maintenance will be required. How often the maintenance is requested is up to how often the lace toupee is worn and the environment in which it is worn.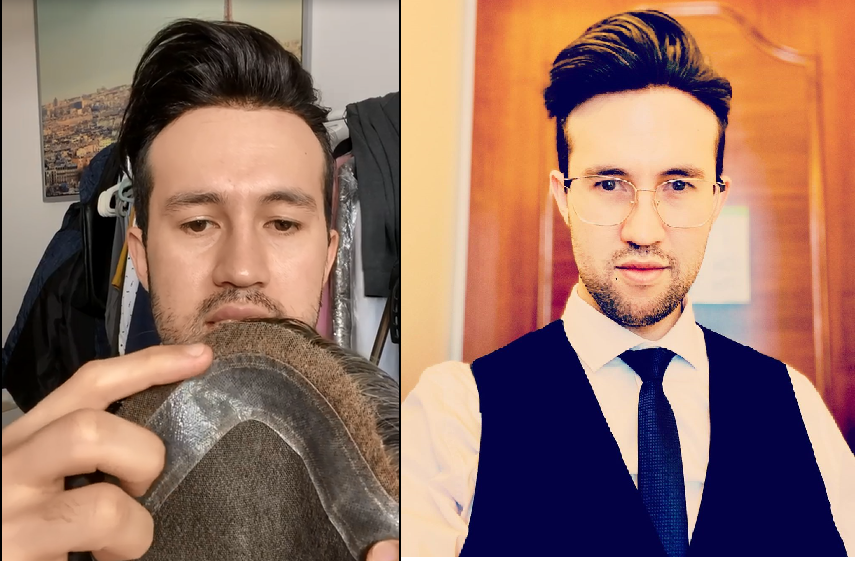 ​
Basic toupee maintenance requires regular hair shampooing and conditioning. Here are some tips for you on how to maintain the toupee so it could always look natural on you:
1. Brush the hair system gently and thoroughly.
2. Rinse the hair system for men with mildly warm water.
3. Put your fake hair to approx. 10 minutes into this solution. Do not wring it.
4. Clean it with care and after cleaned, wrap it up and store it somewhere far away from the heat. 
Excessive shampooing of a lace toupee or any kind of toupee may cause the hair to fade and break. So you can only use shampoo or condition when it is necessary. This is how you should maintain or clean the hair system for men. With proper care, your toupee system should be in good condition and can be worn longer time than you expected. 
For men that need to wear toupees every day, we suggest buying more than one or two toupees to help you keep your fancy looks. Everyday wearing is somehow harmful to the toupee system. Give your true love some breaks and you will find it coming back with bouncy hairstyles and comfortable wearing performance. Different hairstyles and hair colors could also help to create your unique looks. 
How long does a men's hair system last with proper care?
Just as we said, proper caring and maintenance for the toupee system could help the toupee wearing experiences more favorable. Usually, you could do toupee maintenance twice a month to keep it fresh and clean. But do remember not to clean your toupee frequently if you are not wearing it every day as over-cleaning will hurt the hair. 
Toupees' life depends on their type. For example, a semi-permanently hair system for men usually lasts around 12 months. For temporarily attached toupees, they can last for more than two years, this depends upon the maintenance and wearing habits. This is to say, a lace toupee normally can be left on for more than half a year, and so with careful wearing and cleaning, it could last up to even one year and a half. 
From the above information, hope now you can have a better understanding of the toupee system for men and its lasting time. If you are new to this, you can go to a salon and ask the hairdressers to help maintain your toupee, this is a good way for you to learn and start to maintain it. How long does a men's hair system last? The answer is, it depends.
---