Something You Need to Know about Lace Afro Toupee
Views: 1587
What is lace afro toupee? Genuinely it is a hairpiece that a lot of African American people would have. There are many kinds of toupees in the world, designed according to gender, race, skin color, head shapes, as well as hair quality. Among all these toupees, the afro toupee is very popular in recent years. And the lace one sells the best. Here are a few tips that we should know about this product. 
1. Basic production information: 
The afro toupee is made from 100% human hair, as we all know, such hairstyle is pretty unique as only African American people have. The hair is genuine African American hair and it is of the best quality. When we measure the hair, we need to straighten it first and then read the statistics. Usually, the hair length is about seven to nine inches.  
The hair color is naturally black, and if you have any other preferred color and length, we can help to cut or style it according to your special requests. It usually takes a bit longer than the ready-to-use one. The curl and wave are very natural as it is human hair. And it is very easy to wear as it has full lace.  
It is free-size and usually, most people find it easy to fit their head. But we can customize the special size for you if you are not satisfied with the average free-size one. As it is made with real human hair, it will not bring issues such as irritation or scalp itching. 
The afro toupee is now not only popular with African American people but also people of other races because they think the hairstyle is pretty cool and full of street vibe. And not everyone knows that wearing a toupee will not be harmful to your own hair. 
Some people only want some different styles when they seek afro toupee, some would like to get their bald patch or blemish area covered, or make their hair look more volumized. The lace afro toupee we have is very authentic and not so shiny and silky as the synthetic fiber toupee. 
What is even better? You can also use curl gear or straightener to get a new hairstyle with the hair on the afro toupee. Human hair toupee is the most affordable toupee with the most long-lasting usage terms.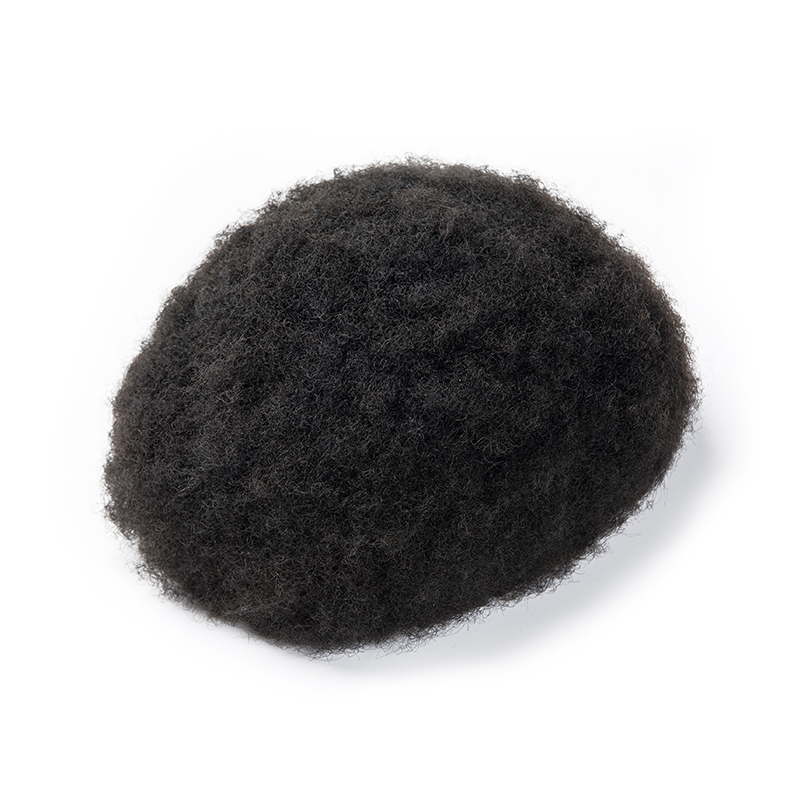 2. How to choose a lace afro toupee:
It is very important to choose an appropriate toupee according to your own needs. As the lace afro toupee is usually made for African American people, we need to do some research before we make any purchase. 
See if you want to have a fresh look because your hair is usually straight, or if you want to dress up with a hip-pop vibe, there is no harm trying an afro toupee. It will make you feel fresh and also add to the street culture vibe. Just get an afro toupee and put it on your head to see if it fits. It won't do any harm to your scalp and you don't need that much time wasted in the hair salon just to get a real afro style with your hair. 
3. Product caring: 
The curly texture of the afro toupee requires special care than other toupees. You should use suitable shampoo to wash it once a week at least and conditioner is also helpful to get the whole style smooth, which can always keep hair knots away. Apply some moisture product before it dries, it will keep the hair volumizing and soft. 
It is just like our natural hair; the strands are fragile when it is wet. Therefore, we cannot brush the hair when it is wet. Do get an afro comb, its special design for afro hair is always a better solution for combing the toupee hair. Please cover the toupee with protecting silk scarf when not using it to avoid dust and tangling. 
Lace afro toupee is very unique and actually useful when you want to get yourself a new look. There are various kinds of afro toupee, I hope the information above will be of some help to you before purchasing any afro toupee.
---