Some Tips on How to Choose Hair Piece for Men over 50
Views: 1939
It is very important for you to select a perfect hair piece for men over 50 as human beings are getting older and older who will lose much more hairs than younger individuals. Moreover, they will meet a lot of other problems and they are prone to diseases. Though there are a lot of hair toupees in the market, you can select carefully and patiently until you find a good one which is very proper for you. 
Of course, men's hair toupee such as lace hair wig be divided into different types, of which there are three main types, the primary difference lies in that the lace area is different. 
1. The full lace wig: The full lace wig is made entirely of lace, which has maximum breathable competency and various shapes. You can try a lot of different hairstyles and you do not have to deal with stubborn hair which is not obedient. All lace men's hair pieces can be worn on the net without glue. If you use glue, it will seep out of the lace mesh, thus reducing the adhesion. 
As a majority of people do not like using glue, a lace hair wig has become an ideal option for men. Without using the glue, people who wear hair toupee will look more normal. In addition, there are fewer people will recognize that you are wearing a hair piece, which must be fantastic merit for hair piece for men over 50 to prevent it from being discovered. 
2. Front lace wig: The front lace wig only has lace on the front hair line. The advantage of these men's lace wigs is that their hairline looks natural so that it is hard for other people to discern the hair pieces. You can separate your hair to one side without having to worry about being visible at the bottom of the net. However, the front lace wig is not as breathable as other mesh wigs because its hairline is only covered by mesh and the rest is made by machine. 
3. 360-degree lace wig: a 360-degree lace wig means that the wig is surrounded by lace, while the center is made of other materials. What's more, its breathability is good enough because there is lace all around. Additionally, the lace can still provide a natural hair line so you don't have to worry about the obvious net bottom to be seen.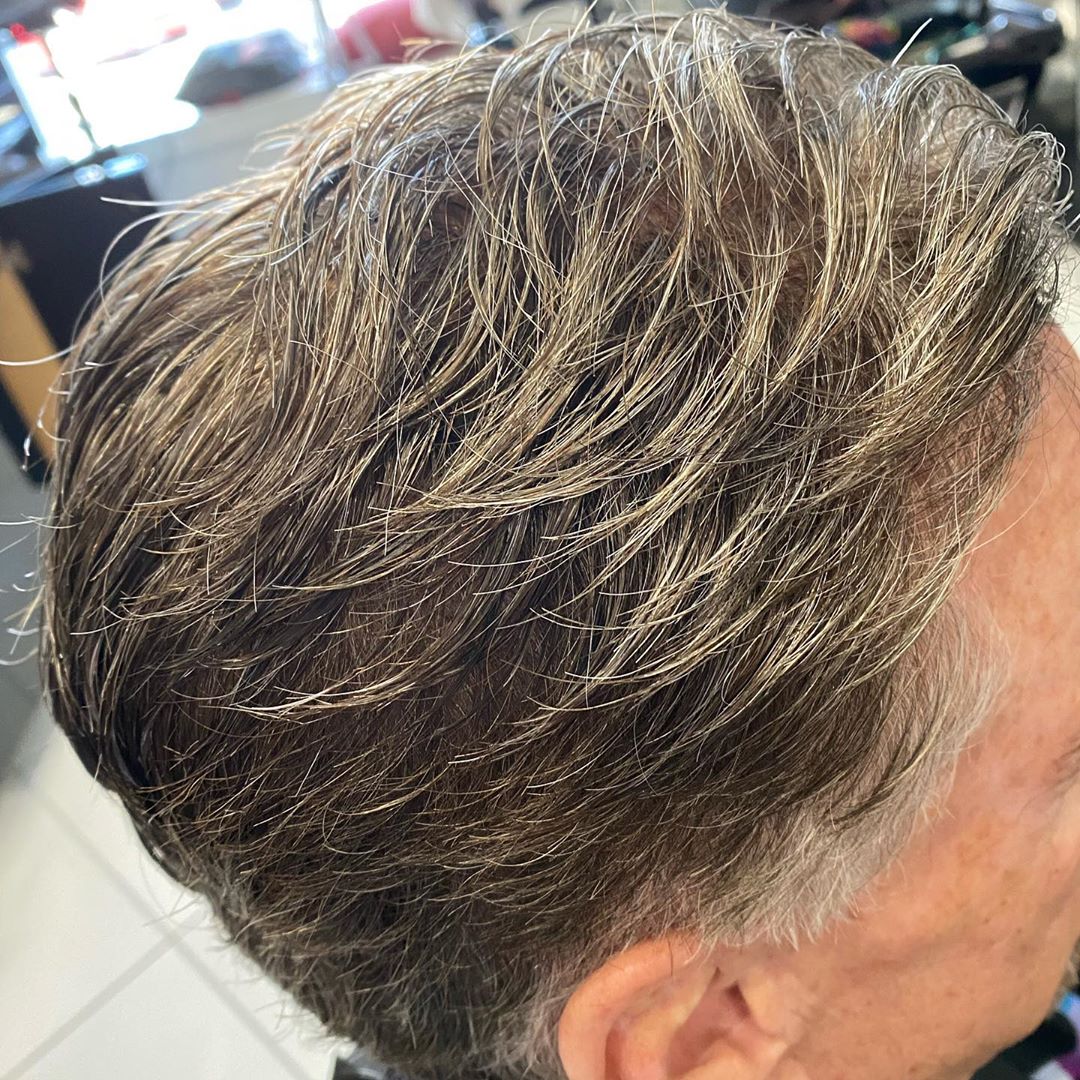 There is another kind of hair piece which is called a hand-made human hair wig which is more realistic. Furthermore, the breathability is also very good. It is a recommended choice for men who need to wear hair wigs frequently. 
The first thing you need to identify is the quality of the hair toupee. As there are also good and bad aspects of different hair pieces. Some of them use high-quality braided hair that has not been ironed and dyed. Therefore, the wigs made of this kind of hair will have a better texture and sense of touch. It looks glossy and smooth and you will feel like silk when you wear it. 
Some hair piece suppliers will use clippings collected by barbershops or hair which has been permed and dyed many times to make hair pieces. This kind of hair is seriously damaged so the effect will be worse and it is not so durable. What's worse, the hair toupee looks very unnatural, which may contribute to an embarrassing occasion when you are discovered by other people. 
The hand-made human hair wig also performs variously. Some of them look good when men wear their hair toupees just like the ones they grow up with. While others feel that the hair wig looks ugly. There are some reasons for that. 
One is the simulation degree of the wig-making skill. Another is the wig's treatment of hair thickness and density in different areas as there is an official formula for wigs' match. As some details are often easy to be ignored so you will find out that you have spent a lot of money but the hair wig is not good-looking. 
In addition, because different people have different preferences. What kind of hair piece for men over 50 should men purchase depends on their choices. Even though there are a lot of hair pieces that you can select from, you should be careful and make the right decision.
---