Tips on How to Choose the Best Men's Toupees Manufacturers
Views: 1780
Choosing the best men's toupees manufacturers is crucial to ensuring your toupee will last a lot and meet your baldness coverage needs. Here are four features of a top manufacturer to consider when selecting a toupee. 
1. Experience
When you shop for a male toupee, you want it to be of trusted quality. One way you can guarantee it is by buying toupees designed by a manufacturer producing hair systems for a long time. The more experience the manufacturer has, the higher quality the hair systems are. A newbie manufacturer will most likely hire inexperienced workers and lack expertise in producing premium wigs. Of course, it doesn't hold true for all new wig suppliers, but the risk of buying poor-quality toupee is higher than buying from an established manufacturer with years of expertise behind and upgraded production technology. 
2. Size
It's obvious, the larger the factory, the more it produces. While it doesn't influence the quality, a large manufacturer will offer a bigger stock and a wider selection of toupees. This especially counts if you love their products and intend to buy more from them. If the men's toupees manufacturers make a small number of toupees due to their limited production capacity, you may not find their hairpieces in stock next time you want to buy them. However, it's important to mention that a factory that produces an impressive amount of wigs is not necessarily high-quality. They may have a simplified technology that makes the toupee less durable. So, make sure to find out more about the quality standards the manufacturer abides by before deciding to buy its products.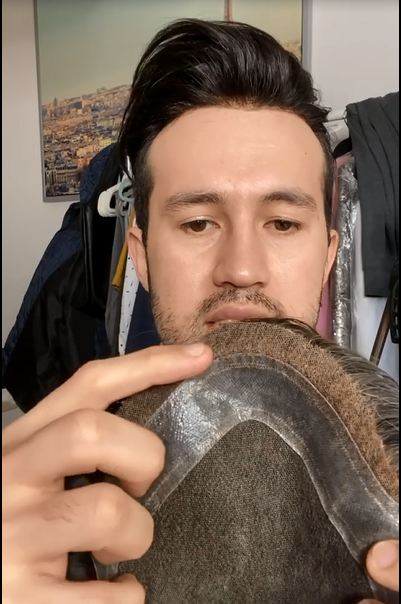 3. Brand  
Men's toupees manufacturers that are recognized as a brand are more likely to supply high-quality products given high expectations from their large pool of customers. Any attempt to produce something poor-quality will dramatically impact the reputation of the factory, leading to customers losing trust and switching to other manufacturers. That's why famous wig factories will always struggle to produce the best hair-related items ever and regularly try to surprise their customers with new upgrades related to style and color. 
Surprising customers is actually another reason you should go for a branded manufacturer, whose products are expensive but worth each penny you pay. Having permanently met the expectations of a large number of devoted buyers, brands are forced to come with upgrades and new styles over and over to retain their customers. This leads to a wide selection of items provided by these manufacturers you can benefit from when looking for a toupee. 
Moreover, a manufacturer with a big name will provide a more diverse collection of toupees due to its necessity to satisfy the needs of lots of people that have different preferences, different hairstyles, and different scalp chemistry. Hence, you have more chance to find the desired toupee if you buy from a famous supplier.   
4. Network
A manufacturer that has created a network of factories around the world is more flexible and fast in supplying the toupee to your door. For example, you live in the USA and have identified an experienced and worldwide known manufacturer in Asia. If the manufacturer operates only in Asia, you will have to wait much for your preferred toupee to be shipped. However, if the manufacturer has a factory in the USA - that follows the same technology and standards of quality - it may take less time for the item to arrive at you. So it's better to analyze the map of the manufacturer's presence to get a rough understanding of how fast your customized toupee will reach you. 
Closing thoughts
When you look for a toupee in an online store, one of the first things you have to pay attention to is the men's toupees manufacturers that provide the store with hairpieces. By choosing a reliable manufacturer, you ensure the toupee you buy is long-lasting and covers each bald spot on your scalp while offering a perfect blend with your existing hair. In order to find the best supplier of male toupees, you have to consider four aspects. You want the manufacturer to boast extensive experience, have a large production capacity, be recognized as a brand, and have a worldwide network of factories.  
---