How to Cut a Hair System Base to the Right Size?
Views: 7209
Unlike a customized hair system which has the exact size base you need, stock hair systems often come in default sizes like 8''x10'', 7''x9'', depending on the style and company. However, these default sizes will usually not fit your exact hair loss area. With a default sized base, it is usually required to cut the hair system base to the right size to fit you. This is a very simple step and we will show you the two methods for cutting the base.
Option One: Make a Template first and Then Cut the Base against the Template
The template method is useful because it can clearly portray the size of the wearer's hair loss area and even down to the head curves. So, if you have a template of your own hair loss area already, you can cut the default base using your template and our guidance below. If you don't have a template of your hair loss area, then you can make a template yourself by watching this video as guidance.
To make a template, it's better to have someone to assist you with the process or alternatively you can do it in a hair system barber shop.
When you have your template, turn your hair system inside out and place it on a foam mannequin head. Next, place your template on top of the hair system and pin it to the mannequin head to secure. When you do this, make sure you align the front of the template to the front hairline of the hair system. The reason is that for dark hair systems, the knots in the front are bleached to make them invisible, so you need to make sure that part is not cut away. 

Then you can use a sharp pair of scissors or a craft blade to trim the extra base material off.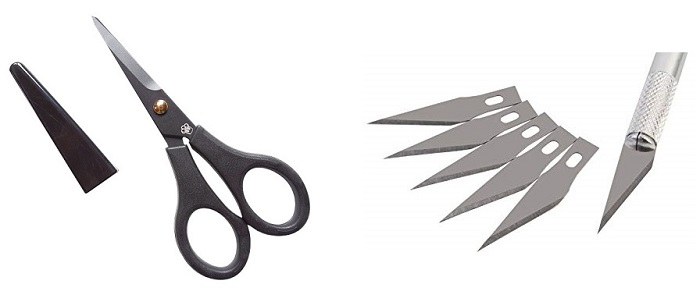 Option Two: Attach it to your Head and Then Cut the Hair System Base as Needed
This method is comparatively quicker but requires lots of experience or someone to help you such as a professional hairstylist. Otherwise, the hair system could be ruined easily.
Here are the steps:
1. Cut the front lace off.
For full lace or lace front hair systems, there is about one-inch of lace left in the front. So firstly, you should cut this area off.
2.    Attach the Hair System
Next, you should attach the hair system onto your head using glue or tape. When you do this, make sure you align the very front of the hair system to the place where your natural front hairline begins.
3. Pin the Hair Up and Cut the Extra Lace Off
Use some clips or a hairband to tie the hair system hair up. Next, use a marker to draw a line on the base and then cut it along the line.
View this video for a detailed demonstration on how to do this:
Jadson in the video has several years experience of wearing men's toupee. He cut the base himself, apply it himself and even cut the hair himself. He and his experience is tell us that when you get experienced in playing men's hair systems, it can be as easy as shown in the video. 
For beginners, it's very easy to make mistakes. Be patient when you cut a Hair System Base. Either way you cut the base, you need to make sure that the hair on the other side which should not be cut is cut by mistake. So if you are not confident in cutting the hair system base yourself, we do recommend you seek for help from professionals. There is actually another option that here at LaVivid we can cut the base to your size before shipping out to you and this service only cost $15. You only need to measure the area of hair loss in advance and inform us of the specific value. So after you receive the system, you just need to apply it and style the hair.  
Please check below link for the details of our pre-cut service. 
https://www.lavividhair.com/prestyle 
If you need any assistance on hair systems, please feel free to contact support@lavividhair.com and our experts will be very happy to help you out.
Related Hair System Base Article:
Hair knowledge and shopping guide. Nowadays, wearing a hair system to cover hair loss has become more and more popular. Have you wondered how a hair system is made?[get more about How Do We Make the Base for a Men's Hair System?]
Hair knowledge and shopping guide. Properly removing the tapes from your hair system is important to make sure it is cleaned thoroughly before it is bonded to your head again...[get more about How to Remove Tape from Your Lace Base System?]
Hair knowledge and shopping guide. Picking the ideal hair substitute system base layout is actually the absolute most essential part. Our team possesses greater than fifty base concepts. Total shoelace, shoelace front end, skin layer as well as mono leading...[get more about How to Choose The Hair System Base?]
Recommended Hair System Base Production:
Felix features excellent durability and quite dense hair. The mono-material allows your scalp to breathe freely, the lace front offers you a natural appearance...[get more about Men's Durable and Thick Toupee Hair Pieces]
Cronus is made of fine natural European hair that moves just like your own hair. It is the best men's hair thinning treatment for people who have European hair...[get more about European Hair System to Treat Men's Hair Thinning - Lavividhair]
---