Tips for Cutting A Men's Toupee
Views: 2822
You might be worried that how to cut a men's toupee? Believe me, it's very simple and you can learn it within a few days. All you have to do is just follow some simple steps and see yourself as a perfectionist. All the men who are experiencing hair loss and do not want to undergo an invasive, and painful surgical procedure, must try this toupee. It will give you complete confidence and a charming look. 


What is a men's toupee?
You can say that a hairpiece or a partial wig made up of natural or synthetic hair that is worn to cover partial baldness in men is known as men toupee. It can also be used for theatrical purposes. Toupees are generally designed smaller in size to cover bald spots at the top and back of the head but larger toupees are also available in markets. Toupees are used on heads by using an adhesive, but you can also use an elastic band as a cheaper version.  
Key features for How to Cut a Men's Toupee
To make yourself better at styling false hair, you need to know about some key features. These key features can help you style your hair more beautiful. These can be implanted while you are cutting the rugs to increase your speed and quality. Mentioned below is a brief description of these five key points: 
1. Blending
Blending between clipper and shear is used for the clipper-over-comb method. This technique uses a detachable blade clipper with a larger blade. The larger blade will help you in giving a smoother blend because the hair cut will be of uniform length with a feathered end. Another blending method is blending-shears-over-comb. It is done by lifting the hair with the comb and using the blending shears to cut the last ¼ inches of the hair. But these shears are not as perfect as the razors. To blend a men's false hair system into the client's hair, you should use razor blending. The razor blending technique will make the rug blend perfectly with the client's natural hair.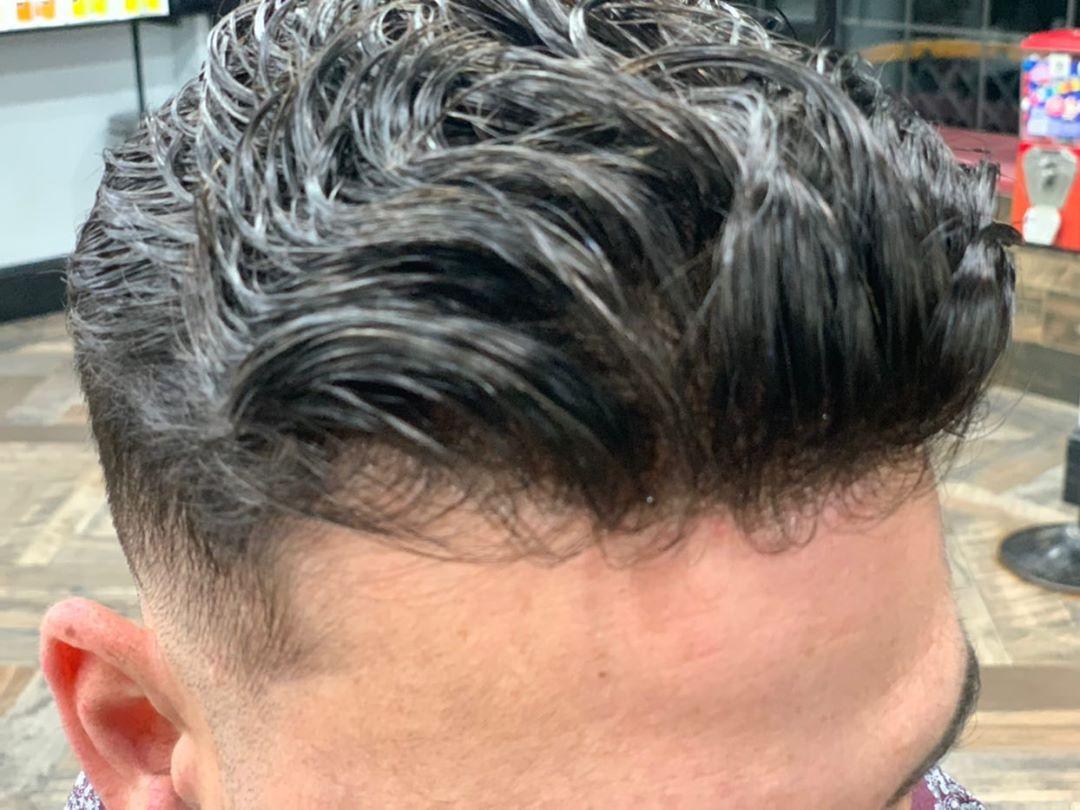 2. Cross-Checking 
It is very important to make sure that the cut you are performing is equal and proportional from all sides. When you are performing a short haircut try to look in the mirror for blending and tapering or stand at a distance as some things can be missed up from close. Make sure there are proper lightings from all angles so that you can easily hairdo a men's toupee.  Dim lights can create trouble in quality haircuts. 
3. Anchor-Pivot-Suspend
This technique is used while performing clipper work. Start with the clipper that is anchored with the uniform surface of the blade touching the head. Pivot the clipper while moving upward so only the back of the blade is touching. Now, start suspending the clipper with a freehand as it moves up and out of the hair. This will result in a smooth and well-finished transition. This can be the perfect technique for how to cut a men's toupee. 
4. Texturizing
The texture is a desirable and essential feature in haircuts that are worn spiked or disheveled. A guard razor is used between the blade and the thumb to create varying lengths by stripping the ends of the hair. When you pull the men's toupee hairs within the razor and the thumb and then remember to hold the razor at an angle that you can use a scooping motion. The shear-point technique is used to add texture and smooth layering while styling a men's false hair system. 
5. Finishing 
Many stylists will spend a lot of time making a well-blended hairpiece but get missed on the finishing. You may have styled a great haircut but it will be of no use without proper finishing. It is very difficult to make all lines including the necklines and arch around ears to be clean and perfect. This proper finishing can be attained by standing in front of the client and looking him directly in the face to ensure evenness. Don't forget to ensure whether the bangs are straight or not. 
Final Views
You must practice how to cut a men's toupee on daily basis to become a perfectionist. You can start by following some basic tips for cutting a hair system as this will make a proper base for your future learning. Go for each section to ensure a proper and even cut and always avoid forcing the hairs in cutting blades with your hands and combs. These simple key points will help you with a great hair system for sure.
---