How To Deal With Kinks and Tangle of a Toupee
Views: 2370
You may think that you've seen it all and nothing could surprise you. But wait! You haven't experienced the tangle of a toupee yet! 
Hair fall, kinks, and tangles are not only frustrating but also time-consuming to fix. Brushing your hair system can be disheartening as you watch precious locks of their own fallout or end up in a fuzzy mess. 
Therefore, it's important to take care of these problems before they worsen, but it can be difficult to tell the best course of action. Is there a special way to brush a toupee? How often should you comb it out? And how does one deal with UV rays or fizziness in synthetic materials? 
To help deal with this pesky problem, we have weaved the root cause and some tips and tricks on avoiding tangles, kinks, and other related problems.
So, let's get started!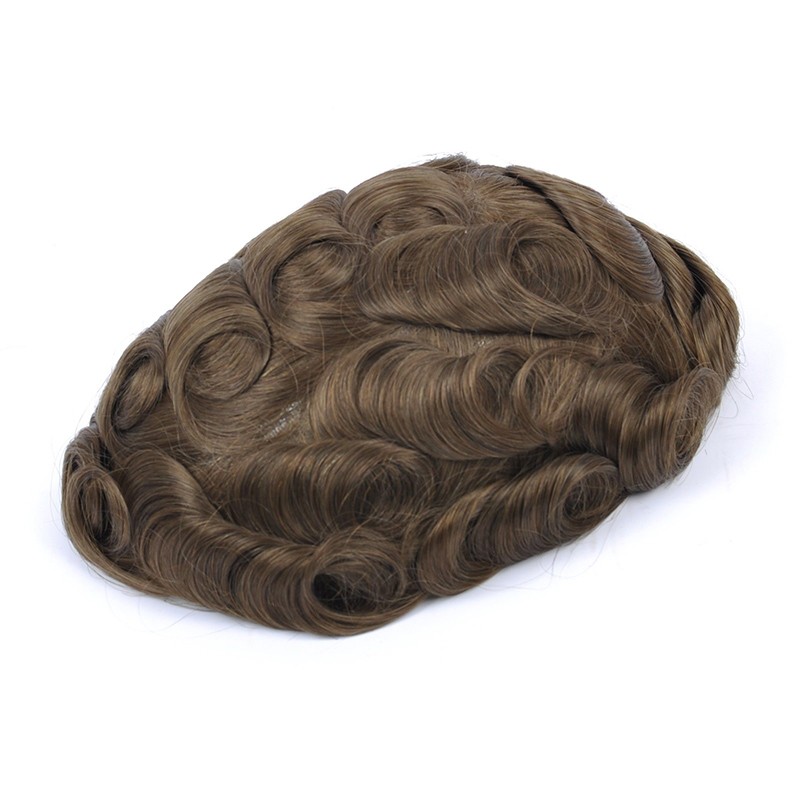 Reasons for Tangles and Knots Toupee
●Heedless of Your Hair! 
Tangles are caused when the toupees and hair systems are not properly taken off. For instance, not washing them, exposing wigs, and using hot irons. 
●Poor Quality Wig
Hair toupees come in different styles and textures. Getting a hairpiece that is made of low-quality material usually ends up with tangles and kinks. 
Note: it is preferable to get premium quality toupee exclusively made of human hair that can last for a long while without tangling or matting and also maintain the strand style. 
●Weather Conditions
Isn't this unbelievable that weather conditions can also ruin the toupee. Yes! It astounded me too! 
The harsh and extreme weather conditions contribute equally in causing tangles and kinks in the toupee.
●Not Combing Your Toupee
Your toupee is more likely to tangle if you don't brush it throughout the day and sleep with it down. 
Moreover, rubbing the hairpiece with a towel, sheet, or pillowcase also causes knots and tangles. 
Untangle Your Toupee! 
●Wash Your Toupee
Wearing a human hair toupee is great, but it can get tangled easily. To keep your toupee tangle-free, you need to adopt the proper wash care routine.
Start by filling up lukewarm water in an appropriate container
Add a toupee shampoo into its content and swirl both sides using fingers while massaging gently. 
Rinse off the toupee with cold tap water running down the backside as it prevents tangles. 
Washing your toupee is not only great for detangling, but it also helps to restore the vitality of wigs, so they last even longer. When you hop out of that hot shower, all tear-dried and ready to go with a brand new hairdo on the head; before putting any product into their hair, make sure there's no residue left of previous shampoos/ conditioners because this will cause tangling during drying time! 
●Use Conditioner
Conditioners are special products that are used to keep the hair healthy and manageable. They can help to untangle the toupee, make it smooth and silky, making it easier to style and groom. 
It is recommended to use a quality conditioner that suits your toupee texture and make sure you rinse it thoroughly. 
●Properly Dry The Toupee
One of the biggest hassles about having human hair toupee, especially if it's wavy or curly, is that they take hours and hours to dry on their own. 
Blow-drying becomes a necessary part of our daily routine! 
So after you've finished washing your toupee with shampoo and conditioner, be gentle when carefully removing excess moisture from this real asset. 
Don't use towels; instead, wrap them around each end for maximum absorption capacity, then squeeze out all those pesky drops as best you can so it won't mold into frizzy mats as some other pieces do due to their wetter fabric qualities alone!
●Carefully Brush the Toupee
Brushing up the toupee requires a bit of care and time, but a premium quality brush can ease the process. 
A variety of brushes are available, but it is recommended to choose the wide-tooth brush that disperses the pressure evenly and prevents knots. 
However, if you come across any tangle of knots, carefully detangle them using fingertips. 
P.S. Brush your toupee twice or thrice a day to enjoy the natural bounce. 
Where To Find the Best Toupee? 
Wearing a toupee all day long and keeping it tangle-free isn't easy, but Lavivid Hair offers toupees made of 100% human hair, so you can be sure that they will look and feel natural. We have an extensive variety of styles and colors to choose from, so you can find the perfect toupee for your needs.
So don't wait; check out our website and shop your favorite. 
---