How to Find A Natural Looking Toupee Online And Avoid Scams!
If you've lost some or all of your hair, you might want to consider wearing a wig while you come up with a permanent solution for hair regrowth. For men, it's usually the crown where they start losing hair. Expensive treatments do not fall within everyone's budget. In a desperate situation like this, a toupee comes to the rescue.
You must be wondering there are so many men's toupee shops near me, how do I know which ones the best at selling natural looking toupees. Well, we have heard you. Explore our guide for tips to find a natural toupee:
Look For Human Hair Toupee
When you go out to shop for toupees you will find Human hair and synthetic wigs. Human hair, as you might expect, gives the most natural look. It swings the exact way natural human hair does because it's real. If it's a complete wig, it can be blow-dried, ironed, or curled.
Human hair comes in a variety of colors and textures. European hair is finer and it's the most sought-after wig. It's expensive too. Indian hairpieces are also quite popular, although they are a little less expensive because they are softer and have more texture. Chinese hair is thick and straight and it's sold commonly.
Check the Attachment System
Go for the wig that is has a hand-tied monofilament closure.  Even if such a hairpiece is expensive, it's recommended to go for it because it will save you time and the fuss of attaching the hair system to your head. Once you are done fixing the wig, it can be parted effortlessly and it closely resembles your natural scalp.
Visit a Store (Ideally)
Once you have narrowed down a list of shops after Googling men's toupee shops near me, it's best to visit in person. There's nothing like trying on wigs in person to discover the most natural-looking one. Wig stores will accurately measure your head, and you'll have the opportunity to try on a variety of styles before making your decision.
Once You Have Found the Right Hairpiece, Take It to a Pro
You might be wondering why you should pay more to get your wig styled after spending so much on the hairpiece. It's recommended to take your wig to a competent stylist to make sure it fits the shape of your face. Most wigs have a lot of hair, therefore they need to be cut and layered appropriately so that they look more natural.
Wash and Store Properly
After finding the right toupee and having it styled according to the shape of your face and the condition of your baldness, you must be careful when it comes to maintenance.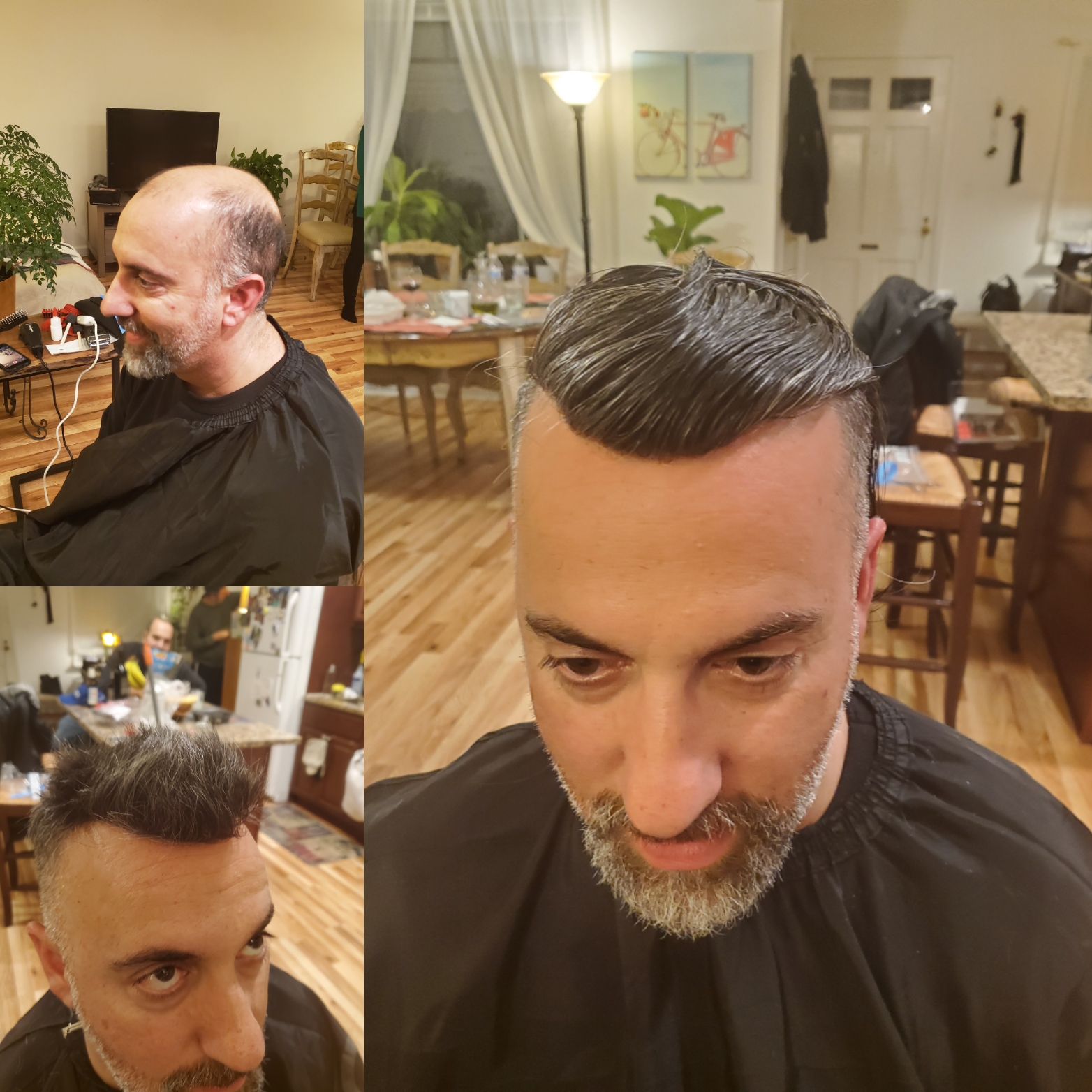 A human hair wig can last for years if properly cared for—about five times longer than artificial hair! However, in order to extend the life of your hairpiece, it must be properly cared for. Experts recommend washing your wig every six to eight wears with a light sulfate-free shampoo.
Of course, it's important to store the toupee properly too. One of the greatest ways to extend the life of a wig, whether synthetic or real hair, is to brush it and then store it on a wig stand when it's not in use. Don't just toss it after taking it off. Treat it with respect! 
Tips To Avoid Scams When Shopping For a Toupee Online
Let's say you have Googled men's toupee shops near me and you have come across some great websites selling toupees and other hairpieces. And so you decide to shop online. In this case, how to avoid scams and buy the wig that fits you right and blends properly as well?
If you've decided to get a wig online, make sure it's from a reliable store that sells high-quality wigs at a reasonable price. Unfortunately, many misleading websites deceive people into purchasing pricey, low-quality wigs, or even trick them into paying for a wig they never receive. We have got some tips for you which will save you from regret down the road.
Buy From a Trusted Store
It's extremely important to shop from a reputable brand that deals in genuine toupees and wigs. If the wigs are of good quality, the brand should have its own website. Make sure that the brand exists in other places on the internet.
You should be able to find other online sites carrying their wigs and toupees as well. This is a sign that this particular wig brand is well-known.
Do a Price Comparison
Okay, so you have found a nice and trusted store. Before adding the toupee to the cart, compare the prices.
If you find a website selling a wig for $30 and another website offering the identical wig for $300, it's probably not the once-in-a-lifetime deal they're touting. Scam sites frequently use actual photographs of products from legitimate websites to deceive you, but the wig you'll receive is a cheap knockoff. Wigs supplied by respectable wig suppliers may differ in price by a few dollars — but not by hundreds of dollars.
So, if a discount on a high-quality wig appears too good to be true, it probably is!
Read Customer Reviews
Customer reviews are an excellent method to learn about the real experience of people who actually made a purchase. Check customer review websites for the online wig shop you want to buy from, or do a simple google search by writing the website name plus the words "reviews" or "scam." this should give you a good picture of what people have to say about the wig brand and then you can make a final decision from there.
Check The Store's Policy
Look into the return and refund policies of the toupee store. They may not be the greatest place to order from if their return policy requires you to jump through hoops in order to get your money back. Even when it comes to returns, the greatest online wig companies strive to make your shopping experience as easy as possible. 
In other words, don't settle for men's toupee shops near me just like that. Do your research before buying a toupee to avoid regrets.