Tips for Finding the Best Men's Crew Cut Hair Piece
Views: 2641
Tons of designs of great men's crew cut hairpieces are available for sale at different retail stores around you. But like all other hair replacement options available, you need to search for the one that fits perfectly with your personality. Though this may seem impossible, the truth is you can find that special one, if you know where to look and what to check for.


Who Needs A Men's Crew Cut Wig?
While it's an undeniable fact that a men's crew cut wig is one of the simplest and most stylish designs on the market, not everyone easily warms up to them. What you may not know however is you never realize how much you need one until you discover their potential to boost your sense of style. So, to stir your mind towards going for this style, a crew cut hairpiece is a great option for;
● Those who want it simple: Perhaps you feel overwhelmed by the snazzy designs and styles you find on the internet, and prefer a simpler, down-to-earth look. Or maybe you're unsure if the other styles available are great for your facial features. In such cases, a crew cut hairpiece becomes more appealing to you.
● Those who're known with crew cuts: Many men have been associated with the crew cut hairstyles for most of their lives. Many reasons may prompt this- perhaps they were in the Police Force, or were soldiers. Or maybe they worked in an environment where you had to have your hair cut to such a level. To such people, crew cut toupees are the next best thing.
● Those looking for a fresh cut look: One way to convince those around you that you haven't grown bald is to give the consistent impression that your hair grows. And this means alternating between hairpieces of various volume and growth levels. For an impression of a new haircut, a crew cut hairpiece works perfectly.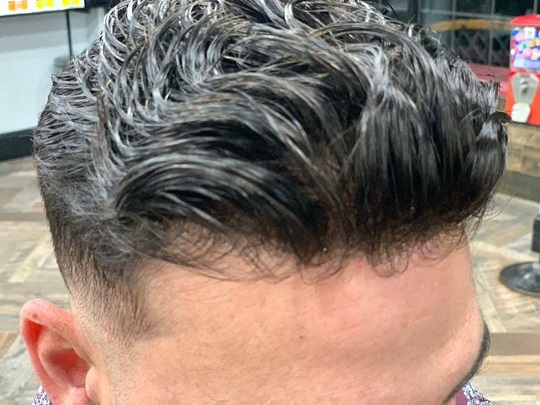 Finding the Right Crew Cut Hairpiece
Contrary to misleading information from skeptical individuals, men's crew cut toupees aren't made the same. Yes, the hair volume may almost seem the same, but fundamentally, they're unique in their ways. And this singular feature makes it easier to find one that works best for you.
So, in general, the perfect crew cut toupee for you would tick the following boxes;
1. Hair Volume
Receding hair issues aren't the same, and as such, require different kinds of hair replacement options. As such, the perfect crew cut toupee is that which comes with a volume level that agrees with you. This is because you plan to give off a natural impression of hair growth.
2. Hair Color
When you find a crew cut toupee that perfectly matches your hair color, you know you've found the right one. Replacing hair means getting a toupee that balances with the natural shade of your remaining hair. Some prefer to look for something that creates a gradient in color between their natural shade and that of the hairpiece.
3. Base Scalp Material
● A crew cut hairpiece can't convince those around you if it doesn't feel like, well you. And this can show is if the base material doesn't feel comfortable on your skin. So, you need to look for the right base material that your scalp would accept best. Luckily, you get options between the polymer and mesh fiber, each with its pros and cons.
● Crew cut toupees with polymer bases are best for colder climates, and also work best for those with an active lifestyle. Those with thinner material are best, as they allow heat escape and minimize sweating. Mesh fabric types, on the other hand, are extremely comfortable but aren't great for long term wear. But they make up for this year being the most breathable.
Conclusion
There you have it! With this, you'll discover that finding the perfect men's crew cut hairpiece isn't as hard as most people lead you to believe. Remember to keep your preferences and lifestyle in mind when selecting one of these.
Also, take good care of your hairpiece by combing regularly, avoiding sleeping in it, and maintaining it with top quality hair products. And do check out these amazing hairpieces, and select any crew cut option you prefer.
---