The Tips for Finding the Best Men's Hairpiece Replacement
Views: 1141
When seeking men's hairpieces replacement for your old stock, a lot of questions cross your mind, with the answers seeming to evade you. But knowing precisely why you're getting one and what you're getting it for are the two major steps to setting your mind at peace.
Finding the Perfect Men's Hairpieces Replacement
The perfect hairpiece replacement does exist if you know what to look for. But unlike getting your first one, you're no longer shopping randomly. But what makes a perfect hairpiece replacement?
Hair Volume
You either want to sell the idea that you grew your hair, or that you went for a cut. Either way, the replacement hairpiece must look the part. If you're giving the impression that you've had a cut, it should be at least one to two-thirds the volume of the previous one. If you want it to look grown, get something that's at least 30% fuller.
Color
Matching the colors are just as essential as getting the volume right. The replacement men's wig can't be a shade darker or lighter than your previous one. If it must, then it should be because your natural hair tone has either darkened or lightened.
Wig Scalp
Whichever way you go, the type of scalp that came with your previous wig was just right for you, so your replacement toupee should have the same. This way, you never have to go through the process of adjusting to the feeling on your scalp all over again, because it just feels natural. Plus, it makes it easier for you to stick with the kind of adhesive you prefer. 
Making A Men's Replacement Wig Work for You
Regardless of whether you find the perfect men's hairpieces replacement, there are some tips and hacks you can follow to make one work for you. We don't always get what we sometimes want, but with a few ideas, you may just find that wish come true. So, here are a few runaround suggestions for getting the best out of whichever you pick: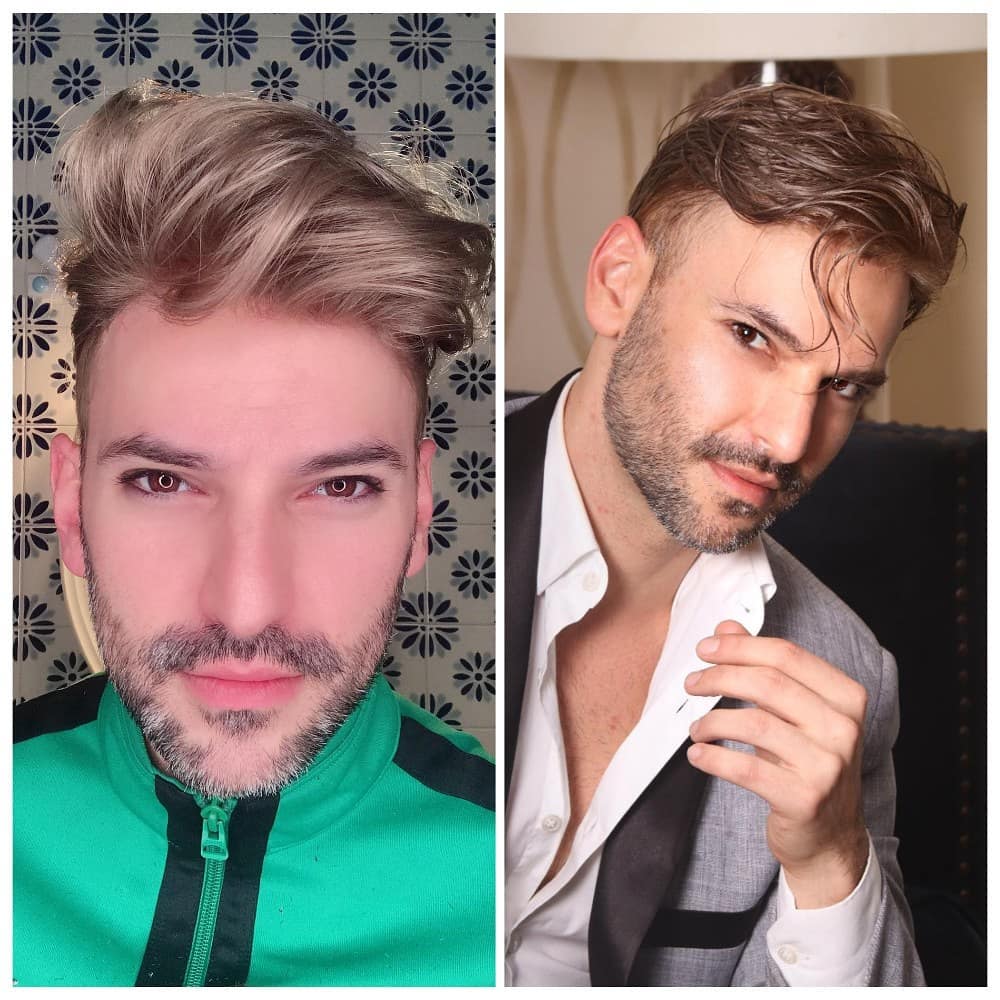 ● Give yourself a new-look by getting a hairpiece replacement with a different style. Make sure the look blends with your natural hair.
● If you can't find a replacement toupee with the perfect color, make one yourself. Get any type that suits your need and dye to the color you want. But make sure the toupee color is lighter than the previous one, so you just deepen the tone.
● If you find a replacement wig that doesn't work with the adhesive type you've got used to, simply purchase and switch to another type. Then, allow yourself to get used to the new type of adhesive. You've done this before, so it shouldn't be a problem.
● If you find a replacement hair system with the perfect scalp but don't like the hair volume, pick it, then trim the hairs down a bit. Put it on, then give it a few snips at the mirror. Take great care when doing this. And if it proves too difficult, have someone with the skills do it for you.
Maintenance Tips for Men's Replacement Wigs
Finding the perfect toupee replacement is great but having it last longer is even better. So, follow these maintenance tips to keep your men's hairpieces replacement in solid shape.
1. Clean your replacement men's hairpiece regularly with soap and lukewarm water. These wigs gather dust with time and frequent use.
2. Try to avoid wearing your replacement men's hair system to sleep, as you may loosen the curls. If you must, don't make it a regular habit.
3. Keep your replacement men's wig on a mannequin when not in use. Comb it on the mannequin before and after wearing. Only make slight adjustments when it's on your head. Never make it a habit to comb it then, or you may pull it off the adhesive.
4. Avoid activities that would get your replacement hair system wet, especially at the scalp. These include walking in the rain and rigorous activities like exercising. Sweat loosens the curls, especially for lace wig types.
Final Thoughts
You can get yourself the perfect men's replacement hairpiece if you wish to. And considering your desire is to give yourself that natural, yet dashing look regardless of your baldness, this isn't too much of something to ask. Follow these suggestions, and you're sure to be on your way to getting yourself the wig replacement you want.
A good product that meets this need is Prometheus Bald Men Hair Pieces. As a replacement hair system, it offers a quality silk base with front lace that blends smoothly with your natural hair.
---