The Tips for Geting Men's Hairpieces Gray Hair to Work
Views: 1054
It's not hard to get men's hairpieces gray hair to work on one's looks. Yes, the belief is most types appeal to those with younger-looking hair, but those with older hair are not left out. And if you're going gray, don't worry. You can still get good gray wigs that work with your hair color if you know what to do.
Who Needs Men's Hairpiece Gray in Color?
A lot of older men indeed find it hard to get gray color hairpiece. As many who turn bald still have their residue hair looking younger, they may fear that getting one that blends with gray hair may be difficult. But, once you know what to look out for, getting one becomes as easy as pie. But let's ask; who needs a gray men's hairpiece?
Men Who Want to Look Older
Believe it or not, some men prefer the older look for different reasons, the primary being they've accepted the nature of their receding hairline. Such people find gray men's toupees more appealing than the younger-looking options.
Men Who Are Older
Of course, the higher demand comes from those who turn gray with age. Combine this with baldness and you get many men who feel a lower level of confidence due to this condition. Such people benefit immensely from the gray men's hair system.
Men Who Turn Gray and Bald Early
Perhaps it's from a genetic condition or just the stress of work and mental exhaustion. Regardless, you may find yourself turning gray and bald at some time between 37 and 42. In such a case, your best option for maintaining a classier look is to shop for men's hairpieces gray-haired males need.
Making Men's Gray Wigs Work for You
Turning gray makes you feel old, but it doesn't mean you have to look at it if you don't want it. Even with your hair losing its color of youth, you can still rock that gentleman appearance if you need to with the best gray hairpiece, as you grow bald. To do this, follow these suggestions:
● Dye your remaining hair to fit the color of your gray toupee. This allows it to blend in and gives you a more natural look.
● Shop for men's wigs with gray hues that perfectly match the natural color of your aging hair. This way, you never have to worry about people noticing you're wearing gray hair replacement.
● If you find it hard to get a gray hairpiece, buy a regular one and dye it to the exact color of your natural aging hair, or something close. This option proves useful for people who can't afford to spend time searching for the perfect color to work with their gray hair.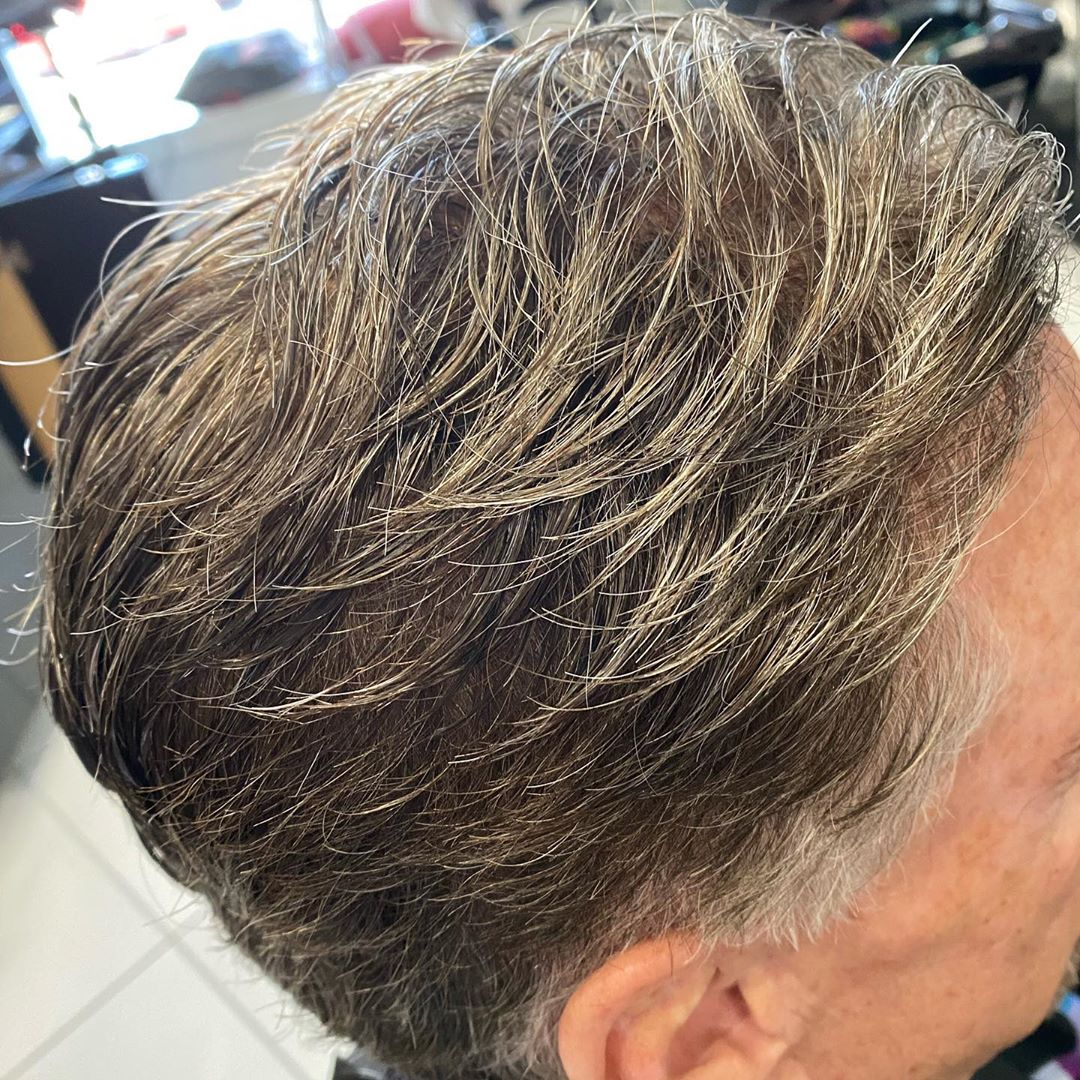 Tips in Caring for Your Gray Hairpiece
Gray men's hairpieces, like other types, require utmost care and maintenance. To make sure your product serves you extensively, follow these tips below:
1. Wash your gray hairpiece regularly with soap and lukewarm water to remove dust and dirt. If your toupee comes with washing instructions, follow them thoroughly, to make sure they last longer.
2. Combing and brushing are also key to maintaining gray hairpieces for men to work with. Do this as often as possible, so it doesn't tangle.
3. When not in use, place your gray men's wig on a mannequin, to keep the edges in fully functional condition.
Remember that dying gray men's hair system may weaken the follicles, so only do this once every two to three months. To save costs due to replacing hairpieces damaged by excessive dyeing, shop for cheap options.
Final Thoughts
Going gray is not the end of your good looks. There are tons of men's hairpieces gray in color available on the market. Look for these and add them to your beauty and style collection, whenever you can. And remember that whichever you pick, you can tweak them to fit your specific needs.
If you need a good suggestion that can work as a gray toupee, then Cronus Men's Full Polyskin Base European Hair is a perfect option. The volume and thickness work greatly with older looking hair, and for those who wish to express that aged, gentleman look. Plus, the lighter tone makes it easier to blend with any dye of your choice, if you so wish.
---