How To Get Rid Of Hair Patches?
Views: 647
You may notice hair patches when combing your hair, looking in a mirror, or through a photo. You realize you have bald patches on your scalp when hair loss is excessive and may cause hair patches or bald spots. It looks very ugly if anyone has bald patches on the crown area of the head.
Although most bald spots are caused by male pattern baldness, other conditions may cause ( cancer, alopecia area, diabetes, etc.) hair patches look embracing whether you are male or female, some people prefer medications some go with surgery or others changes to your hair care and styling habits. 
Below, we will explain How To Get Rid Of Hair Patches? With following different methods.  
What is the Reason for the Hair Patch? 
The main reasons for having hair patches are 
●Alopecia areata

●Tinea capitis

●Cancer treatment

●Diabetes

●Stress

●Hair loss from male pattern baldness

●Depression

●Poor diet 

●Pregnancy or delivery

●Harmonies problem

●Use of Low quality and chemical hair care products
Most hair patches are treatable by different options, like ( medication, surgical or non-surgical) your healthcare providers suggest which suits you best according to your symptoms. 
Some Way to Get Rid Of Hair Patches
If you notice hair patches forming, you should consult a doctor. They will give you better suggestions, and you may be able to treat your hair patch issue by using one of the several listed below.
Natural Treatments To Control Hair Patches
Everyone focuses on Natural hair growth methods at the start of hair fall issues. The hair growth improves circulation in the scalp or follows a healthy diet plan.
Many products you will find in markets ensure hair improvement, hair fall control, regrowth, follicle health, and maintaining hair quality. At home, you can also have many ingredients that will promote hair growth and control of the hair patch. 
Here are some options:
●Rosemary oil

●Peppermint oil

●Aloe vera

●Massage

●Onion juice 

●Pumping oil 

●Tea tree oil 
Smart Hair Care
In some cases, while focusing on home remedies, it's important to take care of hair. Adopt a regular maintenance routine that will help your hair loss with small and easy changes. Be gentle when you wash and use chemical-free hair care products with no paraben or sulfate properties. Dry, brush your hair with soft hands and avoid brushing in wet hairs.
Prevent the use of heating elements like straighteners and curlers. They can weaken your hair. Plus, avoid making tight ponytails, braids, or buns while suffering bald patches.
Change Your Hairstyle
The other thing you should follow is to change your hairstyle to hide the patch surrounding areas with thick, dense hair. Changing your hairstyle may help to make it less obvious.
You can change your hairstyle in two ways one is to stick with short hair cut like a buzz cut, and another one is crew cutting. These options give the dense hair look and nicely hide the hair patch issue.
On the other hand, hide the bald spot with good hairstyles such as pompadour and quiff, mop top, and slick back, all of which we've covered according to your way. 
Lastly, if you have severe bald spot issues, shave it all off and look new without hairs. In a treaty world, it's not an awkward thing to hide bald spots for good by turning your entire scalp into one giant.
Medical Trustworthy OTC Treatments For Hair Patch
Before moving to medication, your doctor prescribes some tests; according to this, they will diagnose which condition is caused by hair patch issues. So, The next option is OTC treatment is 
Treat Alopecia Areata
If you have a hair patch issue due to alopecia areata, according to your healthcare provider. Currently, alopecia areata can be treated effectively and maintain your immune system effectively, treating hair loss issues. 
Common treatments for alopecia areata include:
●Immunotherapy medication

●Injectable, Oral corticosteroids

●Anthralin cream

●Immunomodulators
Use Minoxidil
This is a common medication that helps to promote hair growth. These types of medication are made to make hairs enter into the anagen or growth. This medication helps in enhancing the length of hair. But this option takes time to grow hair. 
According to many studies, minoxidil is very effective at stimulating hair growth in women and men with male pattern baldness. It's also helpful for patchy bald spots due to alopecia areata. It's not effective to patch the bald Patch caused by tinea capitis. Otherwise, in other cases, you will be able to see improvements in your hair's thickness and density.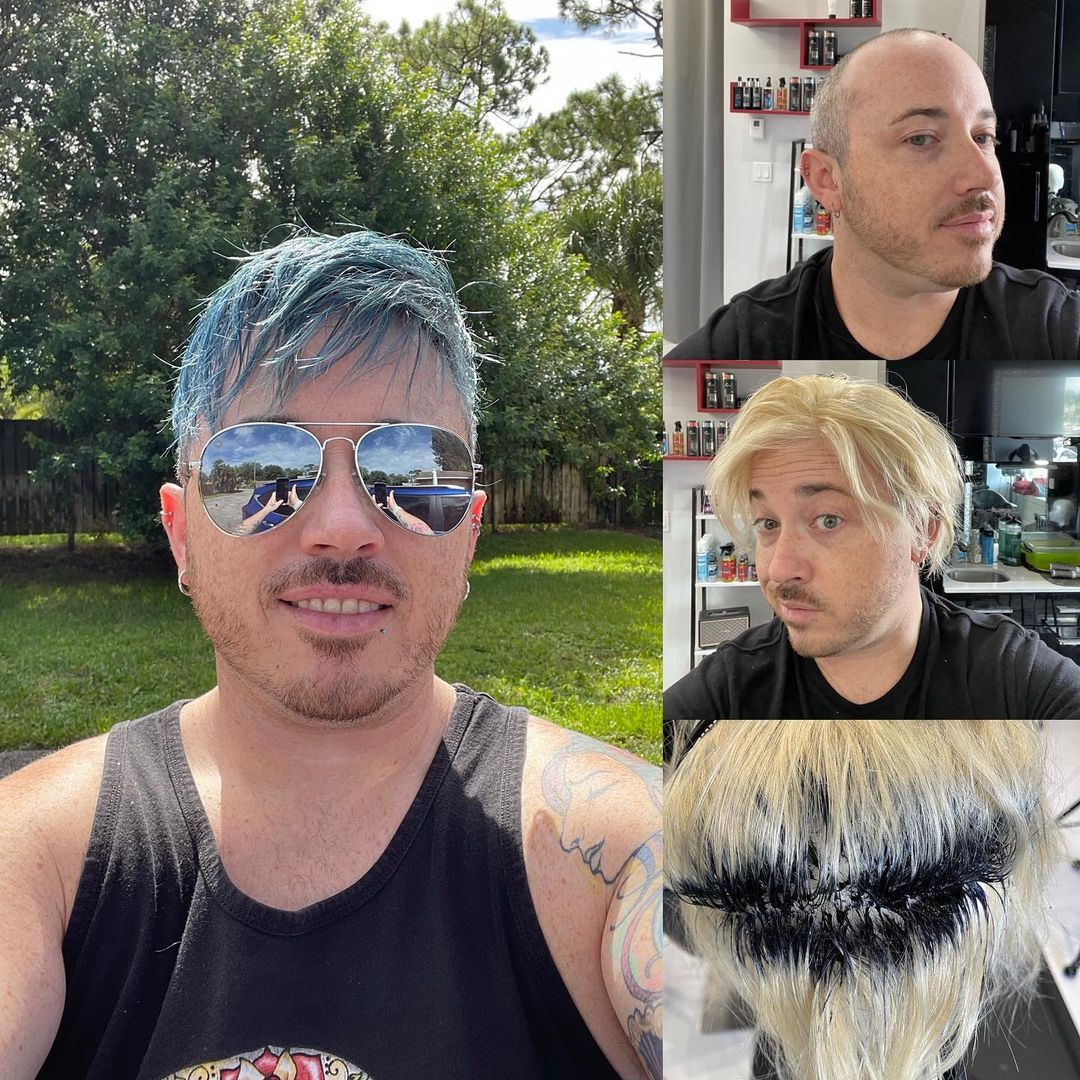 Use Finasteride
Many health care providers recommend finasteride for those people who have suffered male pattern baldness. It prevents your body from converting testosterone into dihydrotestosterone (DHT). 
According to several studies, it is very effective at slowing down or stopping the effects of male and female pattern baldness. 
Unfortunately, finasteride isn't an effective treatment for hair patches due to alopecia areata and other Hormonal causes.
Collagen-based products
Collagen-based medication is also effective in the case of hair patches. They are best for skin hair. Many Successful cases have benefits in hair growth and thickening hair that has started thinning due to androgenetic alopecia.
We suggest adding collagen-based products shampoo, conditioner, ointment, and serums to your hair care routine. Collagen also comes in the injectable form selective option that comes mended by your specialist. Collagen-based is also very effective in hair regrowth or hair patch problems.
Biotin
Some health care providers prescribe biting in Supplement form, which helps reduce hair loss and regrow hair. Biotin has (a.k.a. vitamin B7) and gets good results. It's safe but works slowly. 
Vitamin supplements
Some doctors may suggest you Certain vitamins and minerals are associated with hair growth while examining your blood test report. Including
●Vitamin A, C, D, E

●B-vitamins which may be helpful in hair-growth treatments

●Iron

●Zinc
Keep note:
Don't use high doses of vitamin supplements. Before taking any supplement, discuss it with your doctor before starting a regimen; otherwise, it may cause a high risk.
Corticosteroids
This comes in liquid form, which is directly applied to the scalp on the hair patch areas. This is often an effective treatment for hair patches, especially for children and teenagers who suffer from alopecia areata.
Surgical Treatments to Control Hair Patches 
Surgery should be considered a last resort if other options do not work in case of severe bald spot issues. It's also helpful when there is no chance of regrowing hairs on hair patch areas. So, This is a common hair restoration method transplanting follicles from elsewhere on the head. It only does a one-time process and lasts for a year.
So, before getting a hair transplant service, discuss with your doctor or surgeon that recommends some necessary tests, and then start this process. 
Hair Transplant
In this procedure, the hair follicles are removed from the areas from those parts where the hair growth is usually good, and implants on the part of the scalp experience hair loss.
There are two main hair transplants:
A hair transplant is a successful procedure that is Performed correctly and fills in your bald spots or patches, making them look the same as the areas of your scalp with thick, natural hair.
Laser Therapy
Laser therapy is also widely used and shows the beneficial result in small studies to reverse hereditary hair loss in women and men. It starts the hair growth process in some cases of hair patches but is not all successful. So, it's not sure about the result, so be aware that this may or may not work for you.
Non-surgical Treatment To Control Hair Patches
The most demanding and safest producers are only non-surgical. It's an eco-friendly producer that will give you result quickly. In the technology world, many people prefer this procedure because there is no need for medication and required painful surgery. Getting a non-surgical solution is the safest, easiest hair patches hiding solution. You will be able to choose a hair system according to your real hair color, texture, and style, and no one can find you are wearing hair pieces or wigs. It looks flawless and blends with your real hair. 
What is a scalp prosthesis?
This is a costume-made wig to help ensure a perfect fit according to your head circumference. Other names for a scalp prosthesis are:
1.Hair prosthesis

2.Cranial prosthesis
All wigs usually have the skin-type base material and a cap attached to the wig, such as the one this woman is wearing.
Moreover, there's a wide range in cost and quality. You can remove it while sleeping. It required regular maintenance. It has a price range from $60 and $300. Try to match your own hair color, thickness, and curl.
Other types of hair systems are
●Hair toupee

●Hair patch

●Wig

●Hairpieces
Wear a Hairpiece
It's the best option, specially designed to cover specific head areas with a hair patch or bald spot problem. A high-quality hairpiece can be skin-friendly, long-lasting, and easy to carry. Many famous actors, actresses, footballers, athletes, and many other people wear the hair system to improve their pretty looks. 
---