Tips on How to Choose the Best Hair for Guys
Views: 1436
How to have the best hair for guys? Hair loss has become a common problem for men nowadays. The problem is not hard to solve. The basic methods include having wigs, applying a hair replacement system, and taking a hair transplant surgery. Which method can work well in getting your hair back? We will introduce these three approaches one by one in the following content. 
How to have the best hair for guys?
Wearing a wig for men
Wearing wigs may be the easiest and quickest way to cover your baldness. A male wig, different from toupees covers your whole head with an already done hairstyle. If you only have hair loss on the top part of your head, a wig may not be suitable for you to wear. If you have lost all your hair, wigs can be a nice option. 
There is a wide range of wigs for men sold in the market. If you want the hairpieces to look just the same as your real hair, it is suggested to buy the product made of real human hair. If you want to change your appearance occasionally, hair wigs made of a mixture of human hair and synthetic hair at a lower price will be a proper choice. You need to clean up these products just as you maintain the real hair. 
Some wigs cannot stand certain chemicals and hot temperatures. You should pay attention to relevant notifications when purchasing the merchandise. The disadvantage of this sort of hairpiece is that most of them are thick. You may sweat a lot by wearing it on a hot day. It cannot be attached to your head as firmly as a men's toupee. It may blow away when encountering strong wind. 
But in general, men's wigs are a pretty good solution to settle the problem of hair loss. They are generally cheaper than toupees and the cost is much lower than taking hair transplantation. A wig, if maintained well, can be used for a very long time, years, or even permanent.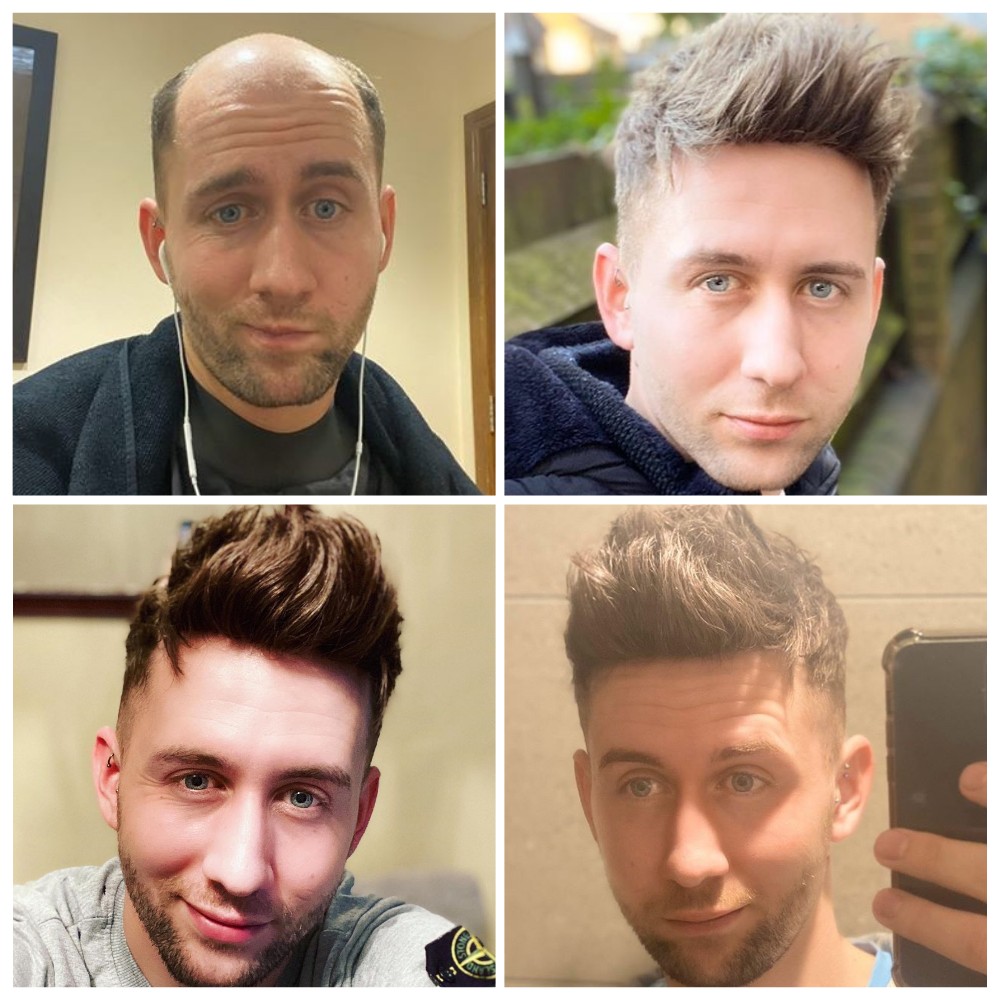 Applying a male hair unit
Weighing the advantages and disadvantages of these three solutions, attaching hair replacement systems may be the best one giving you a realistic hair look with a comfortable wearing experience. 
Hair toupees are popular merchandise welcomed even by many celebrities. There various types of hair replacements designed to satisfy different needs. Toupees will not slip off from your head easily because adhesives or tapes are used to attach the hair base firmly to your head. 
Toupees for men are mainly designed to the top baldness, so they are lighter and thinner compared to wigs. If you want to wear a toupee, you should select the one with its color and style matching well with the rest of your hair and with your whole appearance. 
The prices of a hair system vary affected by its making materials and durability. An average hair system can last for months. Regular change for a new system is the major shortcoming. Furthermore, maintenance should be given to the hair system to make sure that it works well on your head. The four basic types of hair units are lace, poly, mono, and silk hair systems. 
The lace hair system is perfect for people who prefer coolness. The poly and mono ones are stronger and more durable, easy to apply and remove. The silk hair system is the most comfortable to wear, carefully ad elaborately made. 
Hair transplant
The hair transplant surgery, of course, is much more expensive. You can get your real hair back months after the operation. You don't have to worry that the hair will slip off from your head. The downside is that surgery, no matter what sort of surgery, poses a health risk. The operation result is not controlled by you. The surgery may fail. 
Some people with sensitive skin are not suitable to receive the surgery. If you want to take the surgery, you should find a reliable hospital and doctor and consult every detail of the hair transplant surgery. 
Conclusion
How to have the best hair for guys? By comparison, it is found that applying hair toupees is the safest way to regain hair with immediate results. You can decide based on your conditions. 
---