How to Make A Choice between Men Toupee and Wig?
Views: 1723
Men toupee or wig? This is a choice dilemma faced by many men suffering from pattern hair loss in its initial stage. However, there are some signs that tell you that it's better to go for a toupee. Here is how to know that your balding head needs a male toupee rather than a wig. 
1. Small bald spots
No matter the treatment you choose, dealing with baldness is expensive. While transplantation offers full hair recovery, it is oftentimes avoided by men due to its high cost and replaced by a hair system. The most popular hair system is the wig, which covers the entire scalp. However, buying a wig may be financially unreasonable if you have only a few bald spots on your scalp, while most of your natural hair is still in place. If you experience just some hair loss around the crown, you are better off buying a men toupee. This will help you save a good amount of money, which you can spend on medicines that aimed at stopping the evolution of your hair condition. Fearing an embarrassing look provided by the toupee is not the case, as it blends perfectly with your existing hair adding volume and appeal to it. 
2. You want to keep your natural hairstyle    
When you have a bald spot, you have to decide whether to wear a wig or a male toupee. Choosing to wear a wig wouldn't be the best decision if you boast an amazing natural hairstyle. While a wig can imitate the haircut, it can't compete with human hair when it comes to natural appeal. So if you enjoy the style, texture, and shine of your existing hair, avoid covering it with a wig. It's definitively not worth it as long as it's beautiful, isn't affected by thinning, and boosts your self-confidence. You are good to keep it by yourself, using just a toupee to cover the bald spot on your scalp.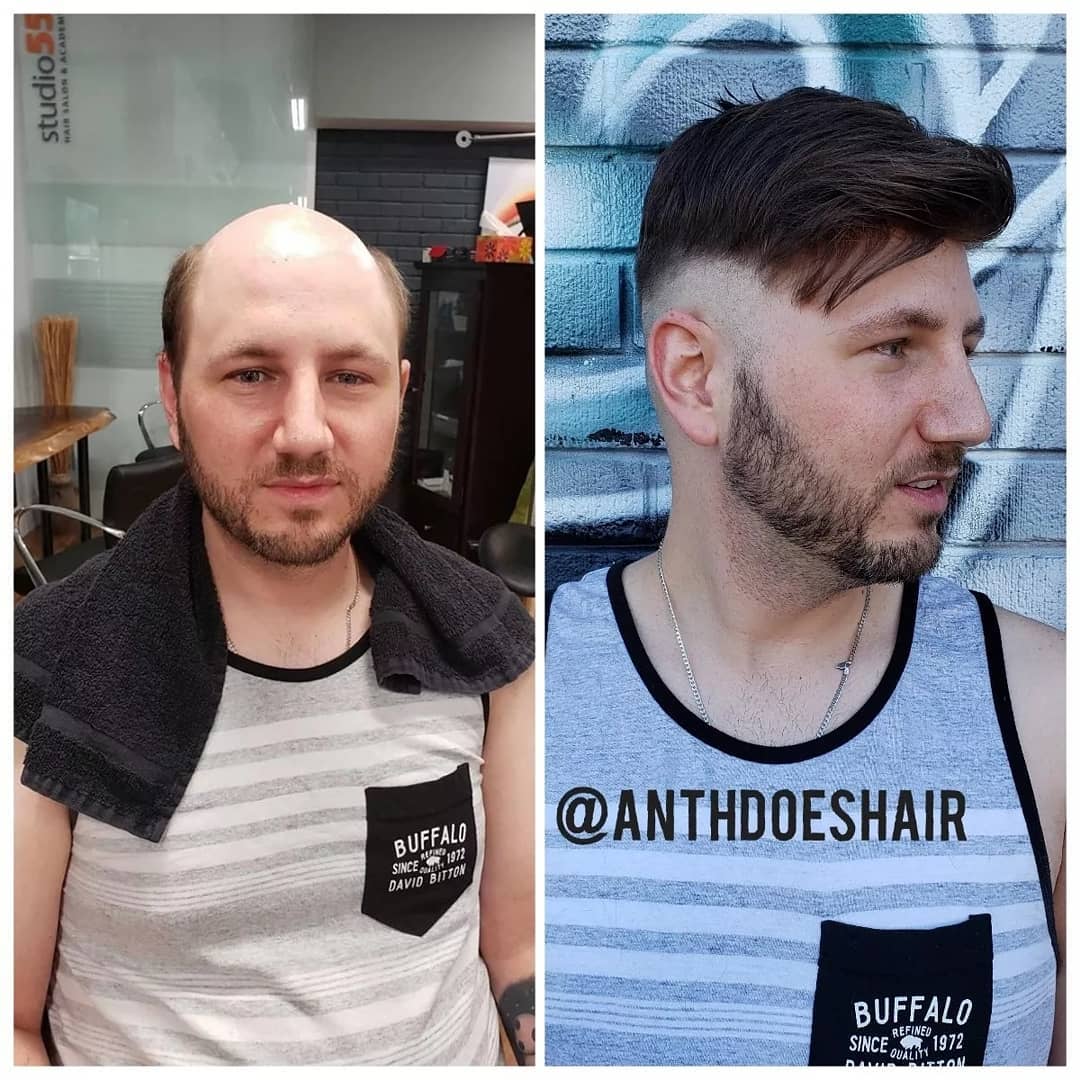 3. Crown baldness
Toupee looks best when attached to the crown. In fact, most hair systems of this kind are made to cover the bald areas around the crown. So if your hair loss takes place at the top of your scalp, then a toupee is definitely your best choice to mask it. Wigs are a better option when it comes to bald spots on the sides and back. 
4. You don't want to spend time on the application
The wig is reliable baldness coverage, yet it comes with tedious application and removal due to its size. Being as large as to fit an entire human head, a wig requires much adjustment as well as a lasting glue application. Things are getting much easier when you have to deal with a smaller-sized toupee. Covering just the top areas of the scalp, the toupee isn't so imposing as a wig, which means it requires less time to apply and remove. So if you are reluctant to spread glue on the scalp and wig, then adjusting the hairpiece, or removing the piece using a large quantity of glue remover, you are best off to go for a toupee.   
5. You have a sensitive scalp
If you are kind of a sensitive person, you may feel more comfortable wearing a men toupee. Being small in size, a toupee won't make you feel that a foreign object is permanently stuck to your scalp. Moreover, a toupee is more lightweight than a wig, which puts less pressure on your head and neck. While wigs are light too, they may cause some discomfort after a while of wearing, especially if we speak about long-hair wigs. 
Conclusion  
Wearing a men toupee comes with a number of advantages. You are wise to use this kind of hair system if you have only small bald spots on the scalp while the rest of the hair is in place. In this way, you save money as well as time spent on application and removal, which are less tedious and time-consuming due to the small size of the toupee. A toupee also contributes to more natural appeal, as it leaves most of your hair uncovered, allowing it to shine and highlight your authentic look. In addition, a topper provides less discomfort due to its extremely light design that makes you forget about the existence of a hair system on your head.  
---