How to Place Order for A Custom Made Hair System with LaVivid?
Views: 2078
What is a custom made hair system?
If you cannot find a stock hair system that meets your needs for the base structure, hair color, hair density, hair length, wave or curl, etc, you can always go with a custom order. 
Some people might have many years experience of wearing hair systems and they know what kind of base material or construction, density, hair material, wave or curl, etc that works the base for him. Also if you cannot find one available on the market. You can contact LaVivid to design your own hair system and LaVivid will make it happen. 
What options are there? 
Whether it is
For men, 
For women,
Short hair,
Long hair < 24'',
Single/mixed hair color, highlights, lowlights,
Lace, skin, mono or combo bases,
High density, low density,
Curly, wavy, straight,
Indian hair, European hair,
Small size, big size or even a full cap wig,
ARE ALL POSSIBLE
Is a template Needed?
A template is very important for a custom order because we not only copy your template for the base size, we also copy the head curvature from it. So it lays on your head perfectly.
If you want something quick and don't want to send in a template, that's also ok. You can send us your measurements and we will go with our standard base curvature. 
How to measure my size?
Here is a picture with instructions about to measure the size: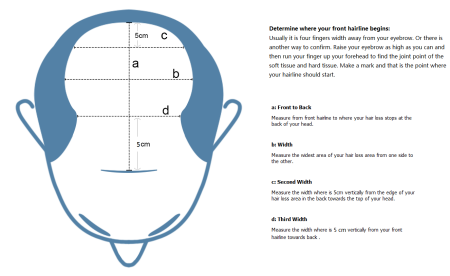 How to make a template?
Is hair sample needed? 
You can pick a hair color from our color ring or send in your hair sample. 
Here is the suggested amount of hair sample is needed to make sure the color be matched correctly. 
Turnaround time for a custom order
Here at LaVivid, we have a team solely working on custom orders, so we can finish a custom order comparative quickly. For example, a standard 8x10 lace hair system will take around 6 weeks to finish, while the most complicated full cap wig will take around 2 months to finish. 
I am interested. How can I place my custom order?
Firstly, submit your custom order request by clicking here and we will reply you through email with a quote. If you are ok with the quote, we will send you a payment link to pay. Then we will give you the address for sending in your template or hair sample if needed. Then after we receive your template, we will start the production. After the order is finished, we will contact you to inform you and we will arrange the shipping accordingly. 
---