How To Remove Glue From Lace Wig Without Using Alcohol
Views: 2534
A lace front wig is a realistic-looking wig that looks like the hair is emerging from the scalp. Various varieties of delicate lace are employed to obtain this appearance. The base is usually made of French or Swiss lace, and strands of hair are manually knotted into the lace using a latch-type maneuver. Although many types of lace are utilized as a base, a stronger lace or a more light and unnoticeable lace is usually used.
Lace wigs include hidden, flexible lace on the forehead that you may attach to your skin momentarily for a bespoke fit. A well-fitting and appealing wig may quickly become your favorite, necessitating routine upkeep to keep it smelling and looking good. The glue that holds a wig on your head in place might leave a gummy residue behind. Maintain the natural appearance of your wig with a quick cleaning process.
Know about your lace wig and its adhesive!
The adhesive is put across the whole hairline to keep the wig in place. Bonding lengths vary depending on the glue. Some wigs can be kept in place for weeks and others for days, depending on the glue used. Wig adhesive, often known as wig glue, is a gluing solution used by stylists to secure a wig or other hairpiece to the head.
The adhesives used in lace front wigs differ. Depending on the type of adhesive used, the bonding strength ranges from one day to more than a month. The binding will be affected by moisture and heat. If this happens, wait until the bond has re-hardened before manipulating the unit. Even with the strongest bond, regular maintenance is required to keep the piece clean and free of dirt and grime.
One of the minor drawbacks of human hair replacement systems, especially when using wig glue or wig tape to connect them, is that adhesive residue can seep into your hair system, or worse, your natural hair. This cannot be easy to prevent because it's always probable that some adhesive residue will come into touch with your hair when you're fixing your hairpiece. This can also be dangerous because pulling, brushing, or washing one's hair the wrong manner can cause pain and damage to the hair and scalp. Fortunately, we've put together a quick guide on how to remove bonding glue residue from your hair.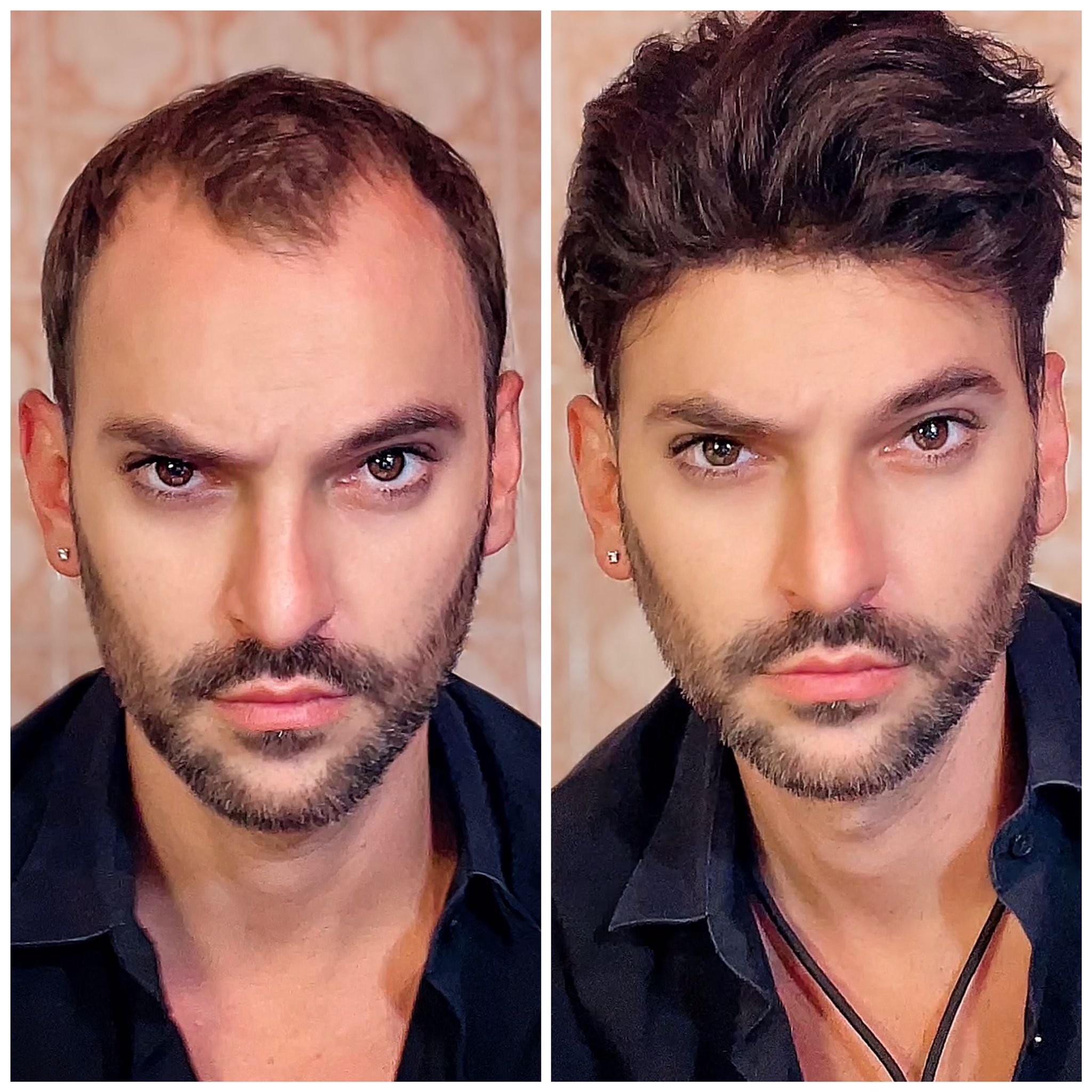 Get rid of the glue!
While the glue might help you produce a more natural-looking style, it can also cause problematic situations, such as getting rid of excess glue or glue residue on your lace wig.
It isn't tough in the least. You don't need to use alcohol to remove the glue from your lace wig. When it comes to removing hair systems, the cardinal tip is to be patient. Please don't rush this procedure; take it one step at a time.
Residual glue around the wig's hairline, lace closure, and lace frontal should be cleaned when the lace wig is detached for shampooing and cleaning of the hair and scalp. Directly pulling it down can be uncomfortable. Pulling the skin too much can cause it to become flabby. Of course, glue-less lace wigs must be removed as well. So, how can you quickly and effectively remove lace wig glue? If you follow these instructions, you won't need to spend money on a professional lace wig glue remover.
Here's a suggestion for you. Add a pinch of salt or soda to the warm water or use tea tree or olive oil instead. Shake the water mixture equally before pouring it into an empty bottle and spraying it around the hairline. Put on a shower hat and stand for 5-10 minutes. The lace wig is readily removed. This is the most natural and gentle way. It is, nevertheless, the most time-consuming.
Below are the steps for removing any type of glue or adhesive from the lace wig bases as well as the hair.
To begin, use a warm, wet cloth to wash away any residue from prior wear. Rub the warm cloth lightly over the glue or tape, soaking the bond. Remove any clusters of glue or tape.
If you don't want to use alcohol to remove the glue, Vaseline or emollient oil are safe and gentle alternatives for removing lace front adhesive from the scarp.
Lace wigs are simple to remove while on your head, but once removed, they will require some gentle, loving care to restore them to like-new condition.
It's vital to remember that after you remove your skin hair system, you'll need to clean the base carefully so it's ready for your next attachment. Also, look after your hair.
Wig shampoo should be used to clean the entire wig. Any residual tape or glue on the wig should be removed in this final stage. 
Apply another dab of alcohol or adhesive release spray to any difficult places. Using a soft-bristled toothbrush, scrub the glue and clean the residue off.
Conclusion
When you're wearing a lace wig, it does look wonderful. However, you will have to wash and maintain your lace wig at some point. Cleaning the unit properly can extend its life and preserve its appearance, and don't we all want our lace fronts to look fantastic for as long as possible?
So, above are some pointers on removing and cleaning your lace front wig. Before you begin, please read them carefully, learn the basic approach, and acquire the necessary equipment.
It's important to remember that even if you don't see any residue on your hair system base, it's still conceivable that it exists. That is why it is critical that you use extreme caution and thoroughly clean the foundation before proceeding with the next step to establish a firm bond and avoid any issues.
Maintaining your hair system at least once every other week, if not every week is a good idea. This keeps your hair system hygienic, bacteria-free, and long-lasting, as well as removes adhesive residue.
---