Tips on Selecting A Satisfying Toupee Hair Long
Views: 1505
More and more people are paying attention to toupee hair long, but why? When people reach middle age, they have to face the depressing fact that their hair is not as thick as it used to be. It is difficult to block time wasted, in addition to our bodies, the hair also can not bear the "erosion" of time.
A higher hairline, less hair on the top of the head, and more gray hair have become "top priorities" for middle-aged people. To solve these problems, wearing a long wig is an excellent choice. Wig good or not, in addition to the material to be superior, workmanship to be fine, hair matching degree is also a crucial aspect.
How to select a satisfying toupee hair long? Lavivid hair combines hair aesthetics and fashion elements naturally, based on ensuring excellent authenticity, gives a more diverse personality extension, to meet the more personalized needs of toupee hair friends. There are many kinds of wigs, from the material, divided into chemical fiber hair and human hair.
Chemical fiber toupee hair long, literally can see, hair material is chemical fiber material. The chemical fiber hair is characterized by variable color, hair gloss is very good, but easy to knot after cleaning, color is also very human hair difference.
The chemical fiber hair is more suitable for cosplay use, low frequency, does not need to clean, because the price is cheap, people do not feel much pity. Human hair is used human hair as raw materials processed from the toupee hair long.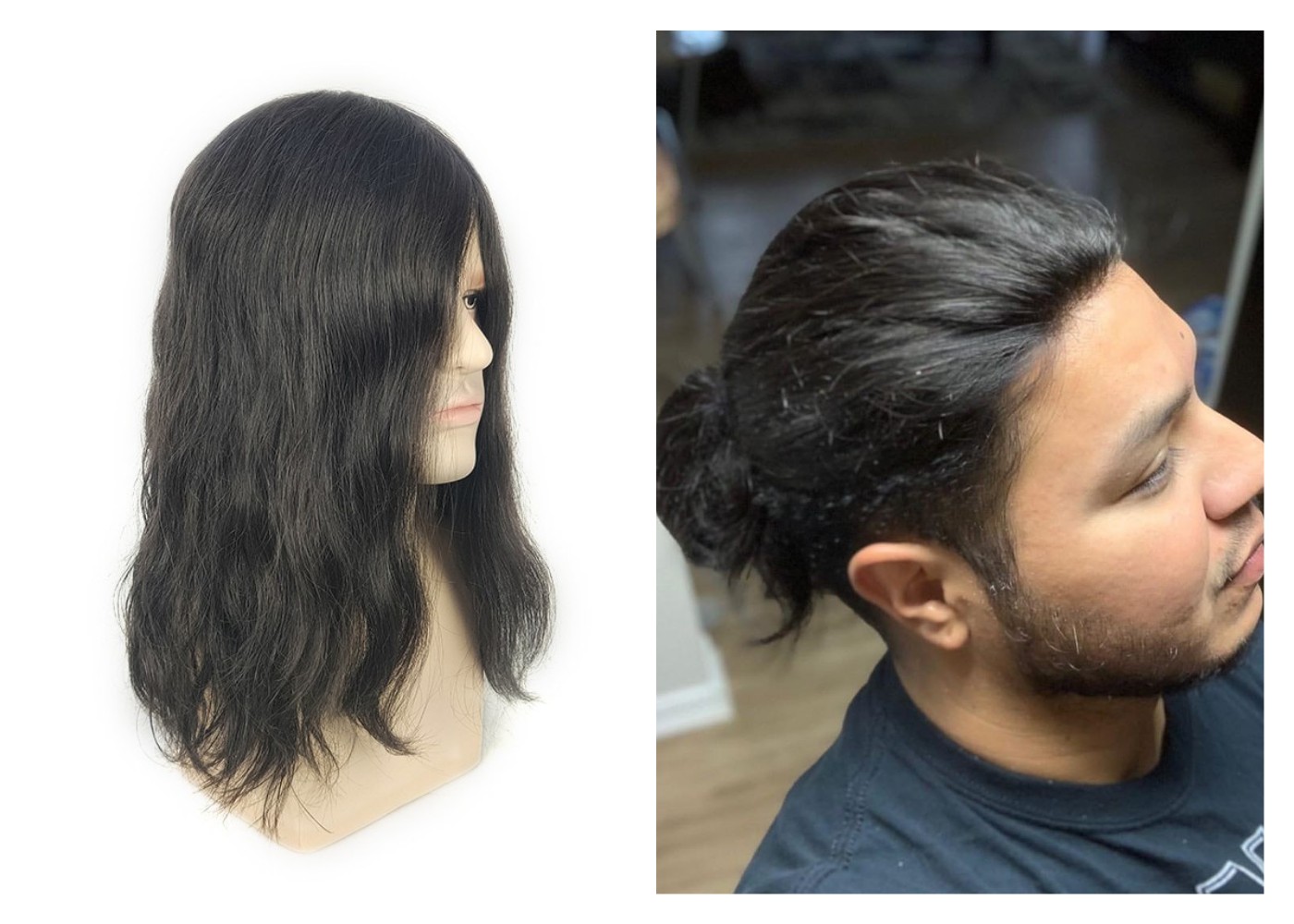 Characteristic is a high degree of comfort, wear after very natural, as a man, wear natural black human long hair without any sense of violation. Human hair can also be dyed, but it is not recommended to much hot dye, after all, after the hair left the body, there is no nutritional supply way, so to take good care of.
Of course, the price of real hair is higher, the current domestic market in real hair, Basically all the hand-knitted, all the hair, are workers crochet a hook to the scalp, so it takes a lot of time. Chemical fiber wig hair price is cheap, to a large extent and the machine hook hair is also directly related. 
In addition to the high cost of hand-woven craft, the source of human hair is becoming less and less. At present, most of the wig raw materials on the market come from India, Myanmar, a small part from China's Yunnan, and surrounding areas, so the supply is increasingly rare, high-end long wig is scarce.
Although the price is more expensive, the long wig is still the choice of many men and women with hair loss. Why? First of all, its price is moderate, for regional hair loss, we only need a replacement film.
Women can choose with small clips, men if hair loss is not very serious, can also choose clip money, if hair loss area remaining hair sparse, we can use double-sided film or glue to paste the bottom of the long toupee net, this operation is very convenient. 
There is a wide range of glue and film for long wigs on the market. We must keep our eyes open. We all understand the truth of a penny, but in the face of ultra-low prices, or to choose carefully, after all, this is to use in our scalp and wig, the quality of goods is more important.
Believe many people have said that often wearing a wig is bad. Especially in summer, just like with a hat, very muggy, style is not good, not natural. This is because the toupee hair is not good enough.
Hair color, straight volume, length, hair seam, hair volume, and density are all important elements in toupee hairstyle fidelity, comfort, and fashion. Each of us has different characteristics and personalities, so it needs to be customized to meet the needs of different consumers.
Only fitting their hairstyle, is the best state of the toupee hair long, which is also a high-end wig that works the necessary precondition. Lavivid hair heart to do good hair, years of ingenuity quality. Hair problems, not satisfied with the image, looking for Lavivid hair on the right. Welcome to call the hotline for more information!
---