Introduction on the Cost of Non Surgical Hair Replacement
We will talk about the cost of non surgical hair replacement today since hair loss has become a common problem that troubles many people. Knowing the cost of these products can make you better choose the one you need. 
Some hair loss problems can be solved by regulating eating diet, correcting bad living habits, or supplementing some nutrients. However, hair fall is inevitable when we reach a certain age. This problem results in the baldness of the top part of our heads. To cover baldness, one solution comes. That is to wear a hair replacement system. 
Of course, there are also many other methods to cover hair loss. It is suitable for some people to take hair transplant surgery, but not for everyone. Due to the different physical conditions of individuals, hair transplant surgery is not a widely applicable method. Therefore, many people turn to the help of non-surgical hair replacement, that is to wear hair toupees.
Then, what is a hair system? What are its differences from wigs? Toupees are particularly designed for covering the hair loss on the head top. Unlike wigs, they cannot cover the whole head. Thus, they are thinner and more light-weighted. Furthermore, to wear a toupee, you need to match it with the rest of your hair. If you have lost all your hair, then it is not suitable to wear toupees. 
Many kinds of hair units meet the demands of different people. The corresponding costs of each type are different. Let us have a look at the cost of non surgical hair replacement respectively. 
The cost of lace hair systems
In general, hair toupees are divided into different types according to their base materials. The hair replacement system with a hair base mainly made of lace is called the lace hair unit. It is suitable for people who sweat a lot and live an active life to wear. 
Because there are many small holes on the base, people who wear such a product will feel cool even on a summer day. The properties of the material make the product highly breathable and light-weighted. In terms of the price of such a product, we take the lace toupees from Lavivid store for example.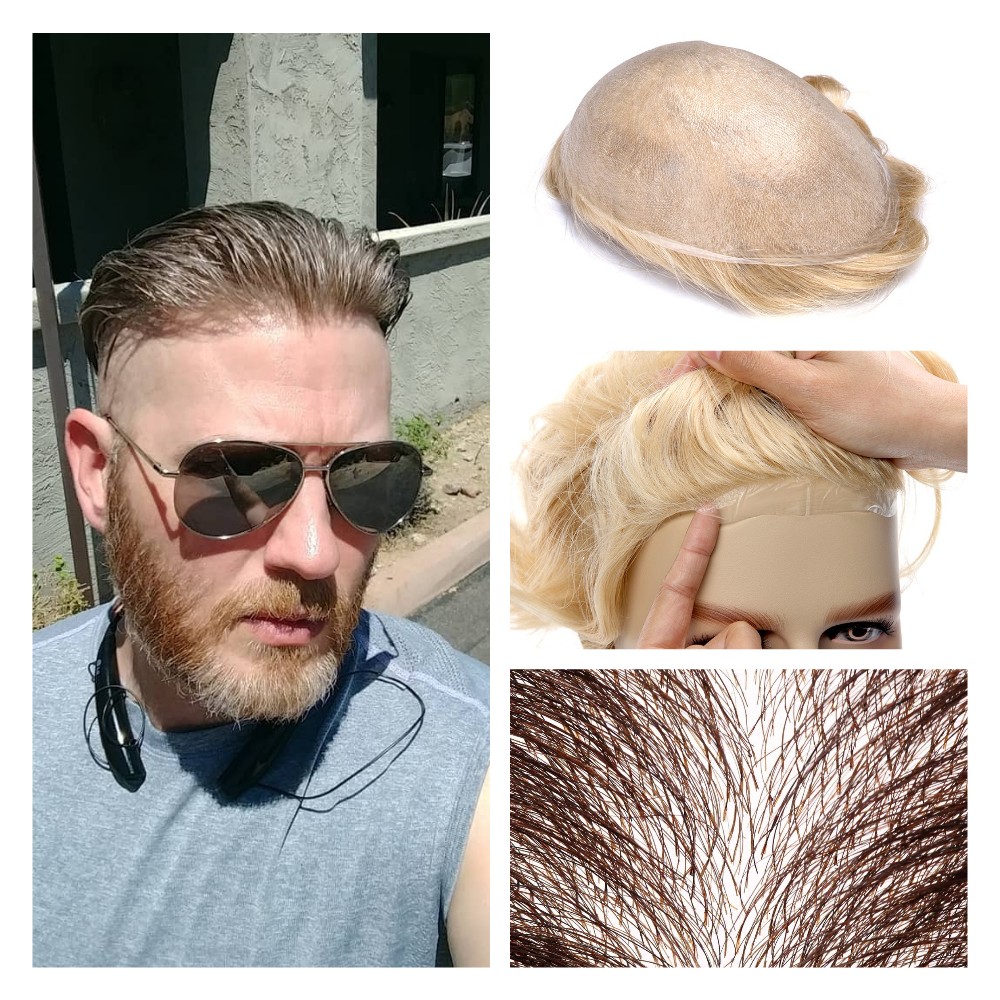 The average price is around 300 US dollars. The cheapest one, Harry Lace Hair System for men costs about 270 US dollars. It is made of Indian Remy human hair. The back and side parts are made of French lace. Two natural hair colors are offered. 
The advantage of this product is that it is comfortable to wear. If you often work out and do exercise, this one is recommendable. However, its life span is relatively shorter compared to other types of hair replacements, lasting 2 to 3 months. 
The cost of the thin skin hair unit
The most common bought toupees for men are the lace base and thin skin base systems. The latter is generally cheaper than the former. In Lavivid, the average cost of poly base hair replacements is not more than 300 US dollars. 
Coeus Men's Hair Replacement Unit only costs 289 US dollars. The product has poly skin all around the base. Therefore, it is more durable than the lace system for the base is water-proof. The hair density is 115% made of 100% Indian Remy hair. It can be used for 6-9 months. 
The cost of mono hair systems
It can be said that the mono hair unit is one of the most long-lasting hair replacements, more durable than the two types we have mentioned above. The prices of this sort of hair system vary. The cheapest one in our store costs 258 US dollars while the most expensive one costs 593 US dollars. The average price is around 280 US dollars. A mono base system can be used for 4-6 months. 
The cost of silk hair replacements
This sort of hair replacement is made through the most advanced techniques and with the best materials. Therefore, it can give you the best appearance and experience to wear. The cost, of course, is higher. The average cost is around 380 US dollars. 
Takeaway
We have introduced the cost of non surgical hair replacement from our store. You can choose one based on your needs and budget. All these products are of good quality and will not let you down.