How Long Can Non Surgical Hair Replacement Last?
Views: 1148
Is non surgical hair replacement permanent? How long does a hair system last? Why choose non-surgical hair replacement instead of surgical one? Hairpieces as a useful product designed to solve the problem of baldness arouse the interest of more and more people. These questions about hair units are what consumers are concerned with. Let us solve them one by one today. 
Hair loss becomes a headache for many people today. Even the young are suffering from the problems brought by baldness. There are many corresponding solutions to different kinds of hair loss symptoms. One of the most effective approaches is to wear a non-surgical hair replacement system. 
What is a hair system?
Then, what is a hair system? It is also called a hair toupee. It can be said to be a blessing to people with baldness. It is particularly designed for covering hair loss on the head top. Hair toupees are one sort of hairpiece. Hairpieces are not limited to covering the hair loss area on the top part of one's head. Wigs and those clip-in hairpieces all belong to the category. 
These products bring much convenience to our life. Wigs are mainly used to disguise or make up for special occasions. Hairpieces are used by ladies to lengthen their hair or change hairstyles. Wigs and hairpieces made of artificial hair, if not damaged, can be used permanently. As for the question "is non surgical hair replacement permanent", the answer is "no". 
Why the wigs and hairpieces made of fake hair can be used for life long time? Those made of real human hair are more vulnerable. Without the nutrients from the scalp, one day they will lose their gloss and color, looking frizzy and ugly. Synthetic hair has gone through a chemical process that can be kept for a long time. 
Most hair replacement systems are made of real human hair. Because only real hair can give a natural and pretty appearance. The real hair is also softer with a better texture than the synthetic ones. Besides, during the process of application and removal, it is inevitable to cause some damage to the hair base. 
People may wear the hair systems all day long, which can further shorten the life span of the hair unit. Therefore, it is impossible to use a hair replacement for over a year. Though it is not a one-time investment product, it is worth purchasing if you find it hard to regain hair.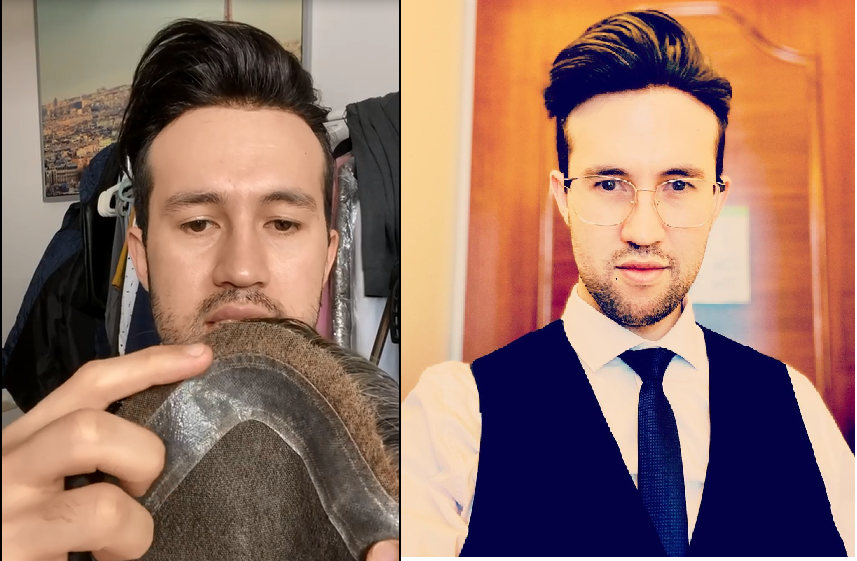 A high-quality toupee is as vivid as our original hair. For instance, the silk hair base simulates the appearance of the scalp. Therefore, even taking a close look at the hair unit, no one will discover that you are wearing a hair system. 
The life span of hair replacement systems
Customers who did not use hair toupees before may ask "how long does a hair replacement system last?" Though not permanent, some hairpieces can be used for quite a long time. The specific life spans depend on the making materials of the hair systems. A quality one can be used at least for two months. The longer life span can reach 8 months. 
Why choose non-surgical hair replacement
Despite the not one-time investment, hair toupees still have many advantages. Though hair transplant can give consumers permanent results, it cannot produce immediate effects. By wearing the right hair system, you can immediately see the result. 
Furthermore, applying the products does not bring risk. As we know, any kind of surgery contains potential dangers. The possible results brought by a hair transplant surgery include scars on the head. While wearing a hairpiece, you do not have to worry about these problems at all.
Another advantage of hair toupees is that they cause no discomfort. Some may worry that wearing an extra object on the head will bring itching or uncomfortable feeling. As techniques advance, toupees today are made to be comfortable to wear as much as possible like the thin skin hair system. 
To sum up
Is non surgical hair replacement permanent or not? You can find the answer in the article. Although it is not a permanent product, it is still welcomed by many customers because of its advantages. If you are also fretted about hair loss issues, you may take a try on the product.
---