Is The Invisi Lace Hair System Suitable for You?
Views: 1270
To know about the Invisi lace hair system, you need to know first the clinic behind it. The Invisi Hair Clinic is located in Birmingham. It's famous for having a professional staff that is always ready to answer questions from clients. The atmosphere in their clinic is very relaxing, which is what people suffering from hair loss need. And of course, the clinic has also become famous for its lace hair system. And that is the main subject of this article. Is the Invisi system for you? What are the benefits of this system? You'll be able to answer these questions and more after reading this article.
The Invisi lace hair system comes in different types. They are all polymer-based. The clinic can even make you a custom hairpiece if you want. One of the best things about this system is that it's suitable for people of all genders, ages, and ethnicities. The clinic offers some of the most undetectable hairpieces on the market. If you are to wear a wig, you don't want people to know about it right. And with this system, nobody will know you're wearing a hairpiece. The system uses 100% human Indian Remy hair, which is also known as supreme cuticle human hair. This is considered the best type of hair that is used on wigs. Invisi offers tailor-fitted solutions to its customers. When you order a hairpiece from them, you can be sure that it will meet your requirements. 
The base of the Invisi system is also special. It is made from synthesized natural-looking polymers that mimic real living skin. This base is then fused with the Remy hair that has been individually implanted. To make the hairpiece look more realistic, it will be designed to match the color, density, texture, and even wave of the client's own hair. So what you get is a one-of-a-kind hairpiece that is designed especially for you. And it's completely undetectable. No one will know that you're wearing a hairpiece. Only you. It looks as if the hair is growing out of your own scalp. You have to see it to believe it.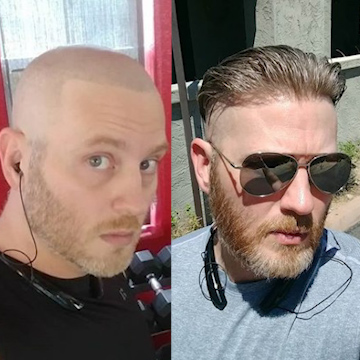 The base doesn't just look like real skin. It feels like second skin too. The hairpiece is very comfortable. You may even forget you're wearing it. The name Invisi is taken from the word invisible. And the clinic is living up to the name with its innovative products. Indeed, you can consider this system revolutionary. The reason why many people are hesitant to wear a hairpiece is because of the stigma attached to it. This is because hairpieces before look so obvious. And people generally frown on people wearing wigs and toupees. But this system is bound to change people's perception of hairpieces. 
You will also love the breathability of the Invisi lace hair system. This adds to the comfort of the hairpiece. And because it's breathable, you can wear it even if you tend to sweat a lot or have oily skin. You can also wear it while you jog or go to the gym. This hair system is designed with active people in mind. Needless to say, it's also perfect for everyday activities. You should also choose this hairpiece if you live in a warm climate. It's guaranteed to keep you feeling comfortable even during the hot summer months. You also won't mind wearing this hairpiece all day long. 
As mentioned above, this system comes in different varieties. The most popular is the Skin Hair Fusion. This has a lightweight base and is very versatile for styling. You can also get the Combi-Skin and Star Lace. This medium-density hairpiece offers the most natural-looking hairline. It's also made to last and like the Skin Hair Fusion, it can also be styled in many different ways. 
Then there's the All Lace Fusion. This is one of the lightest hairpieces available on the market today. It's also one of the most undetectable. It has medium durability and is also very easy to style. You can also get the Nicky Clarks Evolution Hair System, which is probably the most advanced hairpiece available. It has an Invisi Nano Skin base that emulates human hair transplants. If you're a person of color, then you should get the Afro Hair Fusion. It's nice to see diversity in the hair replacement industry.
---