How Can You Find Lace Front Toupee for Black Men?
Views: 1161
The lace front toupee for black men can also be extremely comfortable and super realistic! It is known to all that the need for toupee is huge among black people. When people wear a toupee, one of the biggest concerns is that the hair can be detected by others. Neither of us wants our secrets exposed. Yay! That's why choosing the right toupee is very important. 
Since the toupee industry is continually growing, with the high quality and subtle ventilating technique, you can always find natural-looking toupees on the shelf. The lace front toupee for black men is a very proper choice, among them, the Afro toupee wins lots of good reviews. Let's check it out. 
Why not try the toupee with unique colors?
Black people are born with curly hair, hence, the Afro toupee seems to be an important fashion item for black men. Afro toupee for black men come in various shades and hairstyles. Usually, the hair length is about seven to nine inches. You can cut them nicely if you want them to be shorter. 
Some people think that the choices for dark-skinned individuals are limited. It is not true at all! In reality, there is a wide range of colors that will pop out for men and women with a dark skin tone. If you try white, pink, light blue, or any unique colors, they are always going to look amazing on dark skin! 
Which black men's lace front toupee is better, human or synthetic hair?
Afro toupees or other styles of black men's lace front toupee are available in two main materials: human hair and synthetic fibers. They are created to cover the bald spot or bringing a new fashion look.
Nowadays some synthetic hair afro toupees look like real human hair given credit to their technology using. They are not that delicate so you can straighteners and curling irons to style. It is heat-friendly and cheap. But some wearers may find it is not as natural as human hair when having a close look or be touched.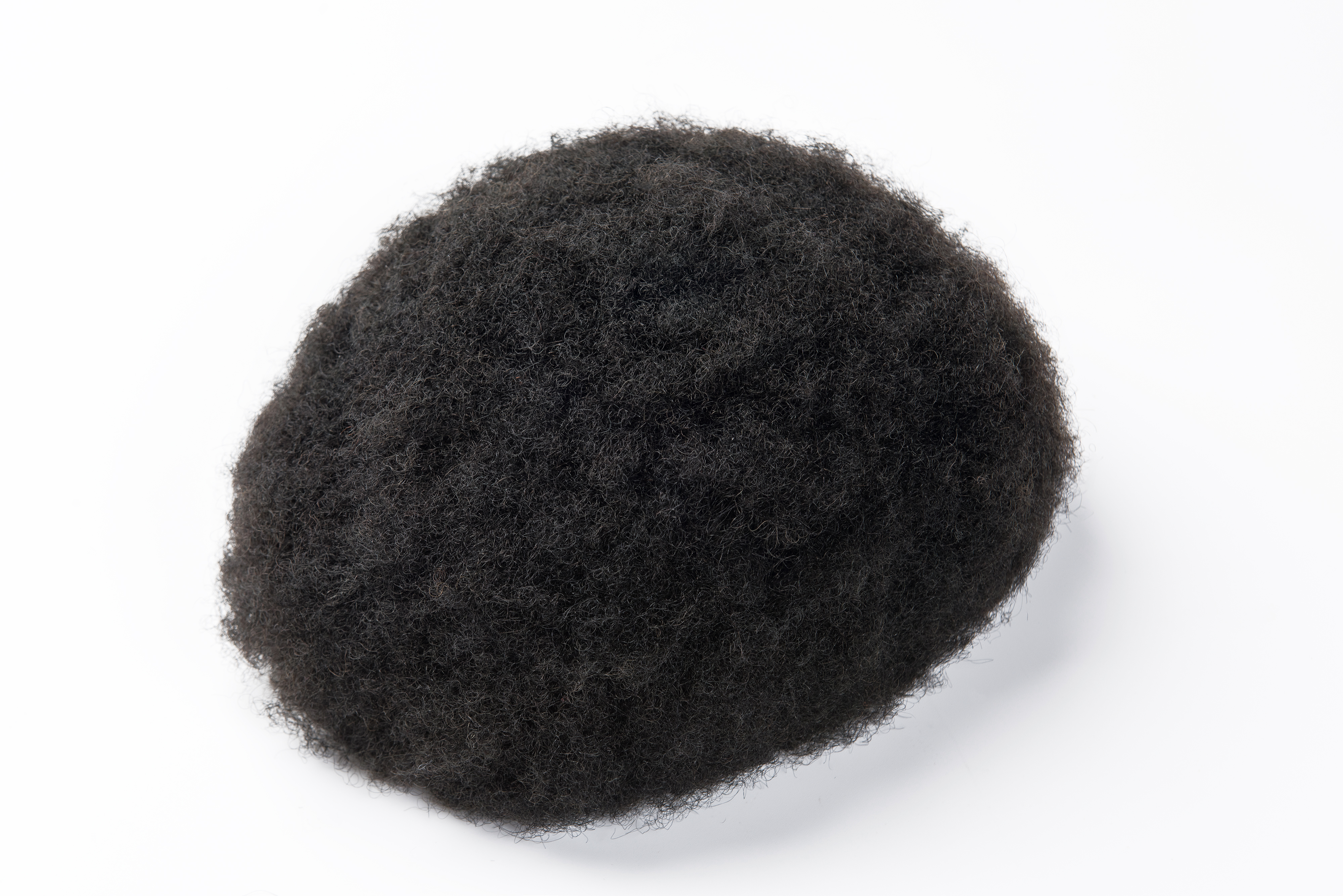 To be honest, human hair afro toupee is still the best toupee among dark skin people due to its outstanding performance. Human hair gives you a natural appearance with a softer texture. And it is easier for application and removal. This is the reason why it is more expensive than the other type. 
What haircuts could I choose among lace front toupee for black men?
Just as we mentioned, lace front toupee for black men is of a wide range, Afro is of a wide range as well! Here we will give you some haircuts that extremely popular among dark skin people, you could pick some and try them on! 
1. Kinky curly hairstyle is famous with black men in particular. It's such an eye-catching hairstyle that looks trendy and vintage. So many rock stars wear this hairstyle before. You could also try this frizzy lace toupee with unique colors! The hair volume is amazing and the light color will make it super cute!
2. Mono Afro curly hairstyle is on-trend as well. Mono base with hard PU around, this kind of toupee is easy to wear with double-sided tape.
3. Short Brown Afro Curly toupee is made of high-quality hair, you could wear this no matter for costume, fashion, or daily use. 
Hope the above hairstyles could give you some idea. If you not sure whether the toupee will look good on you, you can go to the toupee's shop or order online to try. If you want to return the products you do not like, our return policy can help you! 
Switch up your style with black men's lace front toupees
Celebrity makes black men's lace front toupees more popular such as Will Smith. Thanks to celebrities and the fashion industry. The lace front toupee for black men is now not only popular among African American people but also people of other races because they think the hairstyle is smoking cool and yay full of street vibe. 
Instead of going to a hair salon to style your hair, you can just buy different toupees and put them on then done. Try more and you will eventually find your soul mate! You are under the spotlight with the perfect black men's lace front toupees.
---